'Smart' streetlights could be used for widespread public surveillance, ACLU warns
Though commonly advertised as environmental tools, the devices could instead be used by police agencies with minimal oversight to surveil the communities the technology was meant to serve.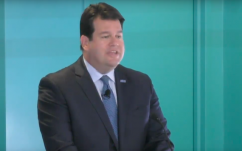 Energy-efficient, network-controlled LED streetlights have become the cornerstone of "smart city" modernization plans for municipalities promising residents cost savings and environmental monitoring. But the environment perhaps isn't the only thing being monitored.
Those same devices can also give local law enforcement broad surveillance abilities that could be used to target vulnerable communities, Chad Marlow, a senior counsel with the American Civil Liberties Union, said Monday.
"This often scares the bejesus out of people, and for good reason," Marlow said during a presentation in Washington about surveillance technology hosted by the New America Foundation. "They have a wonderful sales pitch. They go to a city and they say, 'Hey, you're using those really inefficient, bad environmental, break-all-the-time incandescent bulbs in your street lamps. Wouldn't it be better if you used these LED bulbs? They're efficient, they save money, and by the way they have built-in cameras and microphones.'"
In recent years, many cities have either already installed or announced plans to purchase modern streetlights, including Baltimore , Detroit , San Diego , Chicago and Columbus, Ohio . In all those locations, officials have celebrated new capabilities to control lights remotely and collect environmental data from the blocks on which they're deployed.
But Marlow, who has written several pieces of local legislation around the country aimed at establishing public controls on the use of surveillance technology, added that cities' embrace of high-tech streetlights might not be so enthusiastic if the eco-friendly pitches behind them were reversed. "If you said hey, we're putting a camera and microphone on every street corner because they're lightbulbs, you'd get a much different reaction," he said.
New streetlights were just one piece of civic technology Marlow mentioned as he detailed the ACLU's Community Control Over Police Surveillance program, also known as CCOPS. The initiative, which Marlow and his colleagues launched in 2016, pushes cities to pass laws creating oversight of how law enforcement uses new technology. The campaign recommends that a city should not fund or acquire a new surveillance technology until its residents are informed how it will be used, and municipal legislators formally approve it.
The CCOPS program also calls for studying new policing technologies' financial impacts, and annual data disclosure requirements, among other proposals. So far, the ACLU has secured laws in seven cities, including Seattle, Nashville and Oakland, California. More than 20 other cities, including New York, Washington and St. Louis, as well as the entire state of Maine, are considering similar legislation.
'Inappropriately tracked'
Along with streetlights, Marlow said the CCOPS program also looks at technologies like facial recognition software, automated license plate readers and cell-tower simulators that can be used to track down an individual's mobile phone. Those devices, commonly known as Stingrays, have been used to monitor leaders of activist groups like Black Lives Matter, Marlow said. (Stingrays may also be used by foreign intelligence operatives working inside the United States, the Department of Homeland Security recently warned .)
"Black Lives Matter is arguably the most inappropriately tracked group in the country over the last five years," Marlow said.
Stingray technology was at the root of a lawsuit filed against Chicago in January 2017 by an attorney accused the city of illegally monitoring hundreds of demonstrators' phones during a 2015 Black Lives Matter rally.
Scrutinizing law enforcement organizations' use of Stingrays has led to reforms in other cities, though. Laura Moy, the executive director of the Georgetown Law Center on Privacy & Technology, said her organization's review of the Baltimore Police Department's Stingray use led to "some big policy changes."
"When we took a map of cell site simulators and we laid that over a map of minority neighborhoods, we found those devices are being used disproportionately in black neighborhoods," Moy said during a panel discussion following Marlow's speech. "It wasn't just being used to track down individuals in investigating big crimes, but was used to locate witnesses, investigate unarmed robbery.'"
The 2017 consent decree that the Baltimore Police Department entered into with the U.S. Justice Department features numerous proposed reforms of its guidelines, including how officers patrol First Amendment-protected activities like protests and marches.
But Baltimore is just one city of many where surveillance technology is becoming more prevalent and governments are collecting more information.
"More and more cities are passing more and more bills requiring more and more agencies to keep large amounts of data," said Eugene Puryear, community organizer in Washington, D.C., where police spent more than $480,000 on Stingray operations between 2002 and 2014.
And as governments continue to obtain new streetlights, cell-tower simulators and other devices that could be used for surveillance, Puryear said he and his fellow activists will be wary of officials who resist implementing controls on how the technology is used.
"To me, the person who's going to say, 'We're only using it for fistfights, we're only using it for robberies,'" he said, "if there are peaceful protests groups, this is going to be the person who says, 'Let's use [it for] this too.'"