Smart cities program participants try to solve procurement woes
Labyrinthine procurement processes can stymie innovations, complained members of a smart cities partnership.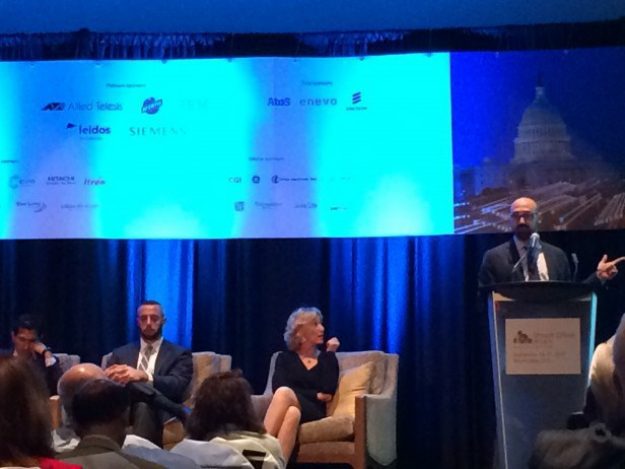 As the White House leads the charge in making cities smarter through IT, leaders in localities that are part of the movement are trying to find better ways to purchase the technology they need to make sweeping change possible.
The Obama administration announced its support Monday for a new collaboration between 22 local governments and 30 academic institutions called the "MetroLab Network," whose goal is to foster new ideas and research on "smart cities" technology projects. Now, government IT leaders that are part of the new partnership are thinking about what this new push will mean for private companies interested in catering to those needs.
Montgomery County, Maryland, is one of the localities joining up with the new network, and Chief Innovation Officer Dan Hoffman sees the new group having an immediate effect.
"Different cities and academic institutions will partner and do more in this space and they will lead the active participation of the private sector," Hoffman said at a panel discussion at the "Smart Cities Week" conference in Washington, D.C., put on by the Smart Cities Council.
But as localities like Hoffman's start bringing in private companies to help stock up on the technology they need for smart cities projects, they're often confronted with labyrinthine procurement processes.
That's why Hoffman and decision-makers in other "MetroLab" member organizations are trying to find new, simpler ways to learn about tools that could work for them.
An innovation lab in Montgomery County
In Montgomery County, Hoffman and his staff have launched what they're calling a "Thingstitute" experiment. The program allows officials to try out Internet of Things technology without requiring vendors to submit hefty responses to a request for proposals.
"None of these companies bid on anything, they came with a product, they came with a solution to a challenge that the county had and we found a way to test them out," Hoffman said. "There's no big RFP at the end of this, it's just a way for them to get in the door, work with myself and my team, it doesn't cost them any money. All we ask for is time."
Hoffman and his team then work to deploy some of the technologies they test — which covers topics like air and water quality, health monitoring and even agriculture in live environments, like a senior center the county helps fund.
"This is where we really feel like we can demonstrate these things to the public, so if we do want to go out in some form or fashion and procure them, we can make a model for the residents so we can justify the expenditures to policymakers and all the other people who have to allocate money," Hoffman said.
Based on that work, Hoffman also hopes to introduce a series of reforms for the countywide procurement system in the coming weeks.
"We're about to release a series of recommendations to try to change some of the underlying fundamentals of procurement, whether it's simplifying the process, whether it's reducing a lot of the boilerplate, but there are still plenty of challenges left," Hoffman said.
Boston brainstorming
IT staff in Boston are also trying to freshen up their purchasing process. At the event, Jascha Franklin-Hodge, the city's chief information officer, touted some of his department's new strategies for engaging vendors.
"Government IT has a terrible track record of delivering great outcomes for the people that we serve," Franklin-Hodge said. "We thought, 'What if the procurement process itself could actually solve these problems?'"
Boston has emphasized developing "clear mission statements" about its projects, which allows procurement officials to write easier-to-understand RFPs, Franklin-Hodge said. Before a recent "hackathon" to improve the design of the city's online building permit application system, officials worked to put their needs in plan language. He believes that effort helped the city write a clearer RFP, which prompted 13 companies to respond. Now, his department is two weeks from releasing the first iteration of the new system.
Franklin-Hodge also tried to apply some of the same principles to its search for designers for the city's new website.
"We don't want this to look like every other government website," Franklin-Hodge said. "If we're going to do that, it means we need to reach a really wide array of potential design firms to partner with, and that includes some who don't normally work with government."
While he noted that his department's goal was to create an RFP that wouldn't "make potential vendors run screaming for the hills," he also stressed the need to make the whole project feel as accessible as possible.
That prompted the city to create a website devoted to the project, allowing anyone interested to see the RFP, the city's timeline for the project and the department's goals for the redesign.
Franklin-Hodge believes it inspired many "vendors who had never responded to a government RFP before" to get involved in the process, and that has him excited about the site's planned rollout later this year.
With the formation of more groups like the "MetroLab Network" seemingly on the horizon, Hoffman sees this type of work as essential for localities going forward.
"There are more and more of these public sector innovation groups, and they're looking for ways to partner," Hoffman said.