Saving lives, cutting costs, managing your devices
UEM boosts productivity and increases efficiency for state and local government agencies.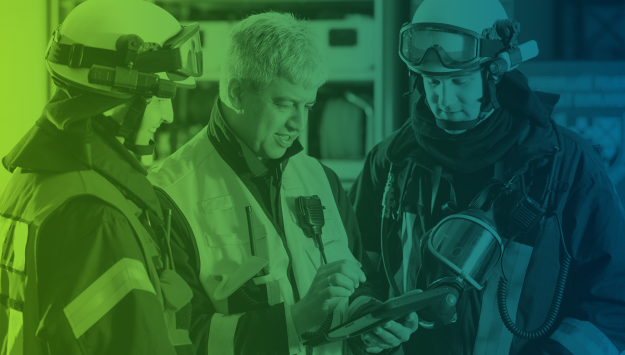 As the leader of a state or local public safety agency, technology may be the furthest thing from your mind.
Staying prepared for emergencies is a complex business. You have budgets and priorities to balance, the need to collaborate with multiple organizations, and most of all, the knowledge that at any minute your team must be ready to protect people's lives and property.
While putting out fires — literally and figuratively — every day, it's easy to put technology and cybersecurity on the back burner.
Even when technology is top of mind, state and local public safety agencies can find their resources stretched, especially as demands for services keep increasing. And, although a plethora of technology advances are helping first responders to do a better job, they cost money — and require continual management commitment and attention.
I saw this first-hand as a former deputy state CIO.
But what if a single technology solution could make your job easier, improve employee performance and productivity, help save lives and bring you fully into compliance with cybersecurity regulations all at the same time?
The state and local challenge
The proliferation of mobile computing equipment has spearheaded a new era for public safety — as well as new challenges for state and local CIOs.
One example is the evolution of dash-mounted laptop computers in law enforcement vehicles. While these devices have helped police officers access information and confirm IDs almost instantly — they also require those cars be taken out of service when the attached computer systems need upgrades or maintenance.
As a result, a growing number of departments are replacing vehicle-mounted laptops with detachable tablets. That provides added benefits to police officers, since they can carry a tablet with them for photographing, video recording, communications — and provide remote access to a growing number of emergency-services apps designed for use with the new FirstNet broadband service.
However, these tablets are adding to a growing variety of mobile phones, laptops and desktop computers in use by public safety specialists and first responders. Put them all together and you've got a lot of different computing devices to maintain, upgrade, secure, patch, repair, monitor and track. With so many different brands, configurations and types of devices maintaining secure images is impossible without a robust mobile management platform.
The 'unified' solution
That's why state, local and public safety officials should take a closer look at how a Unified Endpoint Management (UEM) platform can streamline the task of managing not only mobile devices, but all your agency and department computing devices.
UEM makes it possible to upload applications, patches, software upgrades and configuration rules to virtually all of your teams' devices — smart phones, tablets, laptops, and PCs — remotely and securely. Better yet, a UEM platform can also display every device's status in a convenient "single pane of glass" console, saving you and your staff time and money.
But UEM can also improve end-user productivity. For instance, VMware's AirWatch UEM platform makes it simple to deploy NIST-approved derived personal identity verification credentials. That allows your users to open all of their applications and functions on their device with a single login, speeding access to information and applications and also making collaboration more effective during emergencies.
It also makes it easier to share devices — during shift changes, for instance. Different users of the same device can access their own unique set of applications remotely, which can help state, city and county agencies, as well as police, firefighters, search and rescue personnel and EMTs juggle their computer and information resources more effectively.
That's especially helpful for smaller agencies without their own IT staff. A good UEM platform can enable a larger department — one run by the state, for instance — to manage smaller, local agency devices under one umbrella.
And UEM platforms operate securely and safely over FirstNet broadband, protecting your agency's data and that of your constituents from breaches and ensuring that you comply with government regulations.
The end result: your agency gets closer to achieving its cost and performance goals; services and applications get delivered to the right people at the right time; and your staff can focus more attention on people's health and welfare rather than on their equipment — and ultimately be more productive.
As every first responder knows, the time to be prepared is always now. Don't wait for the next emergency to consider how UEM can streamline how smoothly your mobile technology works for your team — and those they work with to improve public safety.
Herb Thompson is a lead strategist for VMware's state, local and education customers. He previously served as deputy state CIO for the State of Wisconsin's Division of Enterprise Technology.
Find out more about how AirWatch can streamline your agency's mobile operations.
This article was produced by StateScoop and sponsored by VMware.