Rentable doghouses, zoning code visualizations among tech featured in Kansas City's new class of innovative startups
Rescue operations, sewer health and energy efficiency also are fuel for ideas in the 2018 Innovation Partnership Program.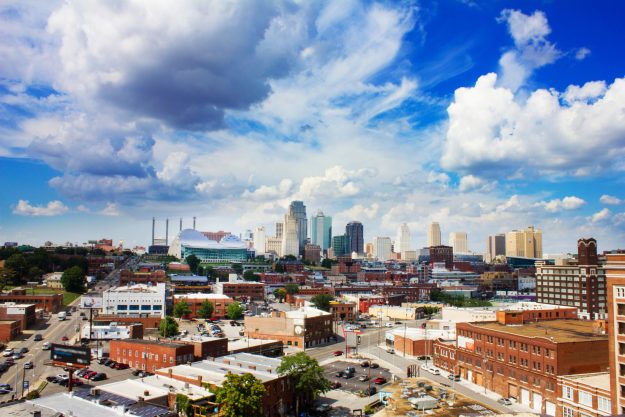 Kansas City, Missouri, announced last week the fourth annual class of startups that will participate in its Innovation Partnership Program , which pairs young companies with city departments to solve challenges faced by government.
The 2018 class includes six companies, like DogSpot, a company that rents out its network of high-tech dog houses, and Gridics, which helps cities visualize complex zoning codes. The program lasts 13 weeks, from Aug. 1 to Oct. 30, and startups will spend 20 hours each week with a partnering city agency.
The startups and their partner agencies for 2018 are:
Geospiza , public safety — Geospiza compiles data streams to spot where more difficult rescue and recovery operations may occur.
Dogspot, innovation — Dogspot operates doghouses that people can rent to stow their pets while on the go.
Homebase, housing services — Homebase hosts a connected building management platform.
Gridics , city planning — Gridics provides 3D visualizations of parcels based on a city's zoning rules.
Snorkel, water services and sewer — Snorkel helps cities "allocate fat, oil and grease management resources" to extend sewer life.
Dynamhex, general services — Dynamhex uses data analytics software to reduce energy waste.
The program is designed to give the city a low-risk way to test the products and services of new innovative companies without entering a traditional procurement process, while also promoting the local tech economy.
"This is the exact type of collaboration that will ensure Kansas City continues to build on its momentum and become the world class city we know it can be," Mayor Sly James said in a press release.
The city says the companies were selected because they met several criteria, such as "the ability to support economic development and operations strategies such as improving quality and efficiency of City services and operations, supporting environment quality efforts with the City, engaging neighborhoods, and improving economic vitality and social equity."
In October, companies will present their work at a demo day and the city will make a decision on which companies will continue to have relationships with the city.
Jason Doyle, CEO of Gridics, told StateScoop he will meet with the city's planning department next week to discuss first steps. Doyle, who has worked in the real estate technology space since 2005, started Gridics last year and now has five cities as customers, he said. And typically when he meets with a city, he said, they begin by entering all of the city's zoning code into his company's proprietary computational rules engine.
For startup CEOs, the Innovation Partnership Program provides a chance for a new client.
Doyle admitted that it makes no difference to his company whether he engages with the city through the innovation program or a direct procurement, but the program has opened the city to more entrepreneurs who may not have the business experience that Doyle has.
"For us, selfishly, if they just said to come in and show our commission and we'll make a decision, we'd rather do that," Doyle said. "That'd be fine, but they set this program in way that's fairly efficient in the timeframe, so we'll do an engagement."