Portland, Oregon, installs 200 traffic sensors as it aims to fill up 'data lake'
The additional technology arrives as city council prepares to vote on the Smart Cities PDX initiative.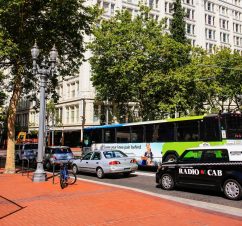 Portland, Oregon, announced Monday that it is installing 200 traffic sensors along three high-traffic corridors that rank as some of the city's most dangerous. The sensors are the first major component of a smart city agenda Portland is set to formalize this week, as the city council prepares to vote on a framework that includes more environmental monitoring, data collection and transportation upgrades.
The sensors are manufactured by General Electric and run on software developed by Intel's Internet of Things division. They will count the numbers of cars and pedestrians going by, and also measure how fast vehicles are traveling. The collected information will contribute to another upcoming project: the Portland Urban Data Lake, or PUDL, a multi-agency effort to consolidate citywide data and help planners and engineers make decisions.
Both the sensor installation and the PUDL project, which is still being developed, are components of Portland's Smart Cities PDX initiative, an outline of which will be voted on by the Portland City Council on Wednesday. The rest of the plan hits many of the other familiar smart-city beats, including air-quality sensors, open-data platforms and guidelines for autonomous vehicles. (The city's existing open-data services are already among the best-reviewed of any U.S. city's.)
Dylan Rivera, a spokesman for Portland's transportation department, said the new sensors will give the city an immediate upgrade on how it measures traffic. Before, the city's best way to count traffic was through the use of pneumatic tubes laid across roads, which are expensive and cumbersome to move. The sensors will be turned on around the clock, giving city officials more consistent readings, Rivera said.
"We're hopeful we'll get the kind of information and data that can help our planners and engineers make better decisions that help save lives," he said.
The three corridors where the sensors are being deployed were selected from a larger group of 30 that account for more than half of Portland's traffic fatalities, despite only accounting for 8 percent of the city's roadways. One stretch was responsible for five fatal collisions in 2016 alone, out of an annual citywide total of 44.
Meanwhile, Rivera said, the sensors will also help the city review how efficiently its parking spaces are being used. Currently, transportation officials use an eyeball approach to counting how many cars are parked on city streets, with staff and interns often being sent out to do manual counts of empty spots. With the sensors, Rivera said, "we can get better information and not just go by anecdote."
Installing the 200 sensors will cost Portland $1,012,000. If readings collected over the first 18 months are useful, the city may install more sensors elsewhere, Rivera said.