Police need public's trust before adopting new technologies, officials say
Emerging technologies like drones and data analytics can help police, but they need community acceptance first, speakers at a South by Southwest panel said.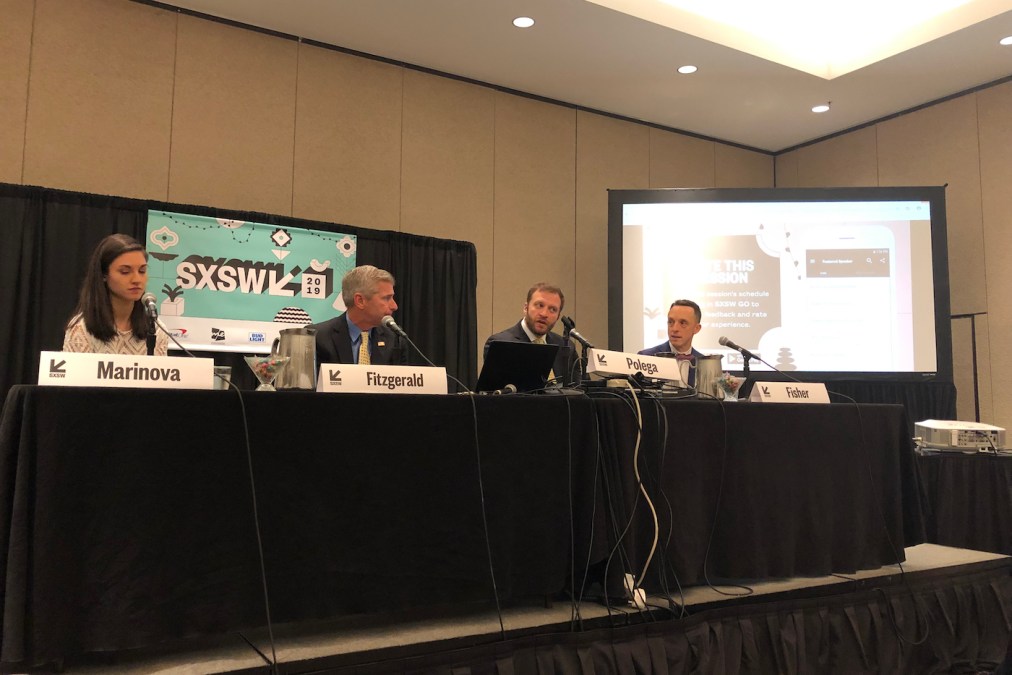 Police departments should gauge the sentiment of the communities they serve before adopting new law enforcement technologies like unmanned aerial vehicles or artificial intelligence, speakers said at a session on 21st-century policing Friday at the South by Southwest conference in Austin, Texas.
The Boston Police Department, for instance, does not use drones because the technology has not yet earned the public's trust, said Paul Fitzgerald, the department's former intelligence and analysis chief.
"We know there's great use for them and ultimately we will be using them," Fitzgerald said. "You need the community to trust what you're doing. It's a lot of work. When you get to that point, they're going to give you the benefit of the doubt that we're going to use them for the right reasons."
Chris Fisher, the chief strategy officer at the Seattle Police Department said that his city conducts public hearings on its new law enforcement technologies.
"There are community forums where people get to hear how it works," he said. "All of it gets assessed."
Fisher added that that new policing tools, ranging from 911 upgrades to computer-aided dispatch and statistical analytics platforms, also undergo rigorous reviews by the department's IT unit.
Still, the speakers acknowledged that police departments, especially those in large cities, can be slow to adapt. It was only within the last few years that Seattle moved to a new record-keeping system that spared officers from having to type up incident reports into as many as four disparate computer systems, Fisher said.
"When you have large departments, tools that one bureau used could not talk to tools another bureau used," he said.
Fitzgerald said information-sharing among police has improved since 9/11 with the advent of "fusion centers" — units in which local, state and federal law-enforcement officers can exchange information. In Boston in particular, he said fusion centers operated by both the Boston Police Department and Massachusetts State Police, were critical in the days following the 2013 Boston Marathon bombing.
As the amount of information to sift through grows exponentially, speakers said police are also casting their nets for new technology further than ever before. Fisher pointed out that Seattle police are increasingly reliant on cloud services like Microsoft Azure, to store footage from Seattle police officers' body cameras and other data, rather than on an on-site data center.
Fisher also chalked up cloud adoption to cyberattack fears, suggesting that the profit motives of companies like Microsoft and Amazon Web Services encourages the private sector to be more aggressive than a municipal IT department in building security measures.
"While we have a very good city IT department, with AWS, Azure, they've got a shareholder-driven drive to make sure those things are secure," he said.
But big-city police departments are also going to smaller vendors for their emerging technology needs.
"From a tech perspective, everyone's fighting crime together," said Matthew Polega, the founder of Mark43, a law-enforcement software developer that's built dispatching and analytics tools for police in Boston, Seattle and Washington, D.C.
Ultimately, though, police adoption of new technology should be tempered by the trust of the policed, Fisher said. Some cities, like San Francisco, are contemplating more stringent approval processes for new surveillance systems in which agencies — including the city police — would be required to file public ordinances justifying their use, along with an outright ban on controversial facial-recognition software.
"Our power to police comes from the community," Fisher told StateScoop when asked about the San Francisco proposal. "So if they want to tell us 'don't use that,' that's how it's supposed to work."