Minnesota's new crime data tool helps keep law agencies accountable, official says
New data reporting tools allow Minnesotans to view real-time crime statistics in their communities.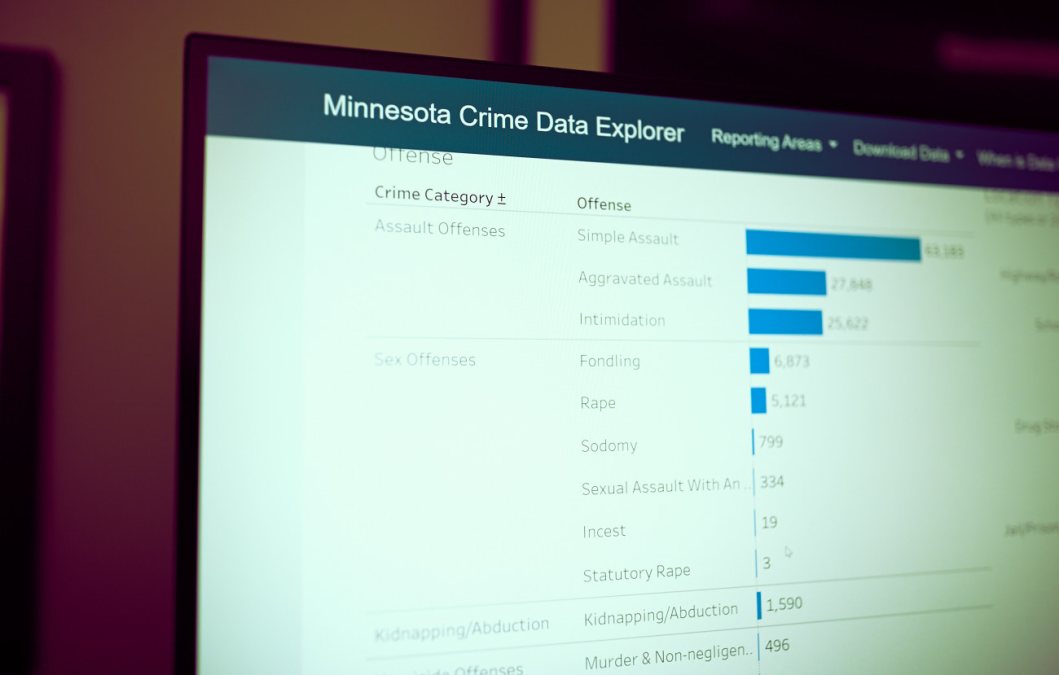 Each year, Minnesota's Bureau of Criminal Apprehension publishes a crime report detailing the amount of criminal activity in the state, with data submitted by more than 400 law enforcement agencies. That seemed like a sufficient cadence, according to Drew Evans, superintendent of the bureau, until 2020 when the COVID-19 pandemic hit.
Like in many other states, Evans said, Minnesota saw an uptick in violent crimes during the pandemic, which in turn revealed a widening gap in trust and accountability between law enforcement and the communities they serve. To build public trust and fight crime, the division in 2021 partnered with Minnesota IT Services, the state's technology bureau, on a publicly accessible database.
"A database that can inform the public so they can ask questions to public servants like myself that serve them every single day in their communities," Evans said of the project, a finalist for a NASCIO award this year. "We're trying to put the data in people's fingertips more quickly than we ever had before."
The yearslong project resulted in databases that provide to Minnesotans more tracking tools and on real-time crime data, including sexual assault evidence and no-knock warrants.
'Building accountability'
A 2020 Minnesota statute mandates that sexual assault survivors have access to information about the sexual assault kits related to their incidents. The departments worked with health care and law enforcement agencies to deploy Track-Kit, an evidence-tracking tool that allows survivors to view where their kits as they're being processed.
"It's a way of bringing transparency to the process, but also building accountability so we can follow up and ensure that that kit is treated exactly how that victim survivor wanted it to be," Evans said of the tool.
And Minnesota IT Services built security infrastructure to ensure survivor identity is protected, he said. Officials also told StateScoop identifying information of sexual assault survivors is not stored in the system.
"Nobody will ever be able to access the identity of the sexual assault survivor in that situation — that's critical," Evans said.
Neighborhood watch
The departments on the project also had to incorporate security measures when building the Minnesota Crime Data Explorer, a platform that allows users to view crime incidents in the state, without exposing sensitive background information.
The website incorporates data from local law enforcement agencies and acts as a supplement to the state's annual Uniform Crime Report. Users can search, filter and sort crime data, view trends in charts and graphs, and export graphics and spreadsheets through data visualizations that make the often dense information easier to understand.
"Data Explorer is really our transition to neighborhood crime reporting," Evans said of the platform.
In 2021, a federal law enforcement data collection system called the Summary Reporting System was replaced with the National Incident-Based Reporting System, which includes a more detailed accounting of the crimes involved in each incident. Evans said the state's system is likewise capable of sharing more detailed reports.
"It gives us a lot more elements, much richer data than we've ever had before, which allows Minnesotans to better understand crime in their communities," he said.
The web portal is also accessible to Spanish, Somali and Hmong speakers, a reflection of the ethnic and lingual diversity of Minnesota residents.
No-knock transparency
There has been greater scrutiny on law enforcement's use of no-knock warrants in Minnesota, a practice in which police officers do not announce themselves prior to entering a property.
Minnesota requires all law enforcement agencies to report the number of no-knock search warrants requested, court-issued and executed, as well the number of injuries and fatalities suffered during those operations.
No-Knock Warrant Reporting created an online form for law enforcement to report the use of no-knock warrants, including the amount of warrants requested, the reason, type of crime, whether it was executed or denied by a judge. Evans said residents can compare data across communities to see which law enforcement agencies were requesting warrants more often.
"The data collection brings transparency and accountability to the process as well so people can ask questions," he said.
The Minnesota Bureau of Criminal Apprehension recently launched a companion site displaying data on drug overdoses and deaths. Officials said crimes related to drug overdoses will be added soon. Evans said the state also plans to add new features and datasets including mapping, ethnicity data and carjacking data.
Corrected Oct. 4, 2023: Several corrections were made to accurately reflect which agencies were responsible for developing each project.