Written by
StateScoop Staff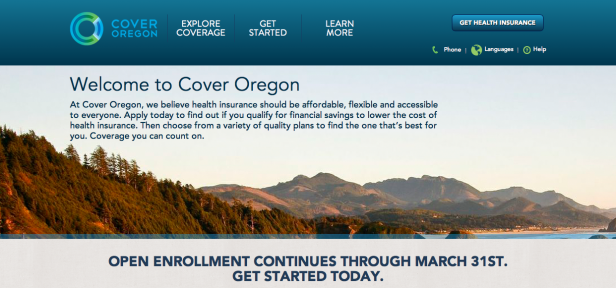 Three bills are moving through Oregon's state legislature aimed at improving oversight of the state's information technology projects, including Cover Oregon, the state's maligned health insurance exchange.
The announcement comes less than a week after a group of four Congressmen, led by Oregon Rep. Greg Walden, sent a letter to the Government Accountability Office calling for an investigation into Cover Oregon.
The exchange received more than $300 million in federal funds, yet has been unable to successfully enroll residents into the program more than four months after the beginning of open enrollment.
"No one is angrier than I am about the issues we have with Cover Oregon," Oregon Gov. John Kitzhaber said. "No one wants to get to the bottom of this more than I do. My goal is to get Oregonians enrolled in quality, affordable health insurance and we are getting it done."
The three Oregon bills cover the challenges facing Cover Oregon and look at ways to better manage future projects.
House Bill 4154 contains a number of provisions that will help Oregonians affected by the difficulties of the Cover Oregon rollout. The bill won unanimous approval in the House Health Care Committee on Wednesday.
A companion bill in the Senate, SB 1582, is designed to ensure no Oregonian who has a pre-existing health condition falls through the cracks. The bill establishes a short-term health coverage program for current Oregon Medical Insurance Program members who did not enroll in replacement coverage by the end of the 2013 calendar year.
A third piece of legislation, House Bill 4122, is aimed at ensuring better oversight and accountability for future IT projects.
The bill unanimously passed the House Consumer Protection and Government Efficiency Committee. It would require an independent quality assurance review for all public IT contracts of $5 million or greater, and other public IT contracts that meet specified requirements.
These improvements will give the state's recently hired chief information officer, Alex Petit, expanded authority and help the state hold its technology vendors accountable for delivering results.
HB 4154 and SB 1582 were both referred to the Joint Committee on Ways and Means before advancing to their respective floors. HB 4122 next moves to the House floor.
Cover Oregon's online enrollment system was supposed to launch Oct. 1, like others like it across the country, allowing individuals and small businesses to compare insurance plans and qualify for federal tax credits to subsidize the premiums.
It wasn't ready, however, forcing people to fill out a lengthy paper application that would have to be processed by hand. Pieces of the site are now working, and some portions of the processing are automated. However, it's still not possible for someone to complete the entire process online.
The state has hired or reassigned 400 workers to process applications. According to the governor's office, nearly 90,000 people had enrolled, 32,000 of them in private insurance and the rest in Oregon's Medicaid program, the Oregon Health Plan.
Another 123,000 people enrolled directly in Medicaid through a process that bypasses Cover Oregon.
"The legislature is asking the right questions about what went wrong during the rollout of the Cover Oregon website," Kitzhaber said. "Just as the legislature did when it passed the original pieces of legislation to create Oregon's health insurance exchange and our Coordinated Care Organizations, we are demonstrating that it is possible to have a healthy, vigorous debate and still come together in a bipartisan manner."