North Carolina opens virtual exploration with help from Google's 360-degree backpack cameras
The North Carolina Department of Information Technology is using Google's Trekker program to preserve 360-degree journeys through cultural, natural and historical landmarks.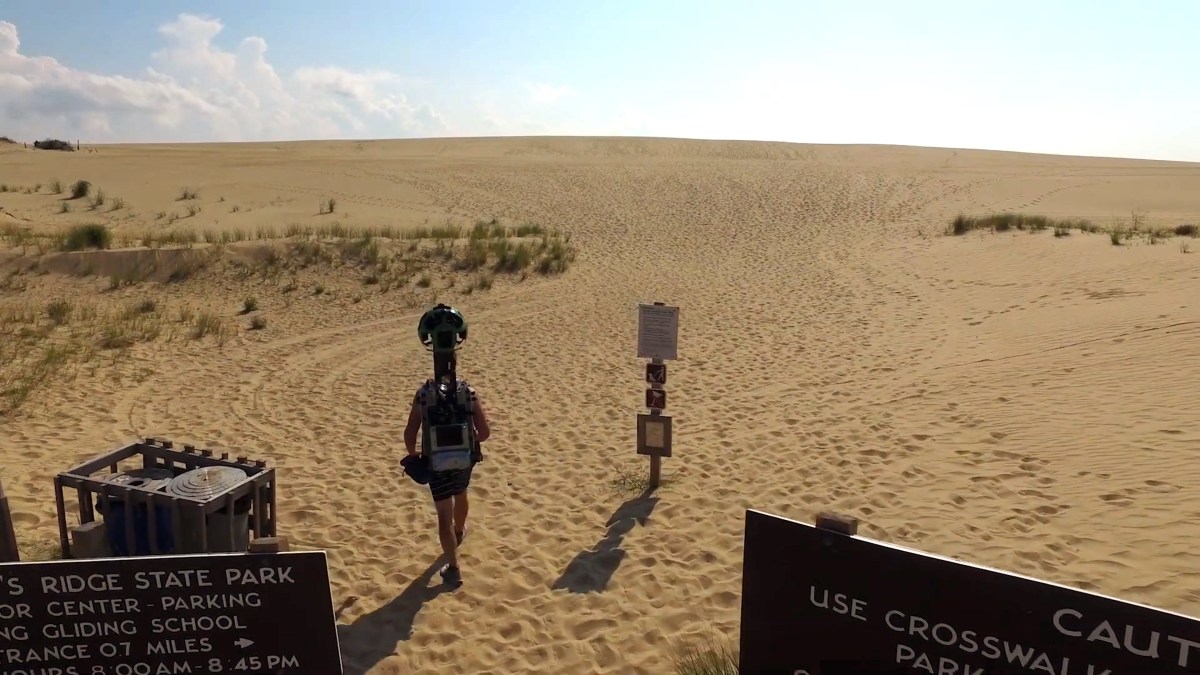 The North Carolina Department of Information Technology is preserving 50 of the state's natural and cultural sites in Google's 360-degree interactive map, thanks to help from students at North Carolina State University who hiked around the state wearing a backpack equipped with mapping equipment from Google.
NC360, the state's 360-degree digital experience that went public on Monday, is the largest state-led effort in the country to partner with Google's Trekker loan program, an initiative in which the internet giant loans out one of its backpack-style camera rigs to organizations and institutions that use it to document places that are hard to reach by car, like the beaches of Florida or Michigan's lakes.
The backpack, outfitted with 15 cameras and weighing in at 44 pounds, takes a photo every 2.5 seconds — frequent enough to capture a consistent 360-degree view while moving, whether the wearer is walking down a mountain trail or through a museum.
Nearly three years after the project began, the photos captured by the rig are now integrated into Google Maps and, more importantly for North Carolina, available for residents, tourists and students to observe location-by-location on a state-government website. It's useful for virtually every North Carolina resident, said Mary-Alice Warren, a visual communications specialist at NCDIT.
"Think about if you're a teacher in the western part of the state," Warren said. "You're low on funding and you are doing a lesson plan on the coast, or somewhere in the eastern part of the state. You can pull this imagery up and give the student a tour of whatever you're talking about. It's also a good way for students to have a new emerging technology in the classroom, something they can use themselves and put their hands on it."
Lesson plans using 360-degree mapping aren't new in grade-school and college classrooms. Teachers have used Google Maps for free since 2005, but the interior of buildings like the state capitol and trails in state parks remained uncharted online, said Deante Tyler, the director of NCDIT's Innovation Center, which led the mapping project.
This project aimed to change that and to preserve some of the natural places threatened by climate change, like North Carolina's eastern shore.
The Innovation Center mapped out the state's most recognizable mountain, coastal and central sites over two periods in 2016 and 2018, Tyler said. Because Google has a limited number of the cameras, Tyler's team could only rent the device for a few months — not enough to map all 50 sites themselves.
That's where North Carolina State students came into help, Tyler said. Interning at the Innovation Center as "foot soldiers," students earned $10 an hour hiking with pack across the sites, allowing Tyler's team to compile the photos and send them back to Google in early 2018.
Eight months later, Google finished processing the photos, blurring out faces and license plate numbers before they went live on NCDIT's website and Google Maps. Warren said NCDIT plans to present the project to the state's Department of Public Instruction soon.
NCDIT is also talking with the state Department of Environmental Quality about a separate mapping project that would use drone-mounted cameras.