Illinois earns legislative go-ahead for modernization push
CIO Hardik Bhatt plans a full-speed-ahead effort to consolidate and modernize the state's IT as quickly as possible.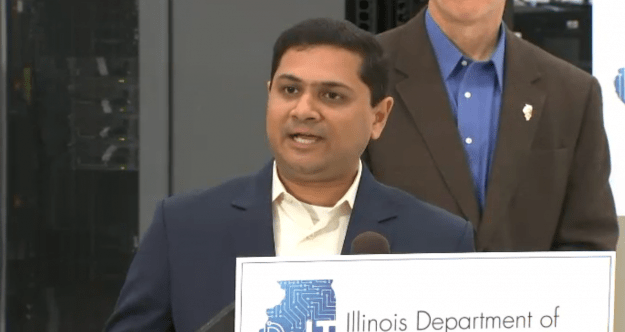 Illinois Gov. Bruce Rauner's plans to modernize the state's IT infrastructure have gotten the green light from lawmakers, and Chief Information Officer Hardik Bhatt is ready to move full speed ahead on the effort.
That effort includes hiring a new chief data officer, commissioning new enterprise licensing systems and beginning to move agencies to a statewide enterprise resource planning system.
Though Rauner issued an executive order on Jan. 26 calling for a massive IT consolidation to jumpstart the effort, the Legislature still had 60 days to vote to scuttle the plan.
But after the CIO and his staff spent weeks meeting with legislators to sell them on the new vision for IT in Illinois, Bhatt told StateScoop Wednesday that the administration secured broad support for the plan and it can now go forward.
"We kind of knew about a month ago that we weren't going to get any opposition, but we still didn't want to take anything for granted," Bhatt said. "Fortunately, we spent some good time with legislators on both sides and all of them were wholeheartedly supportive of those things."
That apparent support led Bhatt and his new Department of Innovation and Technology to prepare at speeds he described as "unheard of" not just for the public sector, but the private sector as well.
One of his key efforts over the last few months has been to assess the state's current "infrastructure, budgets, contracts and people." He expects to review next-step plans with the governor's office now that the modernization push is moving ahead.
He's also been searching for the state's first chief data officer. Bhatt was hoping to have someone in place in the role by now, but his efforts hit a snag.
"We actually found a good candidate, but we couldn't pay them enough," Bhatt said. He said he may pull the trigger soon on another candidate, noting the CDO will play an integral role in developing what Bhatt calls a "data-driven government."
[Read more: Illinois looking to hire first chief data officer]
Whoever Bhatt picks for the job will have a full plate upon arrival — the CIO wants to hire staffers to work under the new CDO as soon as possible, and start working with higher education institutions to build new data sharing partnerships.
As the year progresses, Bhatt also expects to start the ball rolling on some other key elements of the project. In the coming weeks, he expects the state will issue requests for proposals for "enterprise licensing" systems and by the fall, he hopes to have the first handful of agencies running the enterprise resource planning system he's putting in place statewide.
Around the same time, he also plans to launch professional development programs at the state's universities and community colleges for IT workers, as part of his push to better educate the 1,700 employees under his department's purview.
"My goal is to offer them starting this fall, but we'll see," Bhatt said.
Eventually, Bhatt hopes to unveil a detailed blueprint for how the modernization project will proceed. But when he does, he's confident that it will make one key theme abundantly clear.
"We really want to accelerate and keep a real laser focus on [return on investment] for taxpayers," Bhatt said. "Everything we want to do going forward has to be business focused."
Contact the reporter at alex.koma@statescoop.com, and follow him on Twitter @AlexKomaSNG.