Drones and databases: How two Western states are meeting an aggressive wildfire season with tech
While Colorado takes to the air, California is standardizing data to provide more accurate real-time information to firefighters and the public.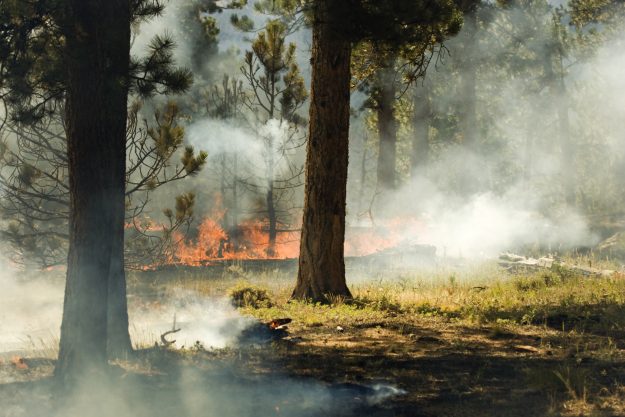 Wildfire season is here again, with nearly 1 million acres burned across 12 states . And once again, the Western United States is experiencing the bulk of the fires, with thousands being forced to evacuate their homes and officials scrambling to contain the flames.
Colorado and California have been hit especially hard, with 11 separate fires in the latter torching more than 200,000 acres in the past month. One of the season's biggest fires yet was contained on Sunday in Sonoma County, California, but California firefighters still face at least six more active blazes.
While the fires test nearby communities and firefighters, they've also presented state officials with opportunities to try out their latest technical solutions for responding to quick-moving emergencies.
Authorities in Colorado are taking their advancements in firefighting to the sky, in gradual steps. A few firefighters on the ground right now in southwestern Colorado are hiking into the woods with a DVI Mavic drone in their packs as part of the beta test of an aerial mapping system designed to keep better track of firefighters in the field.
"A lot of times you get in the woods and you're not always sure where you are or where the fire is," said Ben Miller, the director of the Colorado Center of Excellence for Advanced Technology Aerial Firefighting , a division of the state Department of Public Safety that develops new tools for combatting wildfires.
The drone flights in Colorado are part of a project called the Android Team Awareness Kit, or ATAK, a mobile platform first developed by the Pentagon to help U.S. troops track each other's locations in combat environments. The technology, based on NASA maps, has since been converted to civilian uses.
In Colorado, participants in Miller's beta test will use their drones to get footage of active fires that can be pushed to apps on the phones of firefighters on the ground. Versions for iOS and Windows are being developed in addition to an Android version, as mobile phones vary from firefighter to firefighter, Miller said.
When ATAK and its sibling versions are ready to be deployed statewide, firefighters in Colorado's wilderness will have a better sense of where the flames begin and where their comrades are.
"There's a cool feature we're looking at that when we point our drone at a hillside, it uses this augmented-reality display to put a dot where people are located," Miller said. "We think that's going to be huge. Maybe I'm a crew boss on the hillside. Now I know where there fire's at and where my guys are at."
In the longer term, Miller has plans for additional firefighting roles for unmanned aerial systems, including "pseudosatellites" that can hover at 60,000 feet and replace cell or radio towers that have been damaged or destroyed. These devices would be much larger than the drones being used in the ATAK beta.
"We're moving away from drones that fit in backpacks and we're moving toward drones that fit in hangars," Miller said.
Miller's group is also looking into drones that can fly in extra equipment to firefighters who are already on the ground, potentially lightening their backpacks by 15 to 20 pounds or at least saving them a time-consuming hike back to a base camp.
"It's not flashy but it would prevent injuries and help firefighters save energy," he said. "When a firefighter needs an extra hundred feet of hose, now he can get that in less than half an hour."
Still, drone usage in wildfires remains very limited. Between cargo and personnel helicopters and wide-body planes spraying water or chemical retardant, the skies over wildfires are plenty busy without unmanned vehicles. And privately operated drones can quickly become nuisances. Officials in both California and Colorado have warned hobbyists to keep their drones away from wildfires.
Aggregated and coordinated
In California, the Health and Human Services Agency, which oversees hospitals, elder-care homes, childcare centers and other facilities has continued to hone mapping tools and data standardizations it started developing during the 2017 fire season. The process began last year, after interagency differences in collecting information about affected facilities resulted in a two-week delay in mapping which places needed to be evacuated due to serious wildfires in the northern half of the state.
Residents needing to find out if facilities that care for their family members were damaged or destroyed could not get reliable information from the state. When more fires broke out a few weeks later in Southern California, CHHS created a rudimentary spreadsheet with standardized data fields that cut down the aggregation time to about 48 hours.
Now, that process is down to just four or five hours, Marko Mijic, CHHS's assistant secretary for program and fiscal affairs, told StateScoop on Friday. Mijic said his office now receives information about affected facilities on a "really fancy" spreadsheet with clearly defined data fields. The inputs are then put into a map powered by the geospatial imaging company Esri, which can be overlaid with shelter locations and the latest updates from Cal Fire, the state firefighting agency.
"All the departments are using the same data standards across the board," Mijic said. "That does two things: allows us to aggregate data to give us a holistic snapshot, and allows us to be better coordinated."
Mijic said officials can stay up-to-date on the different facets of fire response with a GIS-based dashboard that runs on data-visualization software from Tableau. The next step, he said, is to make a public-facing version so Californians can see the latest information — like fire locations and facilities that need to be evacuated — in close to real-time.
"We want to create a standardized website we would activate in a response where they could look at child care facilities, hospitals, nursing homes, etc. and see what the status is," Mijic said. "If it's a residential care facility, it would say where residents were evacuated to."
Whether with drones or databases, the continued development of new, high-tech ways to respond to wildfires is a reminder for Western states that fire season is has become close to a year-round issue.
"Unfortunately we're still in a drought," Miller said. "Just broadly now, there really is no season. We're at the point where we have to figure out how to work smarter, and tech is part of it."
Mijic, in California, is just as busy. A public version of his agency's fire-information dashboard could be ready as soon as September, he said.
"I think we're making pretty good progress," he said, "but there's still a lot to work on."