California's wildfire tech R&D group has big plans
Deputy Chief Marcus Hernandez said his office's upcoming report will tell the governor which innovative new firefighting technologies show the most promise.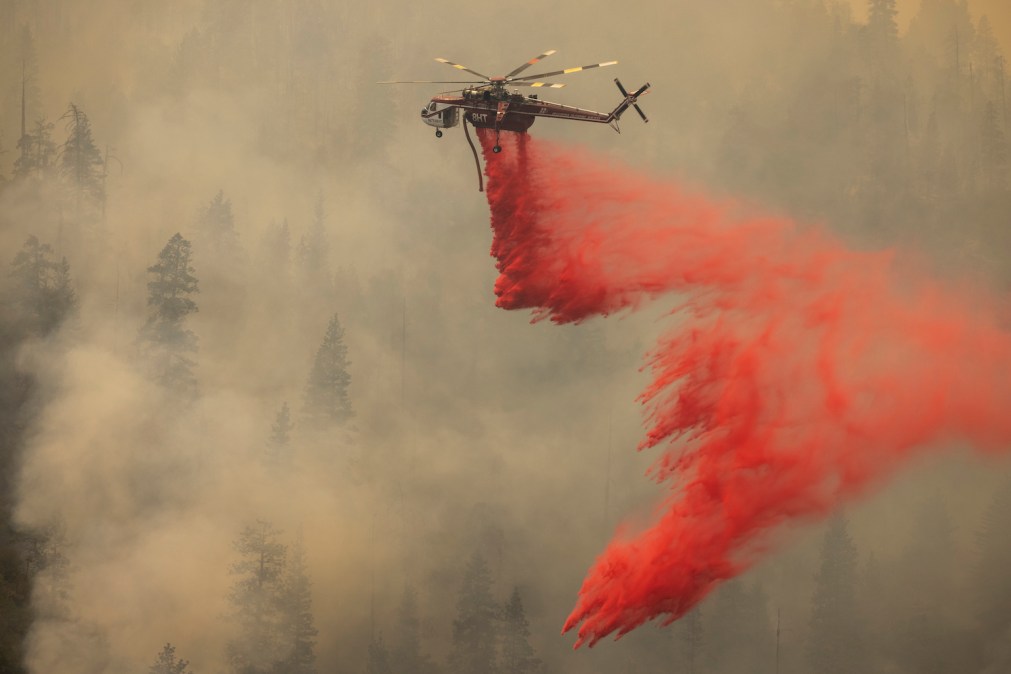 Unlike many government agencies, CalFire is quick to adopt new technologies.
One of the newest ways it does that is through the California Office of Wildfire Technology Research and Development, a central organizing hub that explores emerging technologies that can benefit the state's wildfire community, the group responsible for fighting blazes. Today, the young office is developing new technologies for tracking personnel, detecting fires early and improving situational awareness.
The office is comprised mostly of IT staff for administrative purposes, research personnel in charge of technology exploration and an advisory board with nine state officials. But there's also Deputy Chief Marcus Hernadez, the office's token firefighter, who represents the first responders who will actually be using new technology developed by the office to put out and prevent fires and respond to other emergencies.
"I'm the firefighter of the group," said Hernandez, who has experience as firefighter paramedic and rose through the ranks to hold positions as both captain and chief. "They brought me in as a kind of subject matter expert."
The office, which was created by a 2021 law and sits within the Governor's Office of Emergency Services, is planning to submit a report to Gov. Gavin Newsom and the state legislature in January with recommendations on which new technologies the state should pursue that would most improve the efficiency of first responders fighting wildfires and other natural disasters.
"There's a lot of great innovation out there," Hernandez said. "We just want to make sure that innovation goes in a direction that's useful."
The right type of tech
Hernandez said there are several problems the Office of Wildfire Technology Research and Development would like to solve that don't have an immediately available technical solution. One of them is data connectivity.
"In a lot of big emergencies, including wildfires, there's often data connectivity issues. That happens when there's emergencies in large cities, either the infrastructure is overwhelmed or taken out," Hernandez explained. "So while there are new technologies, such as low Earth orbit satellites to get data to a specific point, it's not always as easy to spread that data over great distances. A lot of times it's still line-of-sight."
As CalFire looks to integrate new technologies into its firefighting arsenal, Hernandez said, prioritizing technology that provides stronger data connectivity among emergency responders is essential.
Hernandez said the next technology the office will recommend, in its January report, is one that enables better tracking of firefighters after they leave vehicles, including helicopters, pickup trucks and fire engines. CalFire currently has the ability to track its vehicles, but not its personnel, he said.
"When we go and do emergency work — wildfire, search and rescue or whatever — we only have an idea of where our personnel went," Hernandez said. "We can't see where they've walked to or where they've hiked to."
He said that if the agency can reliably track dismounted firefighters, ideally with small devices they can hook to their uniforms, leaders will have greater situational awareness.
"And that's of great interest to multiple fire departments. We're trying to find an efficient solution to do that," he said. "We're always looking for ways to enhance everything we do through the 'internet of things,' without adding another manual task to do or another screen to look at. It's hard enough to look at one screen and we already have to look at multiple screens. We can't be adding more."
'We're going to see if that works'
The California Office of Wildfire Technology Research and Development is also testing a new type of remote sensor that can detect lightning strikes and predict whether they'll start a wildfire.
"We're testing some lightning sensors near Lake Tahoe to see if it can differentiate a high-risk lightning strike from another one," Hernandez said. "It looks at things such as the charge of electricity, current fuel conditions and current weather. So we're going to see if that works."
He said CalFire placed three remote sensors in the Lake Tahoe area, and U.C. Berkeley, a research university often involved in technological development, placed two. Hernandez said the agency hopes to collect enough lightning-strike data to yield definitive results by next summer.
CalFire also currently uses drones for reconnaissance and mapping. The state's aerial fire-fighting fleet includes the Fire Integrated Real-time Intelligence System, or FIRIS, an airplane equipped with infrared cameras and data-forecasting tools that can capture thermal images of the landscape below, which help firefighters determine where they should create containment lines.
But Hernandez said firefighters aren't as excited about drones as many believe.
"Everybody thinks the fire industry is interested in an uncrewed aerial system – a drone, for lack of a better word – that can spray 5-30 gallons of water on a fire," he said. "We're not really interested in that because we have crewed aircrafts that drop thousands of gallons of water."
And he said privately-owned drones flying near incident areas sometimes delay operations.
"If there's an unknown [drone] in the air, we have to cancel our crewed aircraft until it's out of the area," Hernandez said. "The last thing we want is to have a mid-air collision risking our flight crew safety, but also the personnel on the ground."
'A raving success'
Hernandez said the office's report next January will contain high-level recommendations on which technologies the state should invest in and how much it should spend.
As an example of the type of work he wants his office to do, he pointed to ALERT California, a program developed by University of California, San Diego that deploys cameras and sensors throughout the state and uses artificial intelligence to monitor wildfires and disasters in real time. He said it's an example of how technological innovation has helped streamline CalFire's administrative processes, provide information to the public and improve wildfire detection.
"It's been a raving success, one of the greatest inventions of 2023," Hernandez said of the tool. "It's just been great in detecting smoke that turns out to be fire — sometimes before people call 911."
But, he said, neither his office nor its advisory board are involved in decisions about which emerging technologies CalFire adopts. Those decisions are left to policymakers, procurement offices and operations managers.
"We prove there is a solution," he said, "and that it is a viable solution for the wildfire community."