Financially stressed by outbreak, fire departments foray into digital
As one of the slowest industries to adopt new technology, fire departments are now trying new apps and services, chiefs say, as the pandemic stretches resources thin.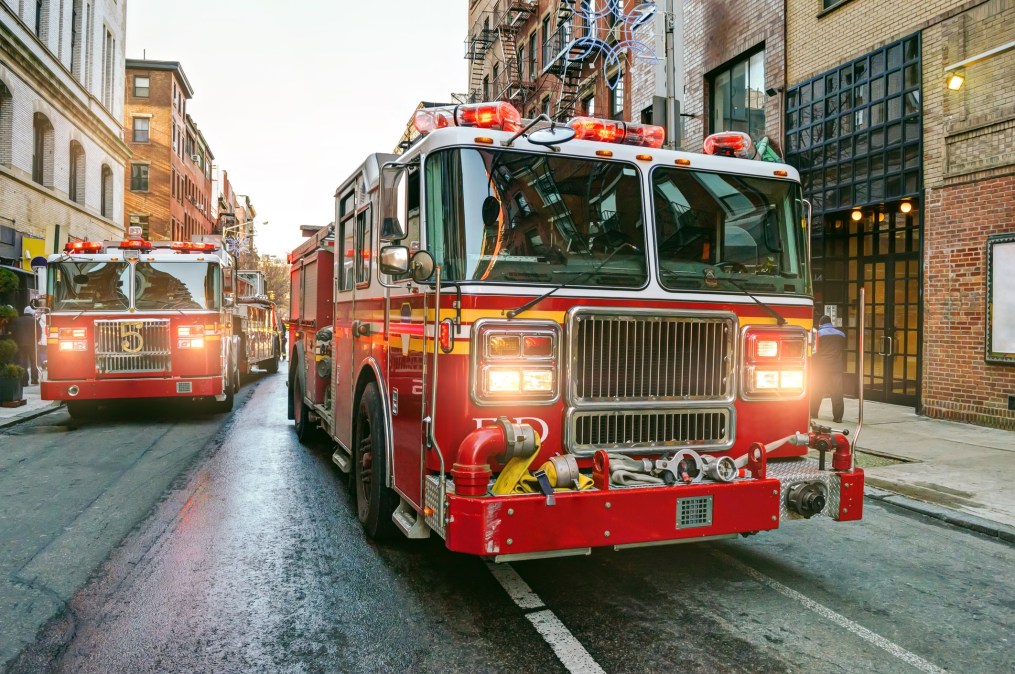 As the novel coronavirus closes down schools and businesses around the country, essential first responders and firefighters on the front lines of relief efforts have embraced digital communication and data-sharing software to stay safe and efficient, according to several local fire chiefs.
The pandemic, according to Dan Munsey, the fire chief of San Bernardino Fire and Emergency Medical Services in San Bernardino, California, is forcing the firefighting industry to innovate faster than it's ever had to before, especially for logistics and communication. Speaking on a conference call hosted by AT&T and the FirstNet Authority, the federal agency overseeing the national public-safety communications network, Munsey said technology is helping firefighters to solve problems beyond beating back blazes.
"Fire service is one of the slowest technology adopters out of any industry, only second to the construction industry," Munsey said. "But right now, we're facing serious fiscal challenges, we're having our operational capabilities challenged, and frankly we're facing strategy [troubles]."
Others on the call included Jim Whitney, the chief medical officer of the Redmond Fire Department in Washington; Harold Scoggins, the fire chief of the Seattle Fire Department; and Brian Fennessy, the fire chief of the Orange County Fire Authority in California. All three jurisdictions, they said, have moved to virtual meetings and briefings, for everything from situational awareness to operations, supplies and medical information. Fennessey said that his agency has demanded first responders be as educated as possible "because they have to be the COVID-19 experts" when they arrive at a scene.
The officials said they've also been as careful as possible to limit their own exposure to the virus. Once exposed or showing symptoms, firefighters quarantine or isolate for 14 days, they said.
"Whether it's a broken leg, a cut finger, everybody gets a mask," Fennessey said.
The crisis is also stretching the resources of emergency services and the chiefs said they need every service member they can get. New York City 911 dispatchers received more calls for help on Wednesday night than they did on Sept. 11, 2001, surpassing the city's one-day record, according to emergency workers' unions.
One way that firefighters are responding to resource shortages is by sharing equipment-inventory data with the International Association of Fire Chiefs, which has set up several daily surveys for local departments to share information about equipment shortages and the number of cases they're recording locally. The data feeds into data dashboards that departments can use to visualize where outbreaks are occurring and what kinds of equipment they need.
"Once you start collecting information from various agencies," Munsey said, "the IAFC leadership can use this information to talk to Congress, to talk to some of the larger vendors and ensure that the correct [personal protective equipment is] being distributed to the parts of the nation that really need it."
Fire and emergency medical services departments are also capitalizing on their relationships with local health care providers and tech companies to figure out which of their members might be infected with the new coronavirus. Scoggins told StateScoop his department partnered with Amazon to create an online system for delivering test results.
"The member gets a barcode when they get a swab," Scoggins said. "One side of the barcode goes on the package that goes to the lab, along with their other information. They then can check that barcode on their phone and find out what their test results were."
Munsey said that upon arriving at the fire station in the morning, personnel are required go through an online wellness check that's accessed by scanning a QR code on his department's COVID-19 information packets. The data collected through the wellness checks is uploaded to a dashboard for management to review.
"We've probably sent 40 or 50 people home," Munsey said.