California officials defend $50M vaccine website
The "My Turn" site has been called incompatible with systems used by county-run and retail vaccination programs, but state officials say there's no incompatibility.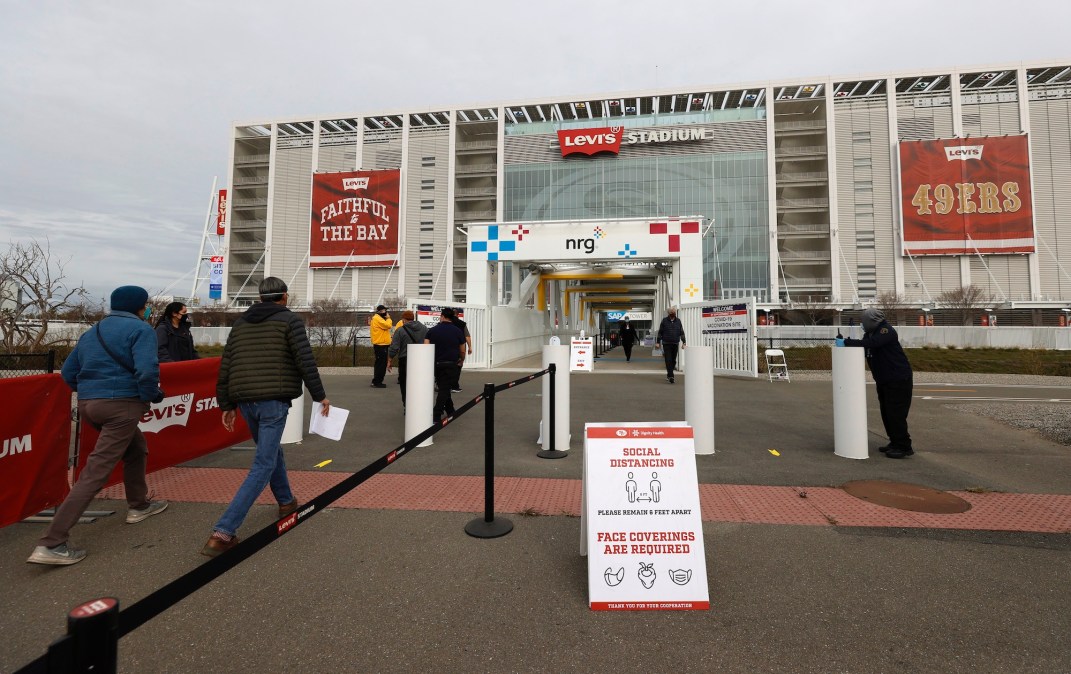 California officials on Monday responded to recent criticism of the state's COVID-19 vaccination website, saying that over the past three months, it's become one of the most efficient state-run vaccine platforms in the country.
In a blog post published by the California Department of Technology, officials wrote that the site, called My Turn, was being used to deliver more than 100,000 vaccine appointments daily as of April 19, a rate higher than that seen in all but six other states. While that accounts for slightly more than one-quarter of the nearly 388,000 shots being administered in the state daily, the site has been faulted for technical glitches, being difficult to navigate and incompatibility with the vaccine programs managed in some counties and pharmacy chains.
Last week, the online publication CalMatters reported that while My Turn can directly schedule vaccinations at state-run mass vaccination sites, like one at the Moscone Convention Center in San Francisco, and a few county-run clinics, it can't do so with retail pharmacies getting their doses directly from the federal government or major medical providers. The My Turn site also does not schedule appointments for homebound individuals, CalMatters reported.
Part of the incompatibility may stem from the fact that because California turned to Blue Shield, a major insurance carrier, to manage its statewide vaccine distribution, other providers' IT systems cannot interact with the site. This has extended to county vaccination programs, including in Los Angeles, which contracted with a different organization, Carbon Health, to run its clinics, including one at Dodger Stadium. My Turn users can see a list of vaccine clinics run by the state, their counties, retail chains and other organizations, but it can only book appointments directly at sites run by the state or another entity that's signed on with Blue Shield.
In a stinging editorial Monday, the Sacramento Bee called the site, which has cost the state $50 million, a "flop."
But the California Department of Technology told StateScoop there is "no incompatibility" between My Turn and vaccine programs around the state.
"MyTurn is the front door for vaccine search and appointments for California, with more than 1,800 clinics online" Amy Norris, the department's deputy communications director, wrote in an email. "There are many appointments available, and all counties have clinics of different types available in the My Turn system including the federal pharmacies," like CVS, Walgreens and Ralph's.
Norris also wrote that mass vaccination sites managed by providers other than Blue Shield get a steady flow referrals through My Turn. Levi's Stadium, the San Francisco 49ers stadium in Santa Clara County managed by Carbon Health, has gotten more than 10,000 referrals off the site in the past week, she added.
CDT also said many nonprofit community clinics are using My Turn to book appointments and that an update to the site planned for this week will add a feature to reach homebound residents.
California is hardly alone in having difficulties with its COVID-19 vaccine website. In February, Massachusetts Gov. Charlie Baker publicly said he was "pissed off" at IT vendors after his state's site crashed shortly after launching. Last month, Washington, D.C., officials came under fire after a site offering a limited number of vaccine appointments crashed three days in a row, leading to the creation of a pre-registration option.
"There was a bump or two along the way as we ramped up quickly," the CDT blog post reads. "But overall the system has performed optimally even with surges in traffic, and we have worked with our local health jurisdiction partners to add new features and make continuous improvements. … To date, more than 6 million appointments have been found through MyTurn's search."
California officials did not dispute the $50 million cost cited by CalMatters and other reports.