California launches COVID-19 vaccine look-up website
A third party is also developing an app that would allow businesses to scan customers' phones to verify the portal's health information is legitimate.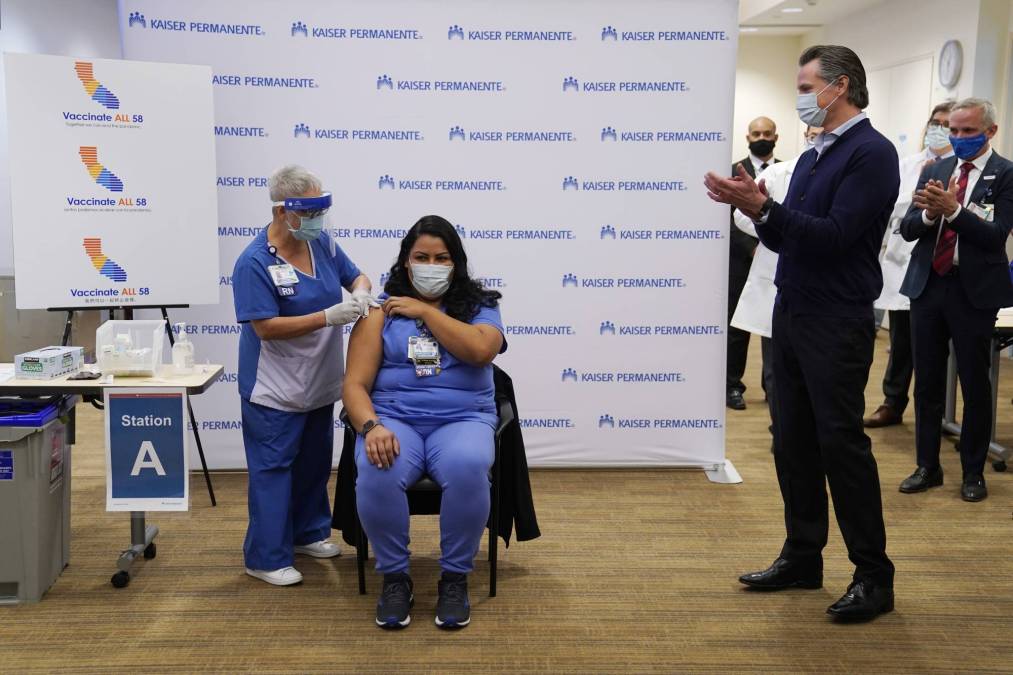 California's health and technology departments on Friday announced the launch of a new website that allows residents to fetch their COVID-19 vaccination information from the state's immunization registry system.
The state advertised the service as a "convenient option" and a "backup" for the paper cards already issued to the nearly 20 million Californians who've been vaccinated against the coronavirus. But officials emphasized that the site's use is optional and that it is not a vaccine passport.
California loosened its public health requirements last week, leading many businesses to post signs asking that only those who aren't yet fully vaccinated to continue wearing masks. Large indoor venues hosting 5,000 or more people are still required to verify guests have recently received a negative COVID-19 test or have been vaccinated, while the state is recommending outdoor venues hosting 10,000 or more people implement the same policy.
Gov. Gavin Newsom said the new tool is "not a passport," yet users who look up their vaccine information are shown QR codes that businesses will soon be able to scan to verify the legitimacy of the health information. Officials said Friday a nonprofit group called the Commons Project, which they emphasized is not part of the state government, is currently developing a mobile app to enable that functionality later this month.
"We worked with [the California Department of Public Health], tech industry leaders, and consulted with California's top businesses, service and event purveyors to create a system that works well for all sectors," California Chief Information Officer Amy Tong said in a press release. "We achieved our goal to quickly produce an intuitive portal that offers Californians another way, and an easier way, to access their own COVID-19 immunization history."
Built using an open-source framework called SMART Health Card, the tool allows users to look up their records by entering a name, birthdate and the phone number or email address provided to the vaccination center. The information is protected by a four-digit PIN created by the user upon first use of the tool.
New York is the only state so far to explicitly develop a vaccine passport. The New York Times reported on June 9 that the Excelsior Pass, which was developed via a three-year contract with IBM, could wind up costing taxpayers as much as $17 million. The app has so far been downloaded by approximately 2 million New Yorkers, according to the Times.
Governors in Arizona, Florida and Texas, among other states, have signed executive orders prohibiting businesses from requiring customers to show proof of vaccination.