Arkansas' $340 million government assistance software contract is under protest
The contract would replace the state's government-assistance enrollment software that it first attempted to replace in 2013.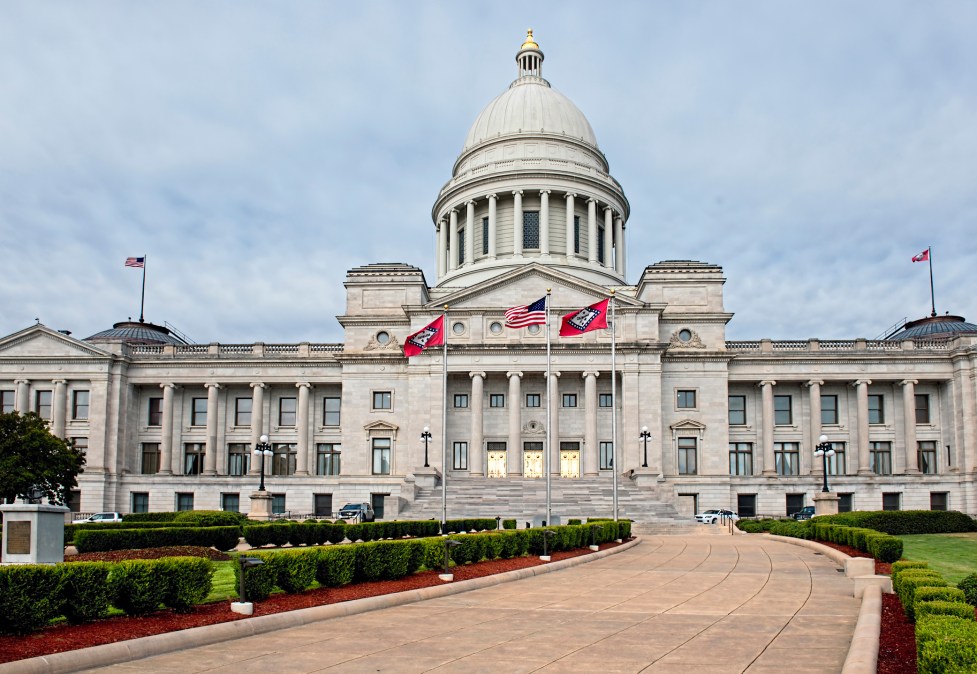 After awarding Deloitte a contract to overhaul its government assistance enrollment software, Arkansas has received a protest from a losing bidder who says it wasn't given a fair chance at a final bid.
The contract was awarded to Deloitte on October 4, four years after Arkansas Governor Asa Hutchinson ordered the state's vendors to halt work on a similar contract awarded in 2013. It's an enrollment software that includes programs like Medicaid and others, and would replace a current legacy system. The current version of the contract with Deloitte is worth up to $342.8 million over seven years, with $95.9 million of that delivered for the initial system installation and $30 million annually.
The protest — filed by Accenture's lawyer, Michael Shannon, last week — alleges that Deloitte failed to disclose problems with a former state-level software installation in Rhode Island, and that the contract was awarded without a final bid opportunity for Accenture and competing firms.
In April, Deloitte apologized to Rhode Island for its troubled UHIP software contract, which was intended to serve as an eligibility portal for public-assistance benefits in the state. Plagued by delays, outages and an inability to meet benchmarks with the program, the state has been sued by the American Civil Liberties Union multiple times — even bringing governor Gina Raimondo to the point of saying she was considering firing Deloitte last year.
In his letter of protest to the Arkansas Department of Finance and Administration, Shannon raised this point. Deloitte had told Arkansas officials that it had not been required to implement a corrective action plan for any of its eligibility system installations in five years, and only mentioned that the Rhode Island system "went live via a statewide 'big bang'" in September 2016, without addressing any of the problems.
Shannon also wrote that Deloitte had increased its total bid price from $246.3 million to the current mark of $342.8 million since it first submitted the proposal on June 30, 2017. Deloitte's original bid was $87,000 less than Accenture's opening offer, but Deloitte's $100 million increase, among other revisions to the contract, came once the firm started negotiating with state officials, Shannon said. He continued that Accenture wasn't given a chance to submit a "best and final offer," as is required under Arkansas code.
"Unless this process is reopened to Accenture, the State will enter into a $100 million no-bid contract," Shannon wrote .
A protest like this is expected when dealing with contracts in excess of a million dollars, according to Department of Finance and Administration spokesman Scott Hardin.
"It's just simply a chance for state procurement to go in, and the leadership to go in, and further audit and review those documents and make a determination of whether or not to sustain that challenge," he told the Arkansas Democrat-Gazette.
Accenture doesn't have a perfect record either — it has seen cancelled contracts in Colorado, Florida, Wyoming, Kansas, Wisconsin and Texas over the last decade or so, and recently had a disastrous experience in North Carolina when a computer glitch prevented many from receiving food stamp benefits.
Accenture received the second-highest technical score while being evaluated by Arkansas, with Deloitte coming in at No. 1 and Optum, a division of Minnetonka, Minn.-based United Health Group, at No. 3. Deloitte was awarded the contract on a combined basis of cost and technical score.
Prior to the eventual implementation of a new software program, the procurement process is being run by the state's Department of Health and Safety and Department of Finance and Administration, largely excluding the state's Department of Information Systems — a decentralized approach that Hutchinson is looking to fix.
Earlier this month, the governor proposed a reduction of 42 executive-level departments to just 15 as part of a "long overdue" transformation of modern government services. The transformation would likely increase the influence that state CIO Yessica Jones could have on large-scale IT projects like the benefits-enrollment contract — a big step toward statewide infrastructure consolidation, she told StateScoop.
""It's going to give us more leverage," Jones said. "If you think about it this way, we are part of the shared services department, so what we are currently doing is going to impact everybody."