Analytics option to join Salesforce Government Cloud
Salesforce's Wave Analytics program will join the already-existing options for government in their FedRAMP approved secure cloud, officials said.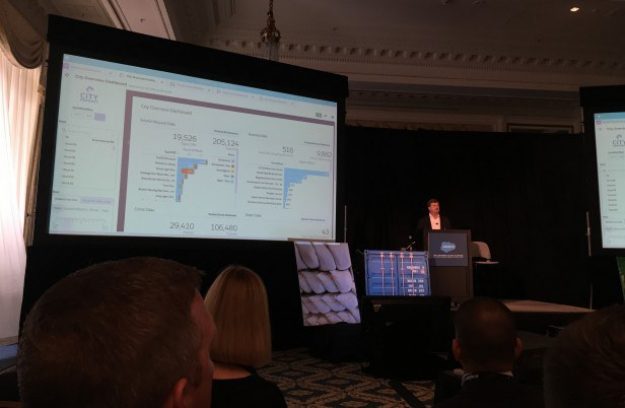 SAN FRANCISCO — Salesforce will bring its Wave Analytics platform to its government cloud offering for the U.S. Public Sector, officials confirmed Wednesday.
In a panel session Wednesday, Salesforce's Paul Tatum, the vice president of solutions for the public sector arm of the company, confirmed that the analytics portion of Salesforce's offering had received an authorization to operate under the Federal Risk and Authorization Management Program, or FedRAMP.
The FedRAMP approval enables public sector customers — federal, state and local, or otherwise — to leverage the secure, physically separate part of the Salesforce Government cloud for analytics due to the FedRAMP authorization, Tatum said.
Wave Analytics allows public sector entities to input various streams of data, both ones that exist within their Salesforce operations already, as well as ones from external sources into a singular source for visualization. From there, the user can "slice, dice and drill" into all of the data across multiple devices through the cloud, according to the company's website.
Vivek Kundra, the former U.S. chief information officer, and Salesforce's executive vice president of industries, also confirmed Wave Analytics entrance to the government suite during a keynote Tuesday.
When reached for comment, a representative from Salesforce declined to provide additional detail about the addition of Analytics to Government Cloud.
The announcement of Wave Analytics comes alongside the announcement of the company's new Internet of Things cloud, which will allow customers to pull data from "billions" of connected devices and bring them all together inside the Salesforce platform.
The new cloud offering "connects everything to Salesforce," according to a release from the company. In addition to phones, desktops and tablets, the IoT cloud can connect to windmills, turbines and other sensor-enabled technologies.
The IoT cloud will be in pilot for the first half of 2016, and will roll out to the private sector later in the year. According to a Salesforce representative, the company is "still working through the expected use cases for the government sector," but cannot publicly share any more detailed information on a timeline for government access currently.
Earlier this week, the Federal Bureau of Investigation's Internet Crime Complaint Center released a notice that the Internet of Things opens up a greater risk for cybercrime.