Va. Gov. McAuliffe, DHS officials stress cyber careers
State, federal and private sector leaders gathered at a Virginia high school to tout the benefits of cybersecurity careers.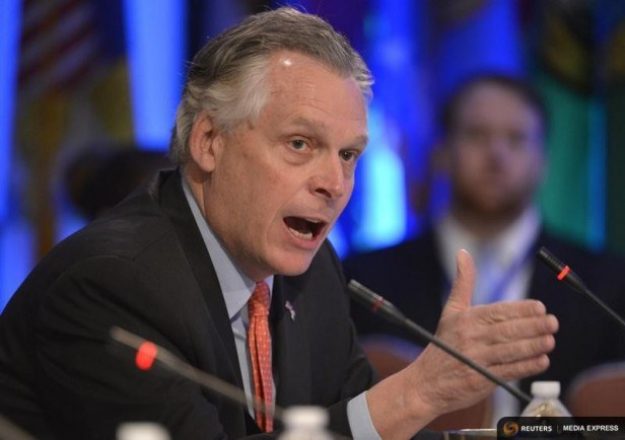 ARLINGTON, Va. — With the number of unfilled jobs for cybersecurity professionals still growing, federal, state and private sector leaders alike are imploring the next generation of workers to jump into the field
On Wednesday, the National Cybersecurity Alliance teamed up with officials from both Virginia and the Department of Homeland Security to host a "Cyber Careers" panel before a gathering of roughly 200 students here at Washington-Lee High School.
"It's incumbent on all of us to make the younger generation understand that these careers are out there," Virginia Secretary of Technology Karen Jackson told StateScoop. "Seniors and juniors in high school is almost too late. It has to be earlier and earlier and earlier."
Virginia Gov. Terry McAuliffe kicked off the proceedings by touting the 17,000 available cybersecurity jobs in the Northern Virginia alone and stressing that "we need to fill those jobs."
"We need cyber warriors here in the commonwealth," McAuliffe said. "Every business will tell you that today. Just talk to Target or Sony, anyone whose business has been hurt by cyberattacks."
But beyond platitudes about the value of cybersecurity, the professionals on hand also attempted to offer a glimpse into what their average day might look like to get the students excited about considering cyber as a career.
Mike Prado, acting director of Immigration and Customs Enforcement's Cyber Crimes Center, noted that his job tracking down cyber criminals across international borders can involve "long nights and early mornings" but ultimately proves to be thrilling.
"You still get out in the field, you still get in the car with the lights and sirens and kick someone's door in," Prado said.
Rob Karas, director of the Department of Homeland Security's National Cybersecurity Assessment and Technical Services program, admitted that his job requires a little less rough and tumble field work, but still presents plenty of excitement.
He described his work overseeing a team of analysts that were working to test one of their client's cybersecurity defenses by actually breaching their network through a phishing email.
"Within 10 minutes we had four people click on attachments, then we got on their network and actually saw admins chatting about the breach," Karas said. "Then, an hour later, we called them and explained how to fix it."
But the group was also quick to note that plenty of engaging opportunities exist in the private sector. Laura Galante, director of threat intelligence with FireEye Inc., discussed how she works with a team of analysts across the globe to decide which threats deserve to be made public, and which ones require more research.
"I'm sure there are people right now in English and history classes thinking about their sources in their research papers, and I'm doing the same thing," Galante said. "It's 'Do we need 15 sources or 20 before we tell the New York Times that we think China was behind this hack?'"
Galante was careful to note that students in the aforementioned English and history classes still have plenty to contribute to the field. Even though she got her degree in foreign affairs, she found her way to the field by applying her communication skills to working with a team focused on cybersecurity.
These days, she stressed that she looks for the same sort of skills when she's evaluating job seekers.
"Every single person I interview, I make them give me a writing sample, and everyone has to come in for an interview," Galante said. "The last day of English class is not the last time you'll be writing something. Every email matters."
Karas agreed that the belief that cybersecurity is just "ones and zeroes" is one of many misconceptions that exist in the field, and he urged students to keep an open mind about cybersecurity's many applications in the real world.
"That's a big misconception that cyber is just some guys sitting in a basement somewhere," Karas said. "But it's everywhere."