Swenson to assume FirstNet chair as Ginn steps down
Sue Swenson will replace Sam Ginn as the chair of the First Responder Network Authority board when his term comes to an end in August, Commerce Secretary Penny Pritzker announced Wednesday.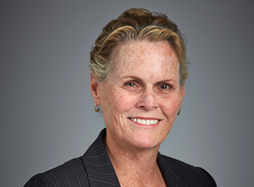 Sue Swenson will replace Sam Ginn as First Responder Network Authority board chair when his term comes to an end in August, Commerce Secretary Penny Pritzker announced Wednesday.
Ginn came out of retirement in 2012 to become the board's inaugural chair and lead it through the early stages of the FirstNet planning and development process with the intention of stepping aside when his term ended.
"Sam Ginn's leadership and experience building an organization from the ground up has been invaluable to FirstNet over the past two years, and we greatly appreciate his service," Pritzker said. "As FirstNet enters the next phase in its development, Sue Swenson brings to this start up effort seasoned management experience in the telecommunications field to carry out this important mission."
Ginn is seen as a pioneer in the telecommunications industry, serving as the chairman and chief executive officer at Pacific Telesis from 1988 to 1994 and chairman of AirTouch from 1993 to 1999, which was then sold to Vodafone, the world's second largest telecommunications firm.
He has tried to bring some of that private sector success to his role with FirstNet. When the board took office in August 2012, it had no full-time staff and a daunting task of laying the groundwork for a nationwide emergency broadband communications system.
In that time, Ginn has led the FirstNet Board in passing some key milestones:
FirstNet built its senior management team, pulling in talent from industry, public safety and government to lead the organization;
Designed a strategic roadmap to take FirstNet to the next stage of implementation and entered into spectrum lease agreements with four pilot projects;
Hired a staff of more than 50 employees and detailees and established a board committee structure to provide FirstNet with strategic vision and leadership on all elements of the business;
Established the Public Safety Advisory Committee to facilitate dialogue between the board and the public safety community.
"Over the past two years as Chairman, I've worked hard to ensure that the FirstNet organization is laser-focused on serving the needs of our customers – public safety professionals," Ginn said. "I'm proud of the work we've accomplished in such a short time and am supremely confident that FirstNet is in capable hands with Sue Swenson as chairwoman. I have been working closely with Sue over the past six months, and the timing is right to step aside and let her take the helm."
Swenson has been a FirstNet board member since August 2012 and was named vice chairwoman last December. During her time, she has played a key roll with the board, leading FirstNet's spectrum lease negotiations with four Broadband Technology Opportunities Program projects. She was also instrumental in FirstNet's development of a strategic roadmap.
Swenson has had a long history in the telecommunications industry. She served as president and CEO of business software provider Sage North America from 2008 to 2011. She also served as chief operating officer of digital content company New Motion/Atrinsic, mobile virtual network operator Amp'd Mobile, and T-Mobile USA. She was also president and COO of Leap Wireless International from 1999 to 2004 and president and CEO of Cellular One from 1994 to 1999.
While Ginn's departure was to be expected, it does mark another loss for FirstNet. Last month, Bill D'Agostino resigned as the project's general manager for personal reasons. TJ Kennedy has replaced him on an interim basis while the board looks for a full-time replacement.
The moves do come at an important time for the board. Earlier this month, FirstNet released a consultation package that provides a checklist of items states and territories should prepare prior to initiating official consultation proceedings with FirstNet, which could begin as early as July 1 for each jurisdiction.
In April, FirstNet delivered proposed checklists to the state points of contact in the 56 states and territories it impacts and sought additional input.
That input was incorporated into the consultation package, which includes a six-point readiness checklist states and territories need to complete before initiating talks with FirstNet and eight discussion topics FirstNet would like submitted.