Seattle's new street construction map reveals hundreds of projects
The new interactive tool is designed to help commuters in the fast-growing city get through the next four years of planned downtown renovations.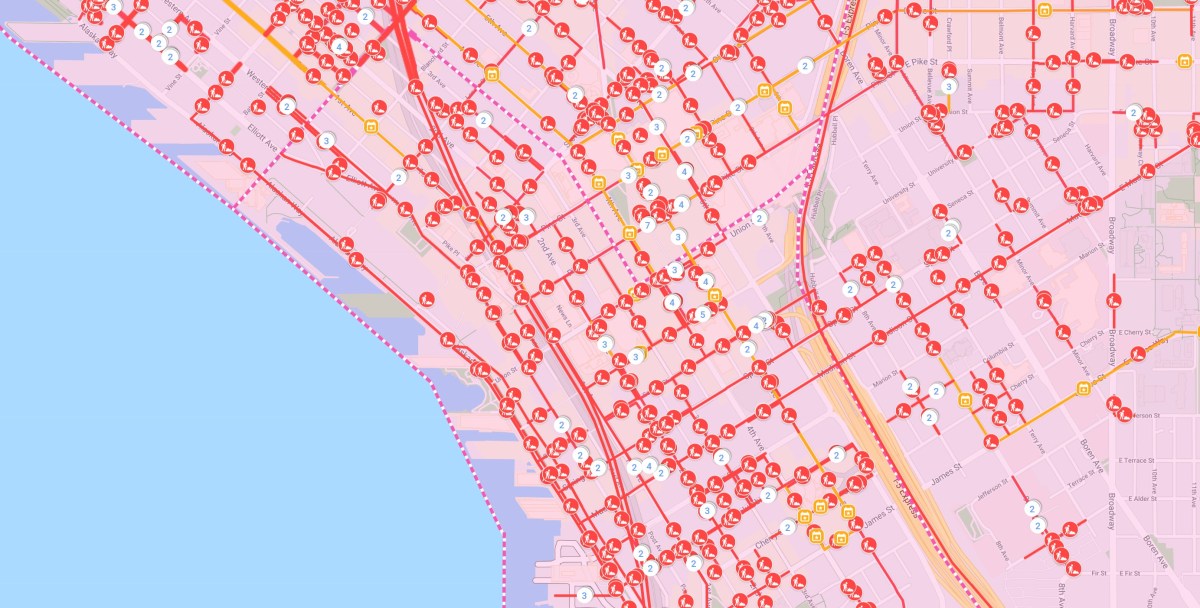 To assist commuters and pedestrians over the next four years of planned downtown transit renovations, the Seattle Department of Transportation launched a new tool on Monday, called dotMaps, which publicizes the city's hundreds of street and sidewalk closures in a searchable, updated map.
The interactive map allows residents to draw a digital boundary around parts of the downtown area that they'd like to receive emailed information about. The notifications will come as projects develop, and users can also see information like permit restrictions, special events and the kind of construction work taking place. To deal with the growth, the city is currently going through its "Seattle Squeeze," a five-year period in which the city is investing in expanding downtown transportation and building 20 acres of public space in its downtown area. The project is expected to end in 2024, but until then, dotMaps can be a useful tool for anybody traveling around the city.
The map includes projects in the city's downtown areas and in the northern and southern suburbs, but the city says it plans to expand the tool further to include more suburban projects, especially as pressure is put on the city to accommodate a population growing faster than any other big city in the U.S.
"Construction from large and small infrastructure projects—whether downtown or elsewhere in Seattle—will continue to challenge our travel patterns," Heather Marx, a city transportation director said in a release. "dotMaps is an important tool to help you stay informed during the Seattle Squeeze."
The tool is a public version of an internal tool already used by city agencies and utilities in Seattle and Chicago. Seattle officially began using it internally in August 2017, after software company SADA Systems won a contract to replace the city's system for managing construction projects.
In Seattle, which has the most construction cranes of any city in the country, the tool has been primarily used by project managers to deploy work crews to different areas without causing extra congestion. Managers have been able to create construction cycles across densely-populated neighborhoods that the city says reduces costs and saves time. According to SDOT, city agencies have saved $15.5 million as of August.
Other cities, including Philadelphia and Chicago, are also using public-facing construction project maps to inform residents. Philadelphia released its map with similar interactive functionality to dotMaps in February, also after a construction boom created a rise in residents complaints about closed sidewalks and streets. Chicago's ChicagoStreetWorks map was also developed partially by SADA Systems.