Minnesota's 'Smart Bridges' project aims to prevent another collapse
After using drones to inspect their bridges faster and more safely, Minnesota officials are expanding their aerial fleet.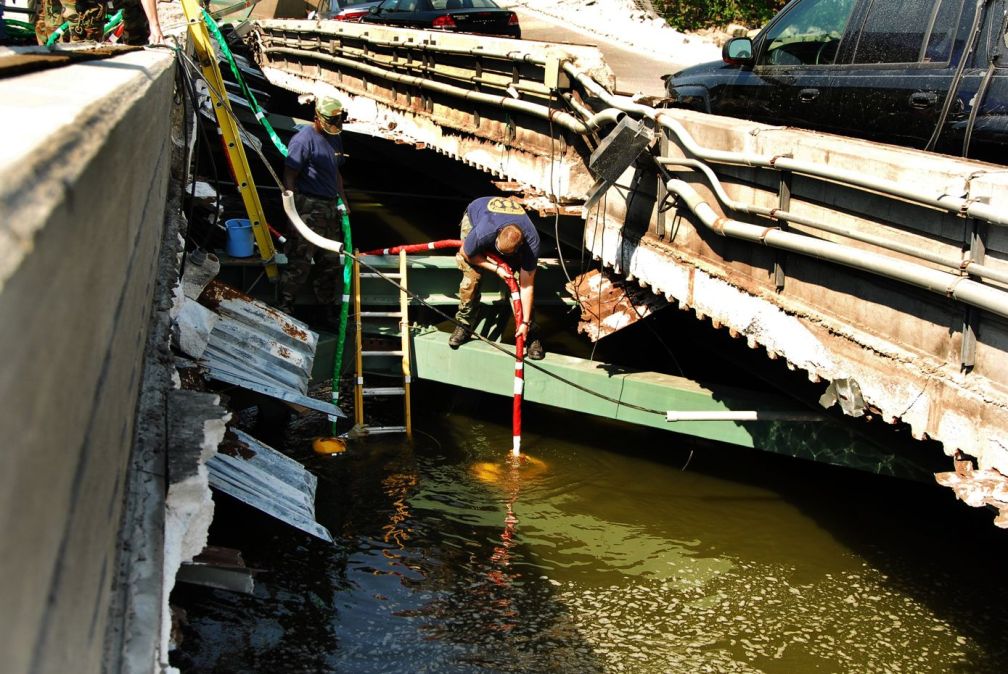 Shortly after 6 p.m. on Aug. 1, 2007, the Interstate 35W bridge over the Mississippi River near downtown Minneapolis was loaded with rush hour traffic creeping through an ongoing construction project. Without warning, the bridge collapsed, taking more than 100 vehicles with it. Thirteen people died and 145 were injured.
Last year — fifteen years after the collapse — the Minnesota Department of Transportation introduced a new method of bridge inspection that uses drones to make the process faster, more efficient and, most importantly, safer. While capturing still images or video by remotely operated or autonomous drones is a technique that's been around for decades, "inspection drones" are relatively new.
"As drone technology became more prevalent, the opportunity to really look at structures from a lot of different angles and then advancements in mapping has fundamentally shifted the way bridge inspection units go about their work," said Tarek Tomes, Minnesota's chief information officer.
Armed with omnidirectional cameras and designed to be operated without the use of GPS, inspection drones allow MnDot's Bridge Office to get close to bridges without risking anyone's safety. From drone footage, researchers generate high-quality images and 3D models of bridges, what Bridge Office engineer Ed Lutgens calls their "digital twins."
"These digital twins will be the future. They give us better image quality, better documentation of the bridge's condition, so we can make better decisions," said Lutgens, who has been working on the Smart Bridges project since 2015.
Decisions on repairs, maintenance, design and load ratings for the life of the bridge — usually dependent on the efficiency of the inspection crew — now take a fraction of the time, Lutgens said.
"For a typical routine bridge that's going over a stream, I think it can save time, because you don't have to get a canoe, you don't need to have to get waders, you don't need to get out into the stream," he said. "For a very large bridge, you don't have traffic closures or lane disruptions."
'A big win'
Lutgens said it's difficult to quantify the exact amount of time saved, but that Minnesota's smart bridges project has shown that inspection drones lower costs, provide better quality data and asset management, improve safety for bridge inspectors and road travelers, save tax dollars and reduce traffic delays compared to traditional inspection methods.
"I'm always pushing my staff and our partners to really improve on three pillars of bridge inspection: quality, safety and cost," he said. "If it can increase the amount of work that you can get done, increase the quality, the safety and increase your efficiency so you can do more work with less time, that's a big win."
Federal law mandates periodic inspections to verify the structural integrity of bridges and plan for their maintenance, rehabilitation and eventual replacement. However, traditional inspection methods can be expensive, time-consuming, pose personal safety risks for inspectors and often cause traffic slowdowns and road hazards.
Minnesota, nicknamed the Land of 10,000 Lakes, has more than 20,800 bridges that require regular inspections and maintenance.
The drone's high-resolution cameras also allow the Bridge Office to collect pre-inspection information, such as vehicle clearances, rope access, anchor points and overall conditions so engineers can plan large-scale and emergency inspections.
"We certainly are on the cutting edge of looking to do and use every possible tool that we have at our disposal to make sure that both those inspections occur and that we understand how to remediate or continue to expand the lifecycle of a bridge," said Tomes, the state CIO.
On-ramp to innovation
Tomes acknowledged that government and innovation aren't typically synonymous, but said new technology shouldn't be a deterrent to finding better ways to improve the everyday lives of Minnesotans — rather, tech should be an enabler.
"One of the things that I think signifies a healthy organization is if you have an on-ramp to bring in innovative technologies in an environment where the people that you're serving, or the business units that you're supporting, really feel comfortable innovating within a technology space."
If inspection drones can improve bridge-inspection efficiency, they can be used for other applications in state government, too.
"Whether it's using drone technology for bridge inspections or using drones maybe in a forestry space or wildfires or in law enforcement and firefighting, technology allows us to serve Minnesotans more effectively, reach people quicker, provide the tools and resources that the government is intended to provide," Tomes said. "We're certainly going to continue to really push the envelope to do that."
As a result of the success of its Smart Bridges project last year, MnDOT has acquired 33 new drones — each one designed for a specific application — and is developing the fleet for statewide use.