Scooter company Bird wants to offer data to the cities that host its fleets
The new "GovTech" platform will provide transportation planners with trip data and allow cities to set limits on when and where scooters can be used.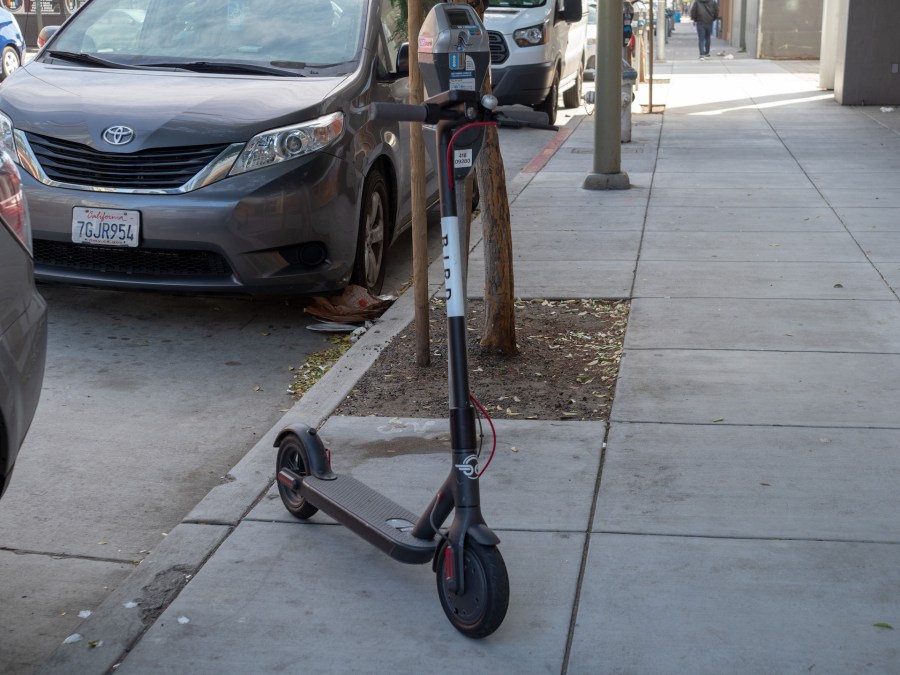 Bird, which operates fleets of electric scooters in more than 40 U.S. cities — sometimes to the consternation of officials and pedestrians — announced Wednesday it wants to make inroads with local governments by sharing data and setting limits on how widely its scooters can roam.
The Venice, California, company is launching a platform it calls "GovTech," a package of four tools Bird executives say will help cities better incorporate scooters into their transportation systems. The rentable electric scooters have not always been greeted warmly since they started proliferating on sidewalks earlier this year with little to no oversight. Denver banned Bird — and its competitors — for two months, only allowing them back in last month; Charleston, South Carolina , removed them earlier this month; Beverly Hills, California, recently put scooters in a six-month time-out .
Electric scooters have also earned popular derision: a now-deleted Instagram account called "Bird Graveyard" collected photos and videos of scooters being burned, smashed and thrown out to sea by people frustrated by how quickly the zippy devices have taken over public space.
But with the goal of growing its ridership — and making it more responsible — Bird wants to strengthen the company's ties to governments. The first item in the GovTech package is a dashboard on which local officials will be able to see anonymized data about scooter use in their cities, including trip logs and the status of individual vehicles.
Perhaps more helpful to bureaucrats, Bird is adding a geofencing capability that will allow cities to define the areas where users cannot ride the scooters or park them when they've finished. The geofencing process will also be adjustable to include areas that are hosting special events that shut down streets.
Bird says it is also adding alerts to its mobile app, through which customers find and unlock scooters, about local rules and safety policies. The app will also be revised to allow users to report instances of unsafe riding, allowing the company to detect policy violations and penalize offenders, if necessary.
To oversee these new offerings, Bird just hired Marla Westervelt, a senior policy planner at the Los Angeles County Metropolitan Transportation Authority, as its new senior manager for government solutions.
Founded in 2017 by former Uber and Lyft executive Travis VanderZanden, Bird bills itself with a mission of reducing motor-vehicle use. But like the ride-hailing companies VanderZanden previously worked for, Bird hasn't had the smoothest experience entering markets, even as its valuation has spiked to more than $2 billion .
"The cities we serve are Bird's number-one customer, and partnering with them to deliver the data, insights and products they need to advance their mobility programs and reduce congestion in their communities is essential," VanderZanden said in a press release. "We see this as the next phase in creating true partnership and integration with the more than 40 cities we operate in today."