Sacramento County launches app competition, holds civic hackathon
In partnership with Code for Sacramento, the county is offering 0,000 in prizes to developers who build apps off its open data.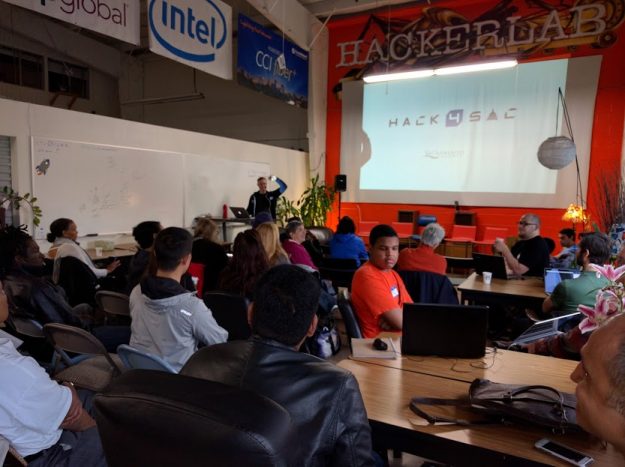 SACRAMENTO, Calif. — Sacramento County wants its tech-savvy citizens to help make it easier for residents to access county services.
In partnership with Code for Sacramento, the county announced it would offer $10,000 to teams that build the best, most user-friendly apps using the county's open data sets. Both groups held a hackathon over the weekend during CodeAcross, a national event organized by Code for Sacramento's parent organization Code for America, to help teams get started.
"The county has a number of business needs, they've got a number of departments that could use assistance in improving their operations and in communicating with the community. They decided to dedicate a little bit of money to public experimentation," Joel Riphagen, an event coordinator for the challenge, told StateScoop.
Participants in the six-week competition can compete in seven categories, including human assistance, health and human services and voter registration and elections.
Hackers can work individually or in teams to build projects out of the open data Sacramento County has made available over the last year.
Dozens of people attended Sacramento County's hackathon, called Hack4Sac. Hillary Gaines, a Hack4Sac attendee and member of one of the teams participating in the contest, said she's working to create a database that lists restaurants that accept electronic benefit transfer, or EBT, cards from low-income and homeless residents.
"We don't have an end vision yet," Gaines told StateScoop. "Our intention is to try and partner with existing entities that support resources for the homeless, [something] that is user friendly and addresses any gaps and that would incorporate a mapping system."
Fellow team member Jared Garst said he was excited about having the opportunity to make a difference using data.
"So much of data is about moving advertising data from one place to another," he said. "It is not nearly as exciting as, 'Hey, the world can be a better place in a few weeks.'"
To plan the weekend hackathon, Megan Kregor of Sacramento County said her department reached out to Austin, Texas, which has held similar events in the past.
Organizers emphasize that the competition doesn't end after Saturday's event. Code for Sacramento plans to hold weekly gatherings to offer teams a chance to work together and ask questions.
Riphagen said the app competition is a good investment for the county — adding, $10,000 is a small piece of the county's $80 million IT budget.
"On the scale of IT procurements, it's not a big risk for the county, and it's potentially a large reward," Riphagen said.