Code For America launches sixth annual 'National Day of Civic Hacking'
Local tech alliances are hosting 40 hackathons, design camps and other events across 22 states on Saturday.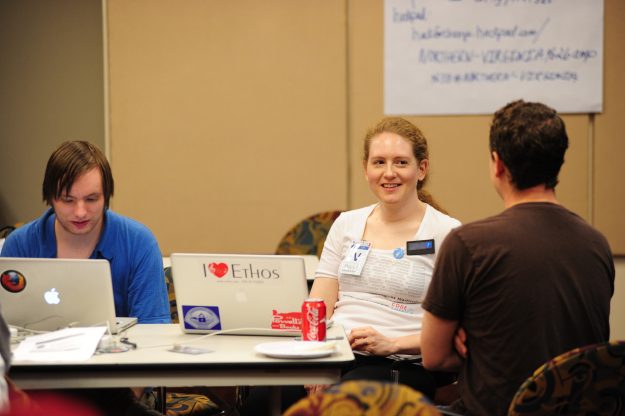 Code For America, a national nonprofit whose mission is to simplify and empower government through technology, is sponsoring a network of 40 local hackathons and tech meetups across the country for the sixth year running — facilitating initiatives to address homelessness, disaster relief, open elections and more.
The events — a mix of hackathons, fireside chats, design camps and other civic-minded coding activities — will be held in metropolitan areas across 22 states on Saturday. Code For America outsources the hosting to its local partners, or "Brigade Network", that often organize meetups to facilitate civic technology development.
The day initially came together six years ago through a partnership between the nonprofit, NASA, and Secondmuse, an Australian company that helps governmental agencies, nonprofits and companies innovate. The White House Office of Science and Technology Policy also provided challenges from the federal government for local partners to focus on.
Whitaker told StateScoop that the mission has largely stayed the same through the past five years — to start discussions focused on improving government from a non-partisan, technological perspective. That consistency, he said, has helped build up more than 75 Brigade partners from Puerto Rico to Anchorage, Alaska.
For most of the local organizations, the nationwide event is an opportunity to look inward and address local issues central to the city they're taking place in. In Wilmington, Delaware, it's local parking and mapping . In Tampa, Florida it's chatbots and database projects.
In the past, Code for Nashville, the Tennessee city's local coding organization, created a system to assist immigrant parents grant Power of Attorney to a trusted adult in case of incarceration or deportation, Code For America's Brigade manager, Christopher Whitaker, wrote StateScoop in an email. This year, events in Los Angeles and Pittsburgh will address homelessness and disaster relief efforts through data analysis and web-mapping services.
"Since National Day of Civic Hacking events tend to be locally driven, we see a wide variety of challenges and events — from housing and homelessness to disaster response. Some even decide the topic through discussion at the meet up," Whitaker said.
The events themselves are also built for non-experienced coders to get involved in a meaningful way, with community leaders, coders, government staff, designers, non-profit employees, and data scientists all consistent attendees.
"Many of these events don't expect to have something built at the end of the weekend," Whitaker said. "Since many of the National Day of Civic Hacking events are connected to Brigades — this won't be the only time we get together."