On autonomous vehicles' challenges and benefits, a new report guides governors forward
The National Governors Association highlights major safety and policy challenges while warning against "stifling innovation."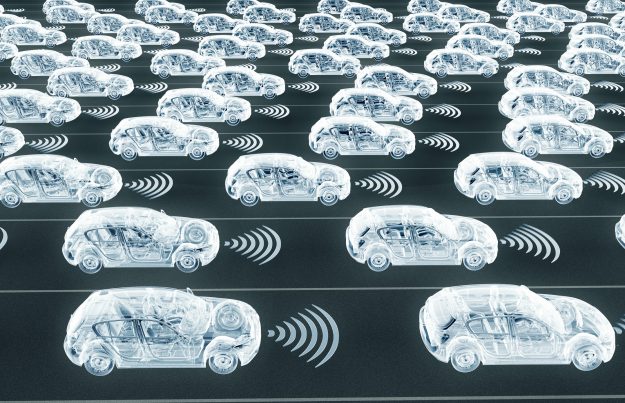 Though the death of a woman struck by an Uber-operated autonomous vehicle in Arizona in March prompted a more cautious national conversation around the adoption of the technology, talks have continued with strong support from the country's top state government leadership group.
A report released this week by the nonprofit the National Governors Association says the successful deployment of autonomous vehicles begins with leadership from the top. The potential benefits of the technology — including improved mobility for seniors and disabled people, reduced air pollution and greater work productivity — present a great opportunity, the report says, but also challenges set to influence the lifestyles of residents and economies in every state.
The report distills the best practices of more than 30 states that have established legal frameworks for the operation of autonomous vehicles with recommendations for governors like "designate a lead agency" and "collaborate with local and federal agencies and policymakers." The report also warns governors against "stifling innovation" with overly stringent regulations.
The group's support of the growing industry comes alongside continued advocacy by Republican Nevada Gov. Brian Sandoval, who currently chairs the NGA . In January, Sandoval told an audience at the 2018 Consumer Electronics Show in Las Vegas that it is state government's duty to support the growth of emerging technologies like autonomous vehicles.
"The best things happen in the states and we don't have to wait for the federal government," Sandoval said. "And that's why the states have taken a leadership role in this."
Among the challenges presented by autonomous vehicles in the report is a predicted change to government's land-use planning. Authors point to a potential reduction in the amount of space needed for parking as the technology becomes more common, as one example.
Autonomous vehicles are also expected to reduce the level of transportation revenue states generate as funding coming from speeding violations, red-light cameras, licenses and other fees evaporates. Already, local transportation experts are predicting the technology will steal even more market share from public transit services like buses, just as ride-hailing services like Uber and Lyft are thought to.
The report shows that the adoption of autonomous vehicles is also tied to the electric vehicle market, which is expected to put gas tax revenue in decline. Some states, like California, have suggested alternative tax models based on miles driven to ensure states continue to generate income to support its roadway infrastructure as progressively fewer vehicles rely on gasoline.
But it's not all bad news for states — the report also points out that these changes mean "state resources for traffic enforcement, and the administrative and judicial responsibilities around such enforcement could be freed up for other uses."
That autonomous vehicles will certainly reduce strain on infrastructure or reduce traffic is not yet proven, however. A report released last month projected that AVs would make traffic worse in most dense urban areas.
The report highlights cybersecurity vulnerabilities, liability concerns, and an increased need for law enforcement training associated with autonomous vehicles. Ultimately, though, the NGA presents the technology as a means to potentially reduce the number of vehicle-related deaths seen each year.
Globally, about 1.25 million people are killed on the road every year, and the National Highway Traffic Safety Administration says about 94 percent of those deaths are related to some form of human error. Even the death of the woman who was killed by an Uber-operated autonomous vehicle in Arizona had a human component, as a police report later showed that the vehicle's feature to automatically stop quickly in such a scenario had been disabled and the vehicle's human occupant had not been watching the road and was instead watching NBC's reality show "The Voice" at the moment of impact.
"The safety of drivers, pedestrians and other road users during the transition period" should be a major concern for governors, the report says.
The reports key recommendations:
Designate a lead agency.
Establish an interagency workgroup.
Collaborate with local and federal agencies and policymakers.
Facilitate an environment that allows for autonomous vehicle testing and deployment.
Retain oversight and maintain regulatory authority over testing.
Coordinate with law enforcement. Ensuring public safety requires extensive law enforcement coordination during testing and deployment.
Establish a robust training program for law enforcement.
Explore public-private partnerships between AV operators and regulators.
The full report can be found on the National Governors Association's website.