New York says pandemic-tech 'SWAT teams' saved it $14M
Gov. Andrew Cuomo said 7,300 tech-industry workers who volunteered to help the state address its pandemic-induced IT needs have completed about 40 projects.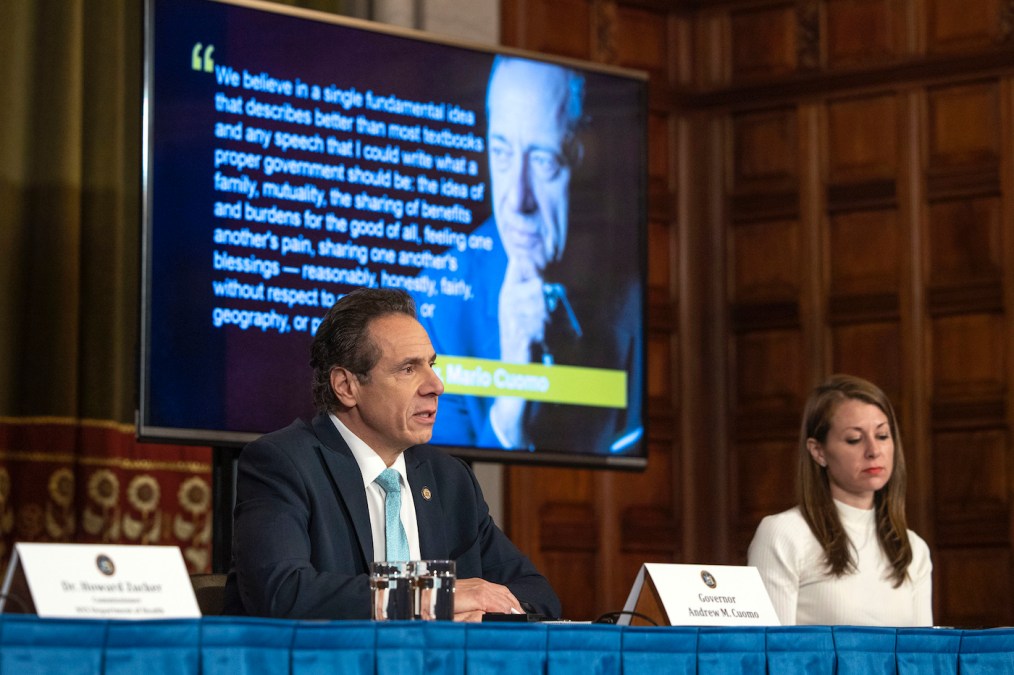 New York Gov. Andrew Cuomo said Tuesday that the "SWAT teams" of private-sector IT professionals the state has recruited to help address its pandemic-related technology needs have delivered about $14 million worth of pro bono work.
The projects, managed by the state Office of Information Technology Services, include apps residents use to schedule COVID-19 diagnostic and antibody tests, websites displaying the latest data about the pandemic's toll and the state's recover plans, revamps to the state government's digital service offerings and hardware reinforcements like additional servers to boost the capacity of vital city services.
Cuomo announced the COVID-19 Technology SWAT Team program in late March, when the state was in its worst throes of the pandemic, which has infected about 418,000 New Yorkers and killed more than 33,000. Since then, ITS officials said, about 7,300 tech-industry workers — representing about 3,500 organizations — have volunteered their services to the state.
Working with state employees, the teams have tackled 40 projects, 19 of which were delivered on a pro bono basis, accounting for the $14 million cost savings state officials cited Tuesday.
Some of the previously touted projects included self-screening tools — developed with Apple and Microsoft — to help people determine if they should make an appointment for either a diagnostic swab test for COVID-19 or a blood test for the disease's antibodies. The state also worked with Unisys to deploy additional servers to back up overworked benefit systems like unemployment insurance, which through the end of May had been claimed by more than 2 million New Yorkers.
"Under Governor Cuomo's leadership, New York State has moved with urgency, professionalism and resilience to tackle COVID-19 head-on," Jeremy Goldberg, New York's acting chief information officer, said in a press release. "As part of that effort, we've received unprecedented assistance from civic-minded technologists across the state and nation to support our response."
According to a progress report published this week, the "SWAT teams" have also tackled several internal projects working alongside state employees, often working in 30- or 90-day sprints. Dell, for instance, helped state agencies expand virtual desktop infrastructure to allow more employees to continue working from their homes; Microsoft's subsidiary LinkedIn helped the New York State Hospital Association recruit additional medical workers as hospitalizations from COVID-19 peaked in mid-April; the consulting firm Accenture audited the state Department of Labor's website, which was also redesigned by the digital service team that ITS created in March, just before the pandemic hit.
ITS has also worked with several other customer agencies to revise their digital offerings, the report shows, including the creation of several new dashboards and other websites tracking New York's recovery and reopening processes. The offerings include guides to help businesses navigate the Cuomo administration's phasing in of shuttered economic activities, recruitment efforts for the state's contact-tracing operation, advertising campaigns reminding people to wear masks in public and, most recently, a running list of states from which travelers will have to self-quarantine upon arriving in New York. (As of Tuesday, the list included 34 states, the District of Columbia and Puerto Rico.)