New 'Curiosity Lab' for AV testing has real pedestrians, steep roads
The new autonomous vehicle testing track, which is open to the public, offers to researchers obstacles not found on closed-track facilities.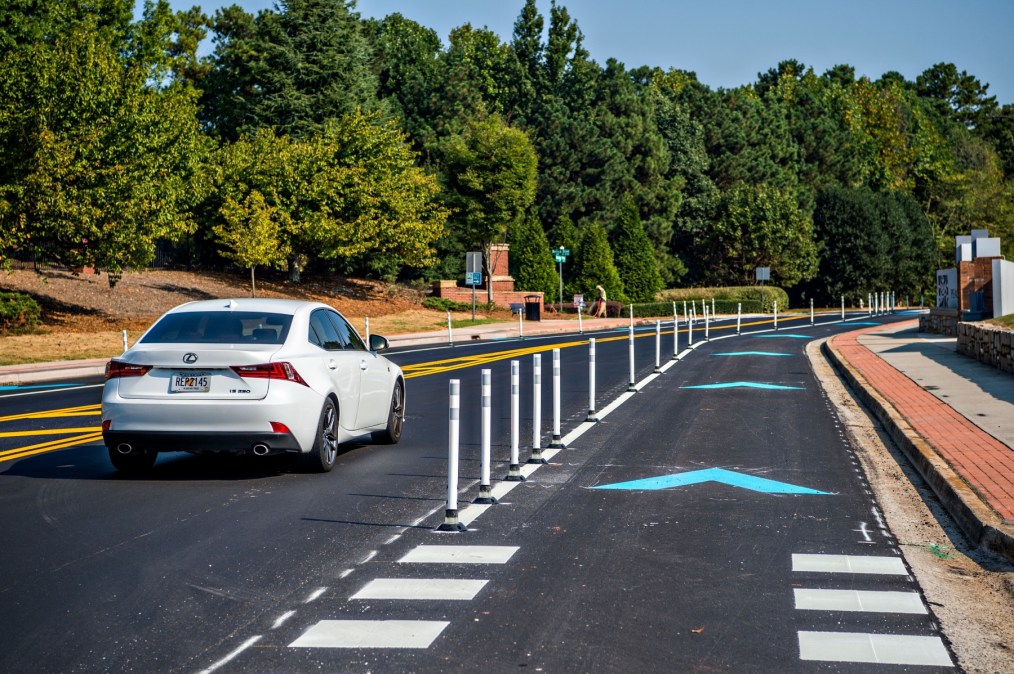 With the help of a couple of drones to lower the ribbon at its grand opening, a new "living laboratory" for autonomous vehicle development opened in the Atlanta suburb of Peachtree Corners this week. The one-and-half mile stretch of office park road, which the city has named "Curiosity Lab" and is outfitted with 5G wireless access and vehicle-to-infrastructure sensors, is already being used free of charge by companies and institutions researching the next generation of self-directed vehicles on the ground and in the air.
The lab's backers — which include the city of Peachtree Corners, the Georgia Institute of Technology, and private companies like Delta Air Lines and Sprint that have donated technology and funding to the project — told StateScoop the new facility presents an immense opportunity to advance research in a burgeoning field and to grow the region's economy. The promise of free access to a facility that includes real-world obstacles and scenarios not found in closed-track laboratories is already attracting new partnerships, investment and more than 100 corporate visitors who have expressed interest, according to its executive director, Betsy Plattenburg.
"There are 7,500 people who work there and another 1,000 who live there," Plattenburg said of the public road winding through a 500-acre office park. In addition to pedestrians, public vehicles, bicyclists and other obstacles not found in closed environments, she said the facility also includes large shade trees and that one section of the road climbs a 13 percent grade.
For Georgia Tech, which announced a partnership with the lab together with Delta Air Lines last week, the facility could be integrated into coursework and also aligns with the university's mission to improve the quality of life for the region's residents, said Debra Lam, the university's managing director of smart cities and inclusive innovation.
"Not only do we have this infrastructure that's there, but we get feedback and cooperation from our local government," Lam said. "How does this connect to multi-modal plans and new technologies?"
Lam said the university hopes to start using the test track next year as it kicks off a one-year pilot. What will come of that project, she said, will be made more clear once the research begins.
"What's great about this is that it goes with our philosophy that once you have demonstrated success on the ground with collaboration, it could lead to further research down the road," she said.
Other organizations won't wait that long. Two autonomous shuttles developed by the Phoenix-based company Local Motors will begin operating on Oct. 1 and will continue research there for three months. Plattenburg said Delta Airlines will soon start testing to find how autonomous vehicle technology can be used to improve customer service, augment baggage delivery and ground transportation at airports.
Despite being a public road, researchers are permitted to test Level 5 autonomous vehicles, the highest level of automation as rated by the Society of Automotive Engineers. Autonomous drones are also permitted at altitudes of up to 400 feet. When asked about safety concerns, Plattenburg noted that the city took extra care to install signs throughout the track to indicate to drivers and pedestrians that they are in an experimental area.
"There are enormous signs that are electronic and stationary," she said. "As you traverse through the test environment, our intent there is to increase people's situational awareness."
Plattenburg also said that while it may sound chaotic, it won't be. "It's not like there are going to be 14 things on there at once," she said.
There are a wide range of technologies the Plattenburg said she believes will appeal to a wide range of companies that choose to locate in the park. 5G waypoints provided by Sprint and "vehicle-to-everything" infrastructure blanket the area. A nearby operations center allows real-time monitoring of data collected by all the devices and video cameras.
In addition to years-long contracts to stay there, the lab also offers "affiliate memberships" that permit companies to test out the grounds on a temporary basis at no cost, she said.
Perhaps one of the biggest assets the lab has, Plattenburg said, is that the young city owns 100 percent of the land and right-of-way. In many public places, there are various jurisdictions and agencies that must get involved to sign permits and make decisions, which can extend the time it takes to approve research projects. That's not so in Peachtree Corners, she said, which was only incorporated in 2012.
"They don't have legacy infrastructure, legacy politicians," she said. "They really have a startup can-do attitude."