5G promises to bring 21st-century infrastructure — and fun with robots
At a smart cities conference in Atlanta, 5G was called as essential to cities today as sewers were in the 19th century. In the suburbs, it meant dancing robots.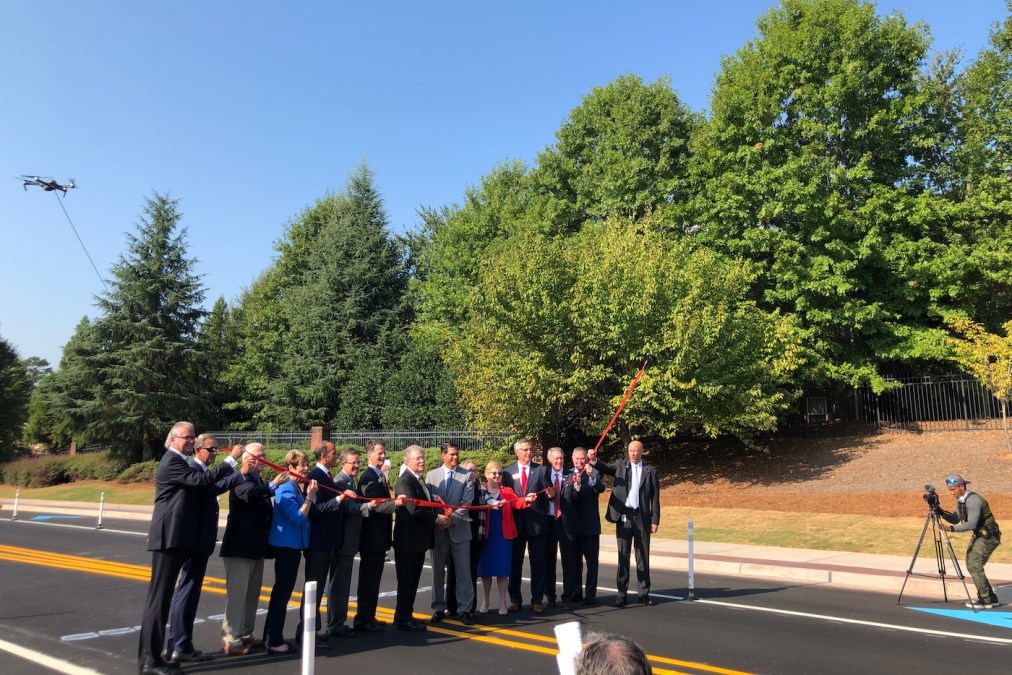 Dueling visions of what the development of 5G wireless technology means for cities were on display Wednesday as advocates of "smart cities" converged on Atlanta for a three-day conference about economic development, internet-connected devices and whether technology can make communities more equitable.
In the morning, about 300 people rode out to suburban Peachtree Corners, for the opening of a research center called Curiosity Lab, which is designed to attract startup companies that develop autonomous vehicles, drone-based delivery services and interactive robotics. Later in the day, many of those people hummed around the Smart City Expo World Congress, an event exploring the many facets of modernizing urban environments.
"Smart city" is a popular term without a firm definition, but in the confines of an afternoon panel, the phrase — and all its benefits, often promised by public officials and tech executives alike to be powered by the latest generation of wireless communications — meant something tangible: essential infrastructure.
"This is our 21st-century public works," said Grace Simrall, the top IT official in Louisville, Kentucky. "Can you imagine a city that didn't have electrification, or water and sewer? This is public works cities must invest in."
Fifth-generation wireless technology has been growing most quickly in urban cores, where phone carriers have been racing to install the closely clustered antennas needed to power shorter wave frequencies that are faster but don't travel as far as the current generation of wireless. While the technology is often billed with its consumer appeal — streaming high-definition video Netflix on a mobile connection rather than a local Wi-Fi network — its real utility is much more industrial, said Steve LeFrancois, Verizon's chief technology officer for public sector enterprise solutions.
"This is about global competitiveness," he said. "5G was really built for business. There is a consumer aspect, but really it is how we build it for business. That has to be the natural starting point."
To that end, the panelists said, building out 5G networks can help city governments support new public-safety technologies, including environmental monitoring, traffic operations and surveillance, that can provide data almost instantly. Atlanta CTO Tye Hayes said her city's hosting the most recent Super Bowl last February created a window to install many of those devices this year, even though a 5G network capable of providing the low latencies needed for real-time information is still relatively limited.
"We hosted the Super Bowl and that required a lot of upgrades," Hayes said. "We're now looking at the investments we made and thinking about how we leverage them. We don't wait until the 5G infrastructure is built. We look at the wireless technology now."
LeFrancois echoed Hayes, saying that 5G will be a complement to existing 4G wireless, rather than a replacement. "This is all about extending and adding new capability," he said. "It's about where can you get your 1.6 gigabit throughput."
As a public-infrastructure concern, though, Hayes said cities like Atlanta that partner with the phone companies to build 5G capacities can leverage those relationships to ensure the new, super-high-speed networks eventually reach low-income communities where top-notch internet service is less robust.
"We also have an opportunity to be creative how we structure our partnerships to be sure we have things in place to make sure our less fortunate areas are taken care of," she said.
But in Peachtree Corners earlier in the day, 5G was all about the toys. Curiosity Lab, which is funded by the suburban city — a sprawl of office parks and gated neighborhoods — and has research partnerships with Georgia Tech and Delta Air Lines, opened with a ribbon-cutting in which a long strip of red tape was delivered to scissors-wielding dignitaries by a pair of aerial drones.
"I think it tells the world, 'This isn't just where Georgia is today, but where Georgia is going in the future,'" Georgia Lt. Gov. Geoff Duncan said just before snipping the hovering ribbon.
During the event at Peachtree Corners' city hall, that future was much more pronounced than the network of sensors and surveillance devices Hayes and LeFrancois talked about later in the day. A semi-autonomous, breadbox-shaped shuttle named "Olli" circled the parking lot, while another of the lab's resident companies used a drone to drop a food delivery into a 5G-enabled mailbox. ("Olli," built by an Arizona firm named Local Motors, will actually run on a 1.5-mile test track near Curiosity Lab.) An internet-connected lawn mower was on display. Inside, guests were introduced to CloudPepper, a robot that could exchange greetings, wave its hands and dance on command.
Long term, Curiosity Lab partners like Delta may eventually employ autonomous vehicles in baggage delivery and ground transportation at airports, the airline said in a press release last week. But for the city of Peachtree Corners on Wednesday, the benefits of 5G are much more immediate.
"It's all about economic development," said Peachtree Corners Mayor Mike Mason, noting the 90 percent occupancy rates at his city's hotels. "We didn't do this for ridership."