Minnesota senator calls to restructure technology office amid upgrade struggles
After requesting $43 million to repair its vehicle license and registration system, the state's IT office now finds itself at risk of losing its influence as a centralized agency.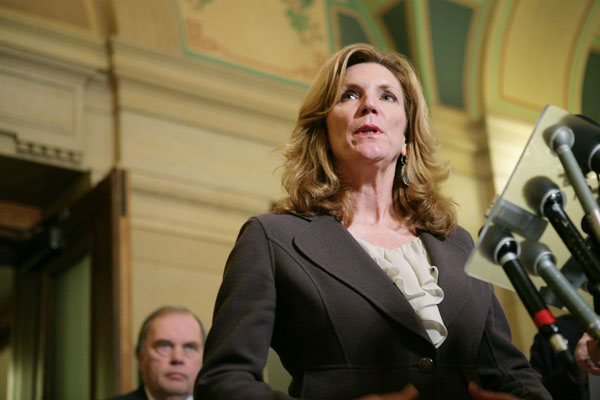 Criticism of Minnesota IT Services (MNIT), the state's technology office, just hit a new level of intensity as the agency is trying to sort out how to fix a new but troubled vehicle licensing and registration system.
Republican Sen. Julie Rosen is proposing the elimination of MNIT as it exists today, while creating a new technology office under the state's Department of Administration — a typical structure for technology offices found in more politically conservative states. In response, MNIT Commissioner Johanna Clyborne, the state's CIO, called it a "knee-jerk reaction."
State technology offices organized under another department typically orient themselves toward operational efficiency and have less autonomy to explore new technologies and ideas. Additionally, under Rosen's proposal, the state's chief information officer would become a position appointed by the Department of Administration commissioner, rather than the governor.
Criticism of MNIT has not relented since last month, when the agency released a $43 million proposal to fix the Minnesota License and Registration System (MNLARS). Rosen and others are skeptical of spending that much on a system that already cost $96 million to launch.
"We are spending way too much money, no accountability. You ask questions, they can't answer them," Rosen said of MNLARS during a legislative hearing on Monday.
Rosen says her bill, SF 2966, would make the department more competitive by requiring the division to participate in bidding with outside vendors on IT projects.
After MNLARS been exhibiting problems following its rollout last summer, the administration of Democratic Gov. Mark Dayton signed a no-bid $26.25 million contract with a Colorado company that would allow the state to meet an upcoming 2018 deadline to comply with new federal standards under the Real ID Act. A no-bid contact was achieved through an "emergency" approval in October, according to the Star Tribune.
The Dayton administration cited the Oct. 1, 2018 deadline as motivation for the decision.
"Minnesota now has less than 12 months to implement," the Dayton administration wrote last October.
Democratic Rep. Rick Hansen complained afterward that neither MNIT nor the Department of Public Safety, a partner on the project, had given any indication that a change was underway.
Hansen and other lawmakers reported they weren't told about the outsourcing until a week before the state executed the contract.
"Because of that decision, we will now have a separate database to run the licensing system," Baker said. "Minnesota now is burdened with maintaining two systems when there should have been one."
Rosen said she believes most of the current leadership and staff would remain through the change, which, if passed, would take effect July 1.
The newly appointed Clyborne balked at the proposal.
In an email to StateScoop, Clyborne's office provided this statement: "I am disappointed by the knee-jerk reaction to release a bill to disband Minnesota IT Services. While I understand the frustration Minnesotans and lawmakers have with the MNLARS system, and I share it, this short sighted bill does not take into account the many successful projects that MNIT delivers on behalf of Minnesotans, nor would it help state government overcome the challenges inherent in modernizing decades-old IT systems and the government processes they support."
MNIT's $43 million proposal to fix MNLARS was called "mind-boggling" by Republican Rep. Paul Torkelson last month.
Republican Rep. Steve Green called the rollout "disastrous" and said his house is dedicated to ensuring the system is fixed so that it works properly, blaming the Dayton administration of mismanaging the project.
"Here's the bottom line: Minnesotans deserve to obtain licenses and conduct other vehicle-related business in a timely manner," Green wrote in a recent blog post.
MNIT took over development of MNLARS in 2014, when the state canceled a $41 million contract with Hewlett-Packard for failing to meet deadlines.
Though the current administration has both apologized and acknowledged MNLARS's persistent troubles, Clyborne says decentralizing the technology office would cost the state more in lost efficiency and further set back the state's aging infrastructure. Centralizing IT is an aspiration for many states and a commonly cited example of how a state can save tens of millions of dollars through cost avoidance and purchasing on a larger scale.
"This bill would stall MNIT's progress moving state government to modern and cloud-based solutions, which are a fundamental necessity to building a secure, digital government that is responsive to citizen needs," Clyborne said.