Written by
StateScoop Staff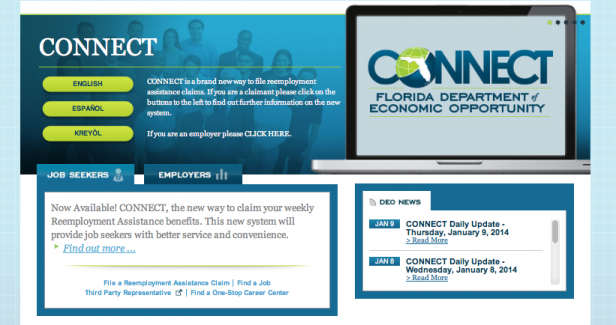 Florida's Department of Economic Opportunity has hired Capgemini to fix the state's struggling unemployment benefits website that has struggled to serve the state's citizens since its launch in October.
The site, called CONNECT, was originally built by Deloitte Consulting who continues to work on the project despite failing to meet the state's requirements.
"To make sure we are effectively serving claimants, DEO requested information from additional vendors, and we have received one response from Capgemini, an industry expert who has successfully implemented systems in other states," DEO Executive Director Jesse Panuccio said. "They will examine our system and consult on its effectiveness moving forward."
Deloitte was awarded a $63 million contract to rebuild the state's unemployment insurance website, which it relaunched Oct. 15. Since that time the site has released thousands of complaints as documented by the Tampa Bay Times.
On Dec. 20, the state withheld a $3 million payment to Deloitte when there were 53 technical issues that had yet to be resolved. The state also imposed a $15,000 per day fine until the issues were fixed.
On Jan. 2, it was announced that 49 of those issues still remained unfixed with five new ones surfaced. In response, Florida announced it would hire 250 more staffers over the next three months to help process jobless benefits claims and another 80 to help handle complaint calls.
Since CONNECT launched, DEO has spent $1.1 million on overtime. That's $500,000 more than the equivalent time period before CONNECT's debut.
To pay for the extra 250 adjudicators and 80 call center agents will cost $164,700 a week. And DEO officials said Wednesday they don't have the space for them yet. In Tallahassee, officials need to lease a building for many of them.
For its part, Deloitte contested the state's version of the project last week, saying many of the problems were unrelated to the website's glitches.
"We will continue to hold Deloitte accountable and I have asked them to devote whatever resources necessary to fix all remaining technical issues," Panuccio said.
Last year, DEO officials considered firing Deloitte, which had well-publicized troubles with similar overhauls of unemployment sites in California and Massachusetts, according to reports.