Fired Florida GIS manager creates her own coronavirus dashboard
Rebekah Jones, who was fired in May after accusing her superiors trying to manipulate coronavirus data, created her own dashboard, painting a grimmer picture than the state's record.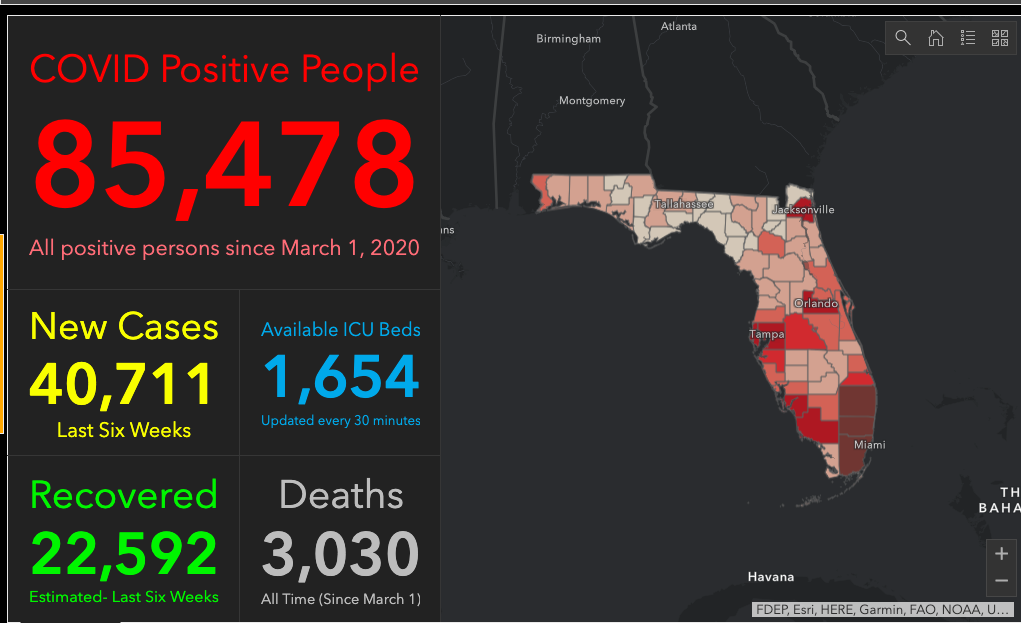 The data scientist who was fired last month by the Florida Department of Health after she accused her superiors of wanting to manipulate statistics related to the spread of the coronavirus launched her own data dashboard to track COVID-19 last weekend to counter the official figures being put out by the state.
Rebekah Jones was dismissed from her job as a geospatial information systems manager for the Florida health agency after going public with allegations that department leaders and other members of Gov. Ron DeSantis' administration pressured her to manually alter data to build support for reopening more sectors of the locked-down economy. Despite her advanced degrees in geography and several years working as a GIS developer and analyst, DeSantis dismissed her at the time as "not a data scientist."
Over the weekend, though, Jones launched the "Florida's Community Coronavirus Dashboard," an independently developed and donation-backed project, to rival the numbers being released by FDOH, which she says still is not providing an accurate count of the pandemic's toll on the Sunshine State. It also arrives as COVID-19 cases surge in Florida, with more than 1,600 new cases daily over the past week.
While Jones' new dashboard continues to use data released daily by the Florida Department of Health, it shows different numbers about the virus' spread. The official dashboard states that since March 1, 77,326 people in Florida have tested positive for COVID-19, with 2,938 deaths. But Jones' model pushes those figures up to 85,478 infected and 3,030 killed.
In a press release, Jones and her research partners, who've not been named, attribute the difference to the fact that the state only publishes numbers for full-time Florida residents, rather than all people tested for the disease.
"We show the number of positive people, hospitalizations, and deaths for everyone tested in Florida, regardless of their legal address," the release reads. "DOH excludes non-residents from its demographic data, zip code data, death data, and case data over time."
Jones' project also counts individuals who tested positive for antibodies after recovering from the illness as positive for COVID-19, rather than just positive diagnostic swab tests. But there's also a large gap between the number of lab tests each dashboard reports. While the state's dashboard puts the number of "total people tested" — excluding antibody tests — at about 1.4 million, Jones' says the true amount is closer to 1.1 million, a difference she argues comes from Florida officials counting each swab test as an individual case, while she only counts people, some of whom may have been tested multiple times.
As a result, the state can claim a lower positivity rate, Jones told NPR on Sunday. "They're adding their total test figures instead of their total people, which makes their percent positive extremely low," she said.
In addition to diverging from Florida's official counts, Jones also includes readings that the state does not, such as hospital capacity at the state and county levels. It also shows whether any of Florida's 67 counties meet the DeSantis administration's guidelines for moving into the next phase of reopening their economies: So far, COVID-19 diagnoses and deaths are only declining enough in Liberty County, a rural enclave west of the state capital of Tallahassee, and the state's least populous, according to Jones' dashboard.
Jones' dashboard also includes tabs where users can find information about where to get tested for the coronavirus and how to access community resources, like food banks.
Meanwhile, Florida continues to reopen more parts of its economy, with restaurants offering indoor dining and bar service, theme parks planning to reopen, entertainment venues allowed to operate at 50% capacity and gyms at full capacity.