Education secretary promotes innovative apps at D.C. school
Arne Duncan recognized innovation at District of Columbia's Cardozo Education Campus, which despite having low achievement rates, won a state app-building challenge.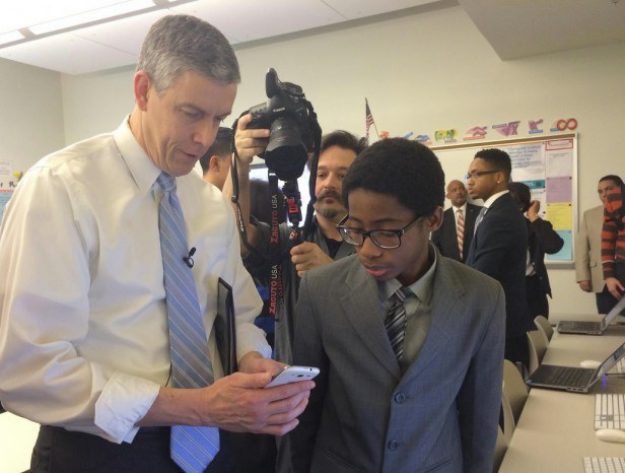 When students at Cardozo Education Campus displayed their prototype app to Education Secretary Arne Duncan, they also presented him with stark statistics about their school: a 42 percent four-year graduation rate, a below-average attendance rate and dismal proficiency scores.
The point of their app? EduCentral would allow teachers to monitor their students' progress, parents to receive notifications when their children attend classes, and kids to use "Cardozo bucks" for special treats as a reward when they do something right.
Duncan visited the Columbia Heights middle and high school complex in Washington, D.C., Monday morning to push innovation in schools as a way to turn around low achievement rates and get students from low-income communities engaged in classes like computer science. He also continued to push Congress to rewrite the No Child Left Behind Act, saying, "There's nothing Republican or Democratic about innovation."
The students at Cardozo recently won the state Verizon Innovative App Challenge for their mobile app creation in a competition that included entries from 46 states.
One student in the honors computer science class told Duncan he wants to be a game designer. Another student said she wants to be a teacher.
"To see students thinking about what they want to do long term, that's what education is about," Duncan said. "It's not boring. It's not disconnected from the real world. And we want to replicate those kinds of successes. We have to make sure we're driving innovation, and getting people to the next level."
The priority-classified school, with mostly black and Hispanic students, received a portion of a $30 million Investing in Innovation (i3) grant, which pushes schools to develop innovative instruction. District of Columbia education officials were not sure how much total federal funding the school had received.
D.C. Public Schools Chancellor Kaya Henderson said she's not concerned that the federal funds will dry up at schools, hindering educators from continuing to promote science, technology, math and engineering studies.
"We've been a really good example of using philanthropic and federal government dollars to pilot and begin around innovation," she said. "I don't have any worries about continuing. As long as things continue to show results, we'll continue to support them."
Henderson touted revamping the curriculum at DCPS to align with more rigorous Common Core standards, and opening seven career and technical education academies in the city this year.
At Cardozo, vocational teacher Alfredo Rendon also helps students get post-secondary degrees in technical fields, and he runs an internship program where kids receive a stipend for working as electronic technician associates.
"Sending our students out with just a high school diploma is not enough," he said. "We must think and operate outside the box and not limit our students' success to the same old model of education."
Back in the computer science class, 18-year-old Daiteis Broome was proud to show off her app, which featured her picture, and allows users to easily call or text people.
"I tell my mother that I made an app, and she's like, 'For real?'" the junior said. "You make it with your ideas. It's just fun. I love this class. I would keep going over and over."