Washington, D.C., unveils new business licensing portal
The District of Columbia unveiled a beta version of a digital services portal designed to help small businesses open in the nation's capital.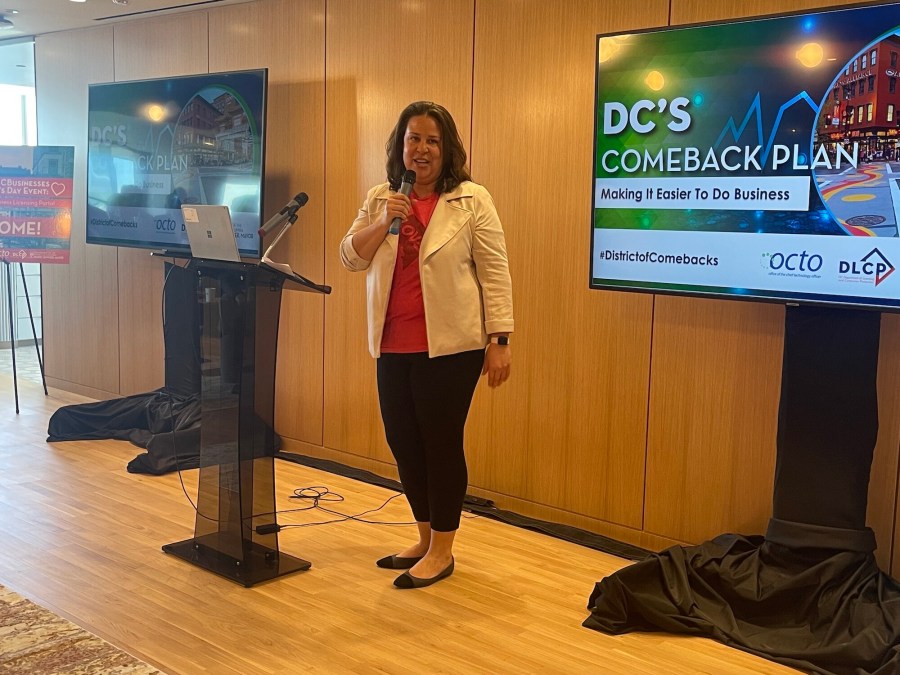 District of Columbia officials on Tuesday showed off a new website designed as a portal to help small businesses navigate the many bureaucratic and legal processes of setting up shop in the nation's capital.
The new D.C. Business Licensing Portal, which is still considered to be in its beta phase, is the first major project completed by the city's relatively new digital services team. It's meant to give small-business operators a replacement to what was once a thicket of forms requiring applicants to jump from agency to agency with little guidance. The project comes as city officials look to rebuild a downtown economy still wounded by the coronavirus pandemic.
Lindsey Parker, the district's chief technology officer and assistant city administrator, said the business portal is designed to offer businesspeople a reprieve from navigating registration forms and licenses required by disparate city agencies and previously scattered across dozens of websites, some of which have not been redesigned in nearly a decade.
Parker said the district government maintains about 1,700 websites and more than 51,000 individual web pages. The amount of time spent on a page, she said, averages less than two minutes.
"Sometimes it's hard to get what you are looking for," Parker told a crowd of local business associations at a downtown Washington office owned by Microsoft, the city's vendor for the new portal. "We're in a bit of a race to turn D.C. into a place where you want to open a business."
The portal is designed as a series of checklists — with links to the required applications — for seven categories: bars and restaurants, grocery stores, retail shops, landlords, vacation rentals, nonprofits and other types of businesses. Those seven categories account for more than 80% of all regulatory and licensing activity in the city, according to the district's Department of Licensing and Consumer Protection.
"We want to make sure this is customer-centric," Shirley Kwan-Hui, the department's interim director, told StateScoop in an interview afterward. "What do you want to do, and what are the requirements for business licensing so you can start or maintain your business? It's no longer about which agency does what — it's about what you need to do and we'll show you the checklist."
Parker said that as in many other cities, the heightened interest in digital services began during the COVID-19 pandemic. As a city government with 80 agencies and a history of federated IT governance, the District of Columbia had about 5,000 business processes that needed to be replicated digitally when the coronavirus sent everyone home in 2020.
Parker pointed to the city's coronavirus emergency site as an early example of a page that offered consolidated and easy-to-navigate information. "I think people saw the elegance of it," she said in an interview. (Pandemic-era digital efforts were not always seamless — the city struggled to build a functional website for vaccine appointments.)
But Kwan-Hui said her agency worked with Parker's office, Microsoft and several of the city's other agencies — like the Alcoholic Beverage Regulation Administration — for nine months to develop the small-business portal. The version unveiled Tuesday, officials said, is the fourth iteration of the project, and it will continue to add features this spring.
And while portals consolidating services for residents and families are in planning stages, Parker said that Washington Mayor Muriel Bowser wanted to build the first one for small businesses as the city continues its economic recovery from the pandemic. The district faces declines in tax revenues this year, thanks to an ongoing high vacancy rate in its commercial zones, driven in large part by a majority of the region's federal employees still working from home. That trend has left downtown Washington with a husk of its pre-pandemic vibrancy, hurting local businesses.
"As we think about our comeback, small businesses are the engine of our economy and we need to make it easier for them to do business," Parker said.
She also said that as the city writes its budget for the upcoming year, she'll be able to better figure out the process and timeline of building more digital-service portals. The small-business site had a budget of $2.6 million.
"I'd like to see continuous investment — we're continuously getting better," Parker said. "If we were able to contemplate every business processes … there's a whole heck of a lot of processes. The fact we have 1,700 apps is the problem. We should think about streamlining that for our internal use and our external use."
A family portal, she said, might include services related to the D.C. Public Schools annual lottery, summer-camp registrations at the city's parks department and a directory of after-school programs.
"We don't know what's going to be ready first," she said. "Ultimately we'll have one portal."