California's wildfire effort includes software originally developed for a drone-racing game
Edgybees was founded to make software for drone hobbyists, but its augmented reality programs adapted well for emergency responders.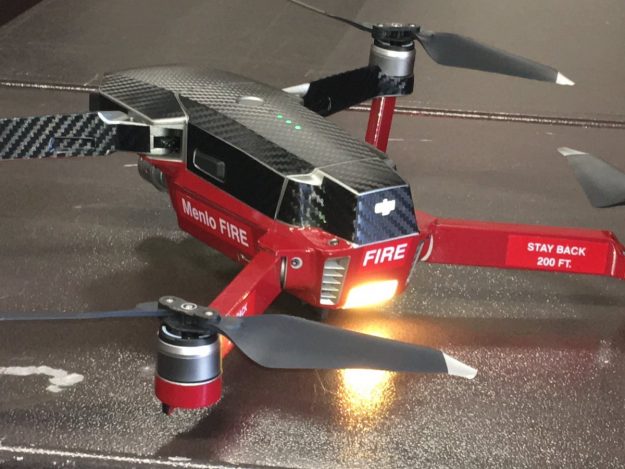 As swaths of California continue to be consumed by wildfires, emergency responders continue to turn to unmanned aerial vehicles as key tools in their efforts to put out the blazes. During the Carr Fire, which has burned more than 205,000 acres in the northeastern corner of the state, firefighters used drone-mounted cameras to take 360-degree photographs of affected towns like Redding, where residents are just starting to return to their scorched neighborhoods.
Now the focus has shifted to the Mendocino Complex Fire, a combination of two fires that have torched a collective 354,000 acres, making it the largest wildfire in California's history. On Monday, it claimed its first fatality, a firefighter from Utah. Five more firefighters have died throughout the state this summer.
State officials say 68 percent of the Ranch Fire, the larger of the two blazes that make up the Mendocino Complex, is contained. One tool being used by some firefighters surveils the affected area from above, using technology originally designed for drone hobbyists.
Firefighters from Menlo Park and Alameda County — two of the many jurisdictions that have sent their emergency responders to fight wildfires hundreds of miles away in recent weeks — are scoping out the Mendocino fire using drones outfitted with augmented-reality software from Edgybees, a firm based in Palo Alto, California, that started out designing games but has pivoted in the last year toward disaster response.
Approaching the blaze, the drones can track firefighters' locations, take live video, and feed video back to officials on the ground who can plot the data over the latest maps.
"Picture yourself broadcasting a fire the way you broadcast a sporting event and transmitting that back to people in the command center and on the ground," Adam Kaplan, Edgybees's chief executive, told StateScoop. "Street grids, fire hydrants, all that information. Opposed to broadcasting a football game, you're broadcasting a fire."
Before shifting the company's focus, Edgybees' first program, DronePrix , allowed aerial drone owners to simulate a racing environment when it was released last year.
"I was pretty bored because flying a drone around in circles is kind of boring," Kaplan said.
DronePrix caught the attention of Chinese drone manufacturer DJI, which sells equipment widely used by police departments, fire departments, and the U.S. Army. That exposure, plus additional funding, led Edgybees to develop another program, called First Response.
Like DronePrix, First Response also augments the video feed it picks up, but instead of laser beams and race checkpoints, it shows its users the locations of landmarks, equipment and personnel.
Edgybees got its first test as a disaster response tool last September after Hurricane Irma washed over Florida. First Response augmented aerial views of Miami and the Keys with street grids to help rescuers navigate inundated neighborhoods. In addition to its current use in fighting California fires, it was also used during last fall's wildfires in Northern California.
Fire officials from Alameda County and Menlo Park could not be reached for comment.
Augmenting reality isn't the only task drones are performing in response to the current fires. The California National Guard is using unmanned aerial vehicles equipped with infrared technology to track firefighters on the ground. In one instance earlier this month, the Los Angeles Times reported , infrared drone footage taken from thousands of feet up informed a group of firefighters near Yosemite National Park that they were facing seven spot fires instead of just a single blaze as they had originally thought. It's another example that unmanned aerial technology has evolved as a firefighting tool since 2013, when the California National Guard first used a Predator drone to survey a fire near Yosemite.
In the case of Edgybees' products, the evolution came because people from DJI who had played its drone-racing game saw the potential in layering graphics over real-time video footage.
"Folks saw the cool game we developed and said, 'As opposed to using AR for games, can you use AR for situational awareness?'" Kaplan said. "I'd love to say it was out of genius on our side, but it was out of demand."