California CIO puts priority on STAR project management plan
California CIO Carlos Ramos' new initiative aims to reform project management processes to result in less risk and less cost for statewide IT projects.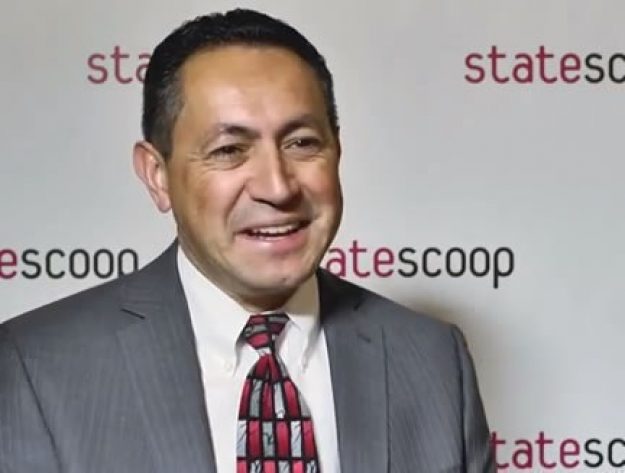 Getting from the inception of an idea to actually procuring technologies or services can often involve taking a long, costly and sometimes wasteful road. Carlos Ramos, California's chief information officer, is trying to change that by making project management disciplines at multiple levels one of his top priorities.
"[We're working on] our approach to the way we look at projects — to approving them, to managing risk on them, to making sure they're successful," Ramos told StateScoop in an interview Tuesday.
"We developed a new approval process that basically walks departments through a process of doing better up-front planning and addressing the issues that typically trip up technology initiatives," he said.
Dubbed the State Technology Approval Reform, or STAR, the new initiative entails a four-stage approval process for technology projects undertaken at the state level. Among other measures, the system will attempt to ensure state technology projects being with clear business objectives and have accurate costs and realistic schedules. In order to achieve that, the different stages in the program are separated by gates, which prohibit movement onto the next stage until the state's Department of Technology approves the progress.
The first stage of the project approval process rolled out last year and focused on business analytics and the development of a business case for taking on a project. The second stage, which rolled out in January, analyzed the potential solutions to the problems identified in the first stage.
Now, the state is in the process of rolling out the third and fourth stages, which will entail a procurement analysis and a final analysis of the solution before the official start-date of a state technology project.
According to the initial timeline that released at the inception of the STAR initiative, the rollout of the third and fourth phases of the project should be completed this year, with full department-wide rollout of STAR coming in early 2016.
"We think it'll really help us do a better job with planning projects and mitigating risk on those projects," Ramos said.
If successful, the STAR process could apply to other state projects, other than just technology. During the development of the initiative, California's Department of Technology invited agency representatives to participate to determine how the processes can be applied in other departments and portions of state project development.
But STAR is only one initiative Ramos' team has underway to help redefine how projects get completed statewide. According to the CIO, the department is working on creating an actual office within the Department of Technology to advise, manage and run projects from start to finish. Right now, Ramos said, departments run projects on their own, but run into difficulty in actually completing projects on time and on budget.
"We're building out and establishing a project office for the entire state that would run projects on behalf of departments," Ramos said. "By doing that, we'd build a cadré of very experienced project professionals."
That cadré would effectively create a career ladder within the state government for someone who wants to pursue project management as a career field, Ramos said. The process began with building out the state's capacity to take on technology initiatives, but could be expanded to encompass the entire state government.
Establishing management approaches that could be scaled statewide is a common theme for the department: Within the last year, the department established an office that focused specifically on providing educational opportunities for state employees to broaden their technology skill set.
Since its inception last year, the office has trained approximately 1,500 state employees on how to use the different technology systems that the department rolls out for state use.
"We partnered with the private sector to emphasize the focus on training, education seminars and forums here," Ramos said. "[In addition], we've established an internally-run project academy, which is a series of classes and training delivered by state government experts on how you effectively manage and run technology projects."
Ramos also highlighted the department's focus on two other major technology initiatives:
Cloud
Last year, Ramos' department rolled out CalCloud — the department's first foray into providing one cloud platform for the state's many different departments and agencies. So far, Ramos said his team has integrated email systems into the cloud environment. Now, the department is looking toward putting applications into the cloud and offering other agencies and departments services through those applications.
"We've got customer relationship management in the cloud, project portfolio management in the cloud, we're doing service desk in the cloud as well," Ramos said. "We're also looking at other applications and services that are in demand from multiple agencies to see if we can just offer them as services in our enterprise cloud environment."
Cybersecurity
As cybersecurity issues continue to dominate national headlines, Ramos said the state was also working on building up The Golden State's cybersecurity efforts to keep up with the increasing sophistication of hackers.
Last year, the department created a cybersecurity task force made up of representatives from public and private sector disciplines to create a set of strategies and recommendations for the state going forward. Ramos said that he expects the results of that study within the next few months.
"Once that comes out, we'll be able to go to work on how we implement some of those strategies and recommendations to improve not only the state government's posture, but the whole of California's posture when it comes to cybersecurity," Ramos said.
The impending release of a strategy for the state comes months after the results of a state Data Breach Report, released last fall, said almost half of California residents were victims of cyber theft in 2013.
"We're being very proactive in trying to address all of those risks and vulnerabilities that are out there, and to take the threat seriously because we've seen it more and more: the hackers are getting better, and their impacts are being widely felt," Ramos said.