Pollution-sucking buses get fleet expansion in England
The vehicles, to be deployed in six new locations, suck up microscopic particles and dirt from up to more than 30 feet in the air.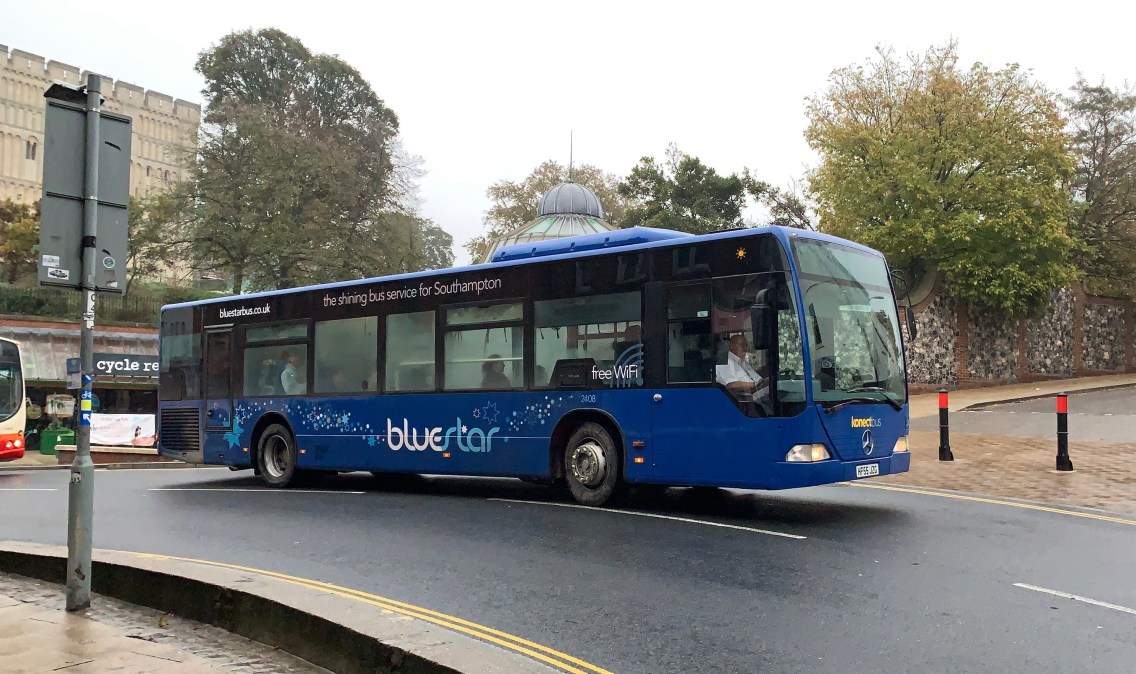 A British transportation company has announced it will expand its fleet of air-cleaning buses throughout England after after a successful pilot in the southern port city of Southampton in 2018.
The Go-Ahead Group, which operates rail transit and a fleet of 5,000 buses, announced last month it will launch six of its "Bluestar" buses, which are each outfitted with three air filtering systems that clean the air around the bus, in six regions around the country this year. The air filters are positioned on the roofs of the buses — which are powered by diesel fuel — and are designed to remove microscopic particles and dirt from up to more than 30 feet in the air.
The six English cities and towns to get the new buses are Brighton, Manchester, Newcastle, Oxford, Plymouth and Crawley/Gatwick.
If deemed effective at improving local air quality, the technology could find a home in the U.S., where a growing number of cities are outfitting their communities with digital sensors and gadgets designed to improve urban life and reduce pollution.
"We believe the Air Filtering Bus provides a 'quick win' for councils as they explore initiatives such as Clean Air Zones to tackle toxic pollution," Go-Ahead's chief executive, David Brown, said in a press release.
Designed by the world's largest aerospace filtration company, Pall Aerospace, the filter system trapped enough micro-particles from the air to equal the weight of a tennis ball during Go-Ahead's 100-day pilot of a Bluestar bus in September 2018. Last June, Go-Ahead expanded to five Bluestar buses in Southampton. Southampton officials attribute more than 100 annual deaths in the city to long-term exposure to air pollution.
Transportation with low or zero emissions is a key goal for many U.S. cities trying to meet renewable energy standards. Portland, Oregon's climate plan, for instance, relies partially on converting its bus fleet to electric vehicles. New York City has held international startup competitions to promote the growth of EVs across the city, which attributes about one-third of its greenhouse gas emissions to transportation. Utilities in Virginia, meanwhile, are helping school districts replace diesel buses with electric ones.
According to the World Health Organization, outdoor air pollution accounts for 4.2 million deaths annually worldwide, mostly via noncommunicable diseases.