Washington, D.C., introduces 'resiliency' plan to protect against 21st-century threats
The "Resilient D.C." strategy published Monday includes 16 technology goals aimed at protecting the city from physical, economic and manmade threats.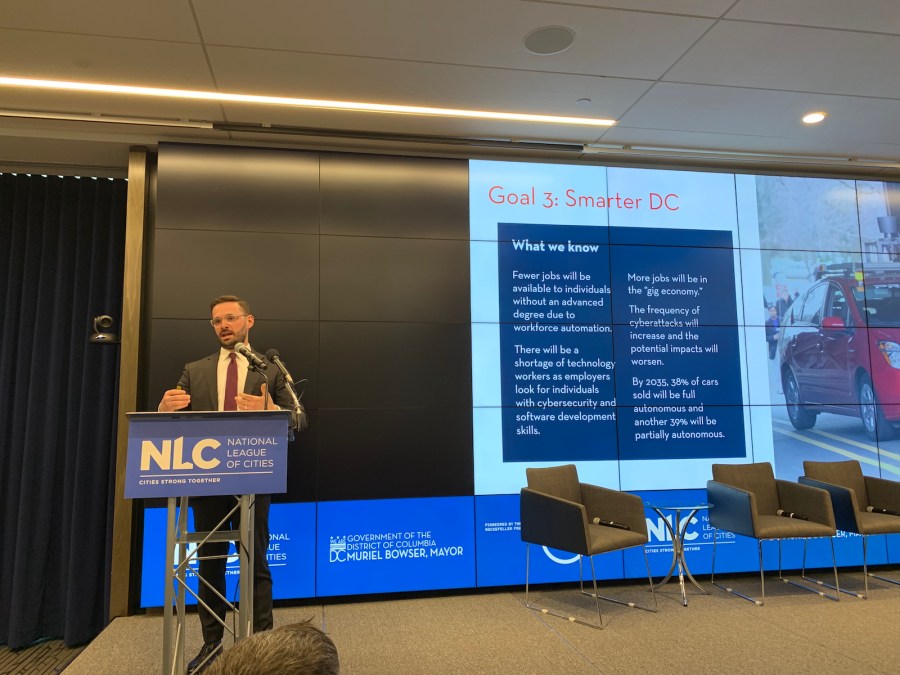 Washington, D.C., will launch dozens of initiatives over the next several years to create a "resilient city" in the face of climate change, cyberattacks and manmade disasters, as well as chronic poverty and housing inequity, Mayor Muriel Bowser said Monday.
The initiatives are part of the city's "Resilient D.C." strategy, a 160-page plan that is the culmination of the city's two-year planning process with help from the Rockefeller Foundation's 100 Resilient Cities program, which works with cities around the world to develop programs to help them weather modern challenges.
The D.C. plan sets four goals: leveraging technology, fostering inclusive growth, mitigating the effects of climate change and improving public health.
Kevin Bush, who serves as D.C.'s chief resilience officer through a Rockefeller Foundation grant, told StateScoop that he designed the technology component of the resilience strategy — which includes 16 of the document's 68 total goals — to enable the city to leverage, rather than "just respond to" technological advancements.
Many of the tech goals focus on workforce automation, connected transportation and cybersecurity, but Bush said he wants the new resiliency strategy to evolve beyond the District's existing "smart city" plans.
"It's called 'Smarter D.C.,' but I've tried to expand what I view at least as the traditional definition of 'Smart D.C.' which is just using the new technologies," Bush said. "I think part of it is also making sure that you're minimizing the negative consequences and maximizing the positive ones."
For D.C., that means accomplishing some specific goals, like becoming the world's most digitally secure city — according to the Economist's Digital Security Index — by 2025. The Resilient D.C. strategy aims to accomplish that through the creation of an ROTC-style program to train high-school students as a cybersecurity corps, and partnerships between local businesses, nonprofits and other institutions to promote best practices that would supplement the D.C. Homeland Security and Emergency Management Agency's cyber center.
Additionally, each city agency will develop a cyberattack emergency plan by 2023, and the Metropolitan Washington Council of Governments — a group that includes District, Maryland, Virginia and federal policymakers — will create a mobility strategy to integrate new technology into public transit that crosses city and state borders.
Broader goals, like re-chartering the Smarter D.C. initiative to accelerate development of "smart city" technologies by 2023 and enforcing protections for the growing number of freelance workers in the city round out the 16 technology initiatives that Bowser's resilience cabinet will work to implement.
Bush, who is new to city government, said that the projects will be split up among different agencies. Lindsey Parker, the District's recently installed chief technology officer, will lead some projects, he said, while other cybersecurity-related projects will be run through HSEMA and machine-learning programs will be managed by The Lab @ DC, a data research division in Bowser's office. Bush said he sees the collaboration as essential to prioritizing security across government.
"In some ways what we're trying to do is say climate change shouldn't just be owned by the environment department. It's the same thing with smart cities. It shouldn't just be owned by [one agency]," Bush said.