Virginia state capitol to use machine-learning weapons detection
The Virginia Capitol Police will test a machine-learning platform that's already in use in Utah and at sports stadiums around the world.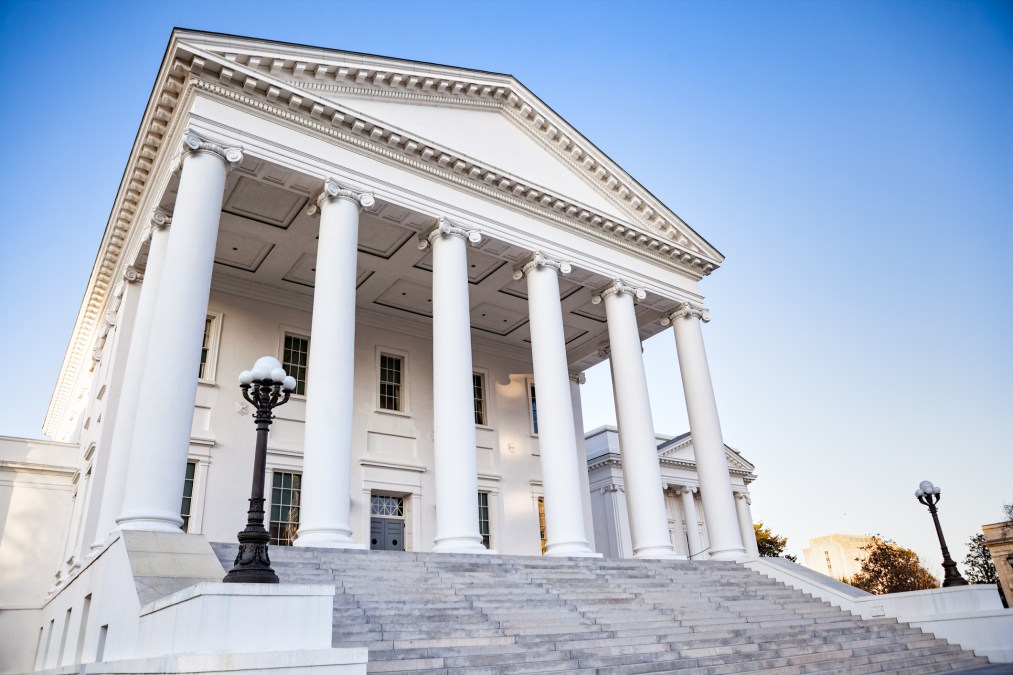 The Virginia Capitol Police may start testing devices next year that use machine learning to scan visitors to the state capitol in Richmond for weapons, signaling innovation in the way law enforcement protects government buildings.
Joseph Macenka, a spokesman for the Capitol Police, told StateScoop the agency recently signed an agreement with security firm Liberty Defense Technologies to beta-test the company's 3D imaging platform, known as Hexwave.
The Capitol Police, like many other law-enforcement agencies that guard public buildings and other secured facilities, currently rely on technology like walk-through or handheld magnetometers, which detect changes in local magnetic fields. Macenka and others said newer technologies, such as machine learning, are necessary to keep pace with threats that have evolved beyond standard metal detectors. A handgun in a backpack, for example, could appear merely as a dark rectangle if pointed muzzle-down when it passes through a metal detector, Macenka said.
Along with the Virginia Capitol Police, Liberty Defense's customers for Hexwave include the office of the Utah attorney general, several schools, and sports stadiums such as Munich's Allianz Arena, home of the German soccer club FC Bayern.
"The [current] technology is good, but is anything foolproof?" Macenka said. "No. You're always looking for areas to do things better."
Hexwave does not require contact with objects and is built much like a standard rectangular metal detector, but can operate behind walls or signage if necessary, said Bill Riker, Liberty Defense's chief executive. What distinguishes it from current magnetometers or X-ray machines, however, is that it creates a 3D image of the space being examined — then uses artificial intelligence to determine whether there's a weapon in that space, rather than depending on a human to evaluate an image.
Riker said the system uses hundreds of antennas to transmit and receive a low-frequency radio signal across the detection space. A 3D image is built off of the reflection of those signals — a "point cloud" Riker said, similar to how constellations reflect the shape of an object in between the stars. That 3D image is then ran through a locally stored machine-learning database for weapons like handguns, knives or explosive vests, as well as other objects like cellphones and keys. If the database matches the image to a weapon, security personnel are alerted.
Each scan creates roughly 3,000 data points for the database to consider, Riker said. The algorithm is trained at Liberty Defense's headquarters in Atlanta by photographing and modeling different angles of each weapon. If a security agency is concerned about a new threat, such as flare guns at European soccer matches, Riker's team simply models the weapon and updates the database.
The technology was first developed by physicists at the Massachusetts Institute of Technology's Lincoln Lab in 2014 and licensed to Liberty Defense last October. The Virginia Capitol Police are one of roughly a dozen non-committal use agreements that Riker said he has signed in the United States and Europe to test the technology, which is not commercially available yet. Macenka said that he expects the agency to test it in February or March of next year.
"We're always interested in seeing if we can improve, and given the topic of government building security these days, it's a very prudent move on our part," Macenka said.
The news that the Virginia Capitol Police will test weapons-detection technology comes a little more than a week after the state's General Assembly failed to pass a bill banning guns from state offices. Gun violence on public property had been weighing heavily on state officials since May, when a former Virginia Beach municipal employee shot and killed 12 people in a city building.
The Homeland Security Sesearch Corporation expects the market for weapons detection systems to grow to $11 billion by 2025. Similarly, airports across the country are installing cutting-edge biometric security and identification techniques.
Right now, Macenka said, Liberty Defense is just looking for high-volume entryways to test its technology. The Virginia Capitol sees nearly 500,000 visitors a year.