Atlanta airport opens first biometric terminal in U.S.
Passengers on international flights with five airlines now have the option to go through every step of the boarding process using facial-recognition scans.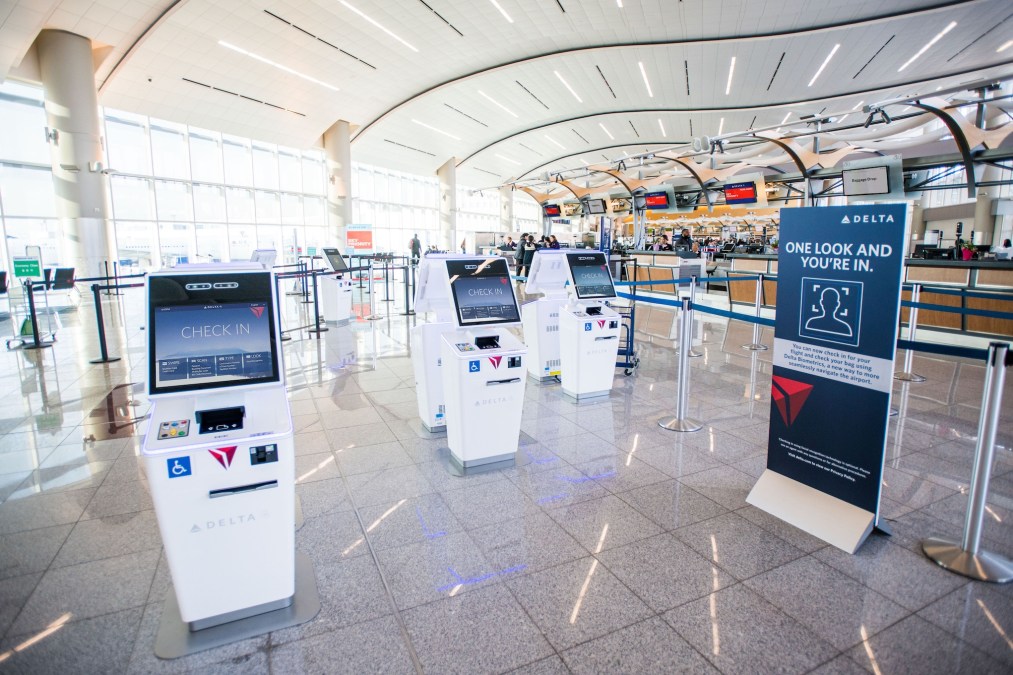 A section of Hartsfield-Jackson Atlanta International Airport has become the first airport terminal in the United States to use facial-recognition technology in every part of the passenger experience. Passengers traveling through the 14-gate terminal can go through biometric scanning to complete steps ranging from checking in to flights and dropping off baggage to re-entering the United States when they return.
The new biometric tools were developed by Delta, the airport's operating authority and U.S. Customs and Border Patrol.
Starting Saturday, passengers traveling on international flights out of the airport's Terminal F — which serves Delta, Aeromexico, Air France, KLM and Virgin Atlantic — will be given the option to use facial identification technology to simplify the airport's checkpoint process from end to end. The Delta Biometrics experience will allow passengers to use their face to check-in luggage, pass through security and board flights.
Passengers who choose this method will first have to enter their passport information during the online check-in process, and then have their photos taken in the airport lobby, the Transportation Security Agency checkpoint or the boarding gate. The photo is then compared to a digital copy of the passenger's passport which is stored within a CBP database. From there, passengers will have no need to present their passport again before departure.
Delta had been testing facial-recognition technology at Atlanta, Detroit Metropolitan Airport and New York's John F. Kennedy International Airport for several years. According to a press release from the airline, the facial-identification system has shaved an average of nine minutes off the boarding process for a wide-body aircraft, giving employees more time to take care of other consumer needs.
"We're removing the need for a customer checking a bag to present their passport up to four times per departure – which means we're giving customers the option of moving through the airport with one less thing to worry about, while empowering our employees with more time for meaningful interactions with customers," Delta's chief operating officer, Gil West, said in the press release.
Airlines and airports have rapidly rolled out facial-recognition equipment to modernize passenger boarding, with several other international gateways installing similar equipment, including Orlando, Los Angeles and Washington Dulles. Those projects, though, have been limited to specific carriers or a small handful of gates. The Atlanta terminal, the sixth-busiest in the United States for international travel, is the first to install biometric tools facility-wide.
Delta plans to quickly expand the biometric boarding processes to its other international terminals. According to the press release, Delta will expand its facial recognition technology to all 14 of its international gates in Detroit by mid-December, and will implement the full biometric terminal experience in 2019.
The airline has also brought its biometric boarding system to its gates at Ronald Reagan Washington National Airport, and has tested a self-service biometric bag drop at Minneapolis-Saint Paul.