Except Utah, state governments are way behind in AI use
New research shows that state government is one of the slowest adopters of what Gartner calls "the most disruptive class of technologies" going today.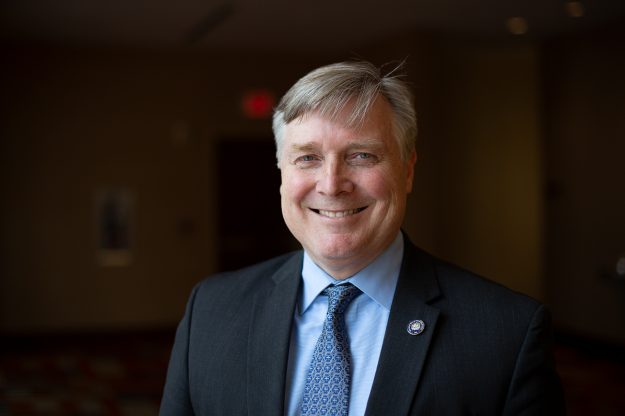 From farming to warfare, artificial intelligence is poised to change how work is done, but government is still a distant laggard, according to data presented at the National Association of State Chief Information Officers Midyear Conference in Baltimore this week.
About 50 percent of private companies surveyed told the research firm Gartner that their organizations are currently implementing or have short-term plans in place to use artificial intelligence to support their businesses, but only 20 percent of government respondents reported the same. The figures were even lower in state government — just 12 percent. Rick Howard, a research director at Gartner, offered this information to an audience of state officials and industry reps Tuesday along with some words of admonishment.
"In an increasingly digital society, that gap is no longer acceptable," Howard said, recommending that government not lead the space, but at least transition into "fast follow" mode.
Utah, whose chief information officer, Mike Hussey, led the session with Howard, appears to be a bright spot in the state IT community's AI-adoption trend. Utah is using AI to adjust how it operates both public-facing applications like digital assistants and critical back-end functions like responding to cyberattacks.
The presentation came before Gartner released a report on Wednesday that the global market for AI, which it calls "the most disruptive class of technologies," is expected to reach $1.2 trillion by the end of 2018, a 70 percent increase over the previous year.
Despite Gartner's urgency for government to catch up to the private sector, data released by the Brookings Institute on Tuesday shows that, at least for senior executives, the commercial industry also struggles to understand AI. Of 1,500 senior business leaders in the U.S. asked about AI, only 17 percent said they were familiar with it and many said they didn't know precisely how the emerging technology would affect their businesses.
All of those watching the space, however, seem to agree that AI will have massive influence over a widespread array of businesses. And even as a laggard, government's use cases already span from digital assistants that help anglers find good fishing spots to algorithms that help officials correlate data related to cyberattacks, which can be nearly impossible for humans to spot.
Howard said fraud analytics proved to be the most valuable AI tool for government, likely because it has the most obvious return on investment. That was the case for Indiana's Department of Revenue, whose director recently told StateScoop that AI-backed analytics reduced tax fraud by 97 percent and helped the state avoid more than $88 million in improper payments. Digital assistants were cited as the second-most popular application for government in Gartner's survey.
As an early adopter, Hussey shared many facets of his state's AI adoption, which includes applications that support surveys gathering feedback on online services.
"As we run the data through this tool we can start to see trends," Hussey said. "How are we doing? Did we improve?"
Since fall 2017, the state has collected data to find suggestions on how to improve its services, create new ones and gain insights into how its customers interact with the state government online. The AI's job is to pull out key phrases — such as "my address is" or "I need" — that indicate an immediate response is needed.
Hussey said the state also uses the tool for sentiment analysis. Looking at the kind of language used before and after a patch is released, for instance, can give the state a quick read on how people feel about what they've done.
While most state governments use AI very little, if at all, Utah is currently testing or using AI for several programs. Utah used Elasticsearch and other machine-learning tools to analyze health, transportation, air quality and other location-based Twitter data that allows officials to perform sentiment analysis during and after seasonal air pollution spikes caused by seasonal temperature inversions between December and February.
"You have the data. You have the platform. Now just figure out how to get that to connect," Hussey said. "That's where the work was."
AI backs Utah's digital assistants — one for a driver's license practice exam, one for a notary exam, and another that shares fishing information like who's catching what where. Utah's real-time public transit app wouldn't work as well without AI, Hussey said. Utah uses AI for image processing, augmenting the state's defenses against 1 billion daily cyberattacks.
AI could also soon help Utah's efforts to shore up the state's workforce and answer questions about autonomous-vehicle fleets and other emerging technologies, Hussey said.
"We're experimenting," he said, "trying to get down that road a little bit and see where it takes us."