StateScoop parent launches news website for edtech sector
New website aims to help education leaders "keep ahead of the rapid technology changes impacting school districts and college campuses across America."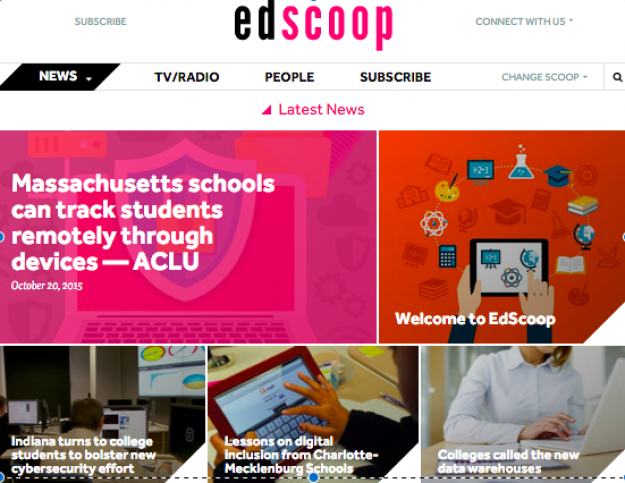 Scoop News Group, the leading government IT media company in Washington, D.C., has launched its latest online daily news publication, EdScoop, CEO and Founder Goldy Kamali announced Wednesday.
Building on the success of the company's FedScoop and StateScoop news websites, "EdScoop is aimed at helping K-12 and higher education leaders and technology directors keep ahead of the rapid changes impacting school districts and college campuses across America," Kamali said.
"EdScoop is a reflection of our long-standing commitment to serve the public sector IT community with breaking news, educational forums and platforms for collaboration," she said. EdScoop will feature the latest news and conversations with top leaders driving technology and digital learning in K-12 and higher education.
"Education is going digital. The key question for education leaders is whether technology will be a catalyst for transformation, or merely automating things we are already doing," said Keith Krueger, CEO of CoSN, the Consortium for School Networking, commenting on the launch of EdScoop. "Educators, especially those in charge of technology, need to keep up with an ever-accelerating pace of change. EdScoop will be a key resource to help them keep abreast of these trends."
The new website is accompanied by a national email newsletter, EdScoop Edition, which is targeted to reach 125,000 leading federal, state and local IT and education policy leaders across the U.S. Readers can also follow breaking news and engage with EdScoop via Twitter @EdScoop_News.
"EdScoop is uniquely positioned to bring education IT leaders together with influential federal, state and local education policy and IT decision-makers," said Scoop News Group Vice President of Content Strategy Wyatt Kash.
Leading the EdScoop editorial team is Corinne Lestch, who has been covering education for five years and education technology at the national, state and local level for FedScoop and StateScoop since January 2015. Corinne was previously an award-winning staff reporter covering a variety of beats including education at the New York Daily News, where she reported regularly on the nation's largest school system.
Scoop News Group delivers up-to-the-minute breaking government tech news and is the government IT community's platform for education and collaboration through news, events, radio and TV. Its flagship property FedScoop engages top leaders from the White House, federal agencies, academia and the tech industry online and in person to discuss ways technology can improve government, and to exchange best practices and identify how to achieve common goals. StateScoop similarly engages top leaders in state and local government and the tech industry online and in person. For more information, contact Scoop News Group's Wyatt Kash.