Help send SNG to SXSW 2017
SNG wants to go to Austin, bringing a Texas-sized portion of panels with us. But we need your help.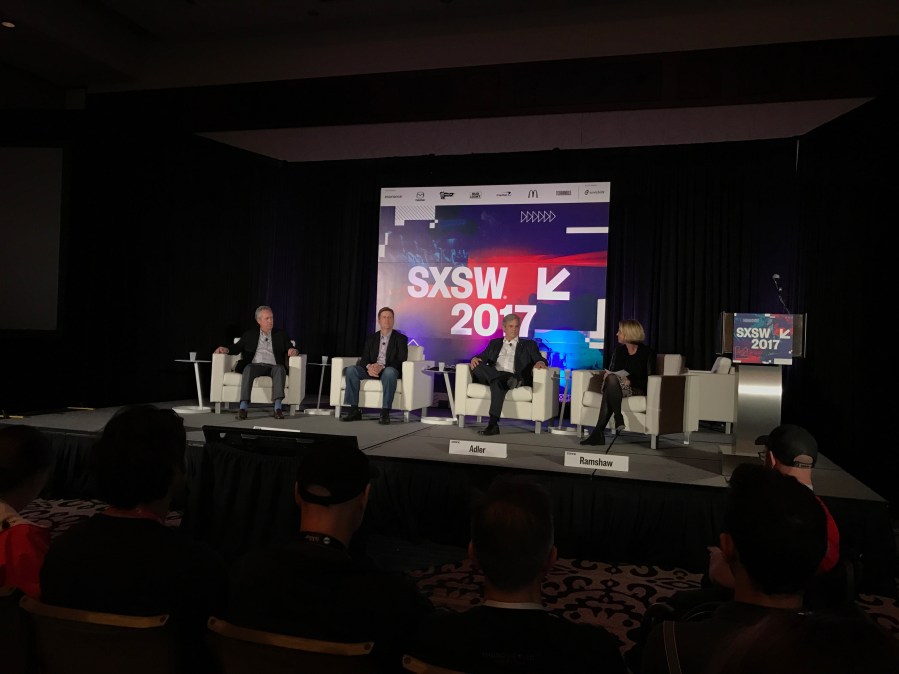 Over the past two years, Scoop News Group has headed to Austin, Texas, to give you the inside scoop on South By Southwest's Interactive and Education conferences. Next year, we want to take it up a notch: We're planning a host of panels that will give you exclusive insights into civic technology and cybersecurity.
One catch: We need your help! Click on the panel titles to head over to the SXSW Panel Picker, where you can vote for our proposed sessions. Your support through upvotes and social media sharing will give you the best SNG has to offer while you take in all you can at one of the biggest tech conferences in the country.
New Technology & Protecting US Data
As technology advances faster than anyone could have anticipated, governments are so often playing catch up. With new technologies like artificial intelligence, the Internet of Things and biometrics looming on the horizon, state and local governments are confronted with the question of what comes next. How are governments future-proofing the way they innovate? Are there ways that online collaborative platforms like GitHub and Trello can help government and citizens collaborate on new products? And in addition, how and where should security come into the equation?
Proposed Panelists
Andrew Therriault, Chief Data Officer, Boston
Elizabeth Pemmerl, Director of Public Sector, GitHub
Lauren Ancona, Senior Data Scientist, City of Philadelphia
How Cities Can Use Data to Empower Decisions
In 2015 and 2016, several nonprofit organizations popped up to help cities innovate faster using technology. The common thread, though, between all of them? Data. Organizations like What Works Cities, the MetroLab Network and Code for America all look to help cities get their arms around the burden that is data, and help cities turn the burden into an asset that they can use to make decisions that impact the lives of their citizens. What are some quick wins that cities can have when it comes to using data to drive decision making? How can civic-minded organizations help government?
Proposed Panelists
Simone Brody, Executive Director of What Works Cities, Results for America
Former Gov. Martin O'Malley, Senior Adviser, MetroLab Network
Mayor Rahm Emanuel, Mayor, Chicago
How Can US States Create Effective Cyber Commissions
Earlier this year, StateScoop investigated how well cybersecurity commissions established by governors across the country fared. The answer? A mixed bag. As cybersecurity continues to grow in concern for government officials, legislators and citizens alike, experts are wondering whether or not "commissions" like these are the most effective response. Should more states take the commission approach? How can you maximize the potential impact of a commission? How do you best organize a government around the threat of cyber?
Proposed Panelists
Gov. Terry McAuliffe, Virginia
Gov. Gina Raimondo, Rhode Island
Hardik Bhatt, Chief Information Officer, Illinois
Your FitBit. Your WeMo. Your Fridge. The Internet of Things isn't the future — it's here. But as we find more reasons to connect everything to the Internet, we are finding ways to put our privacy and digital security at risk. This panel will look at what needs to be done to protect the users of internet-connected devices from a number of different of angles — from those who build tech policy on Capitol Hill to those who build and protect the systems themselves.
Proposed Panelists
Greg Otto, CyberScoop
Suzan DelBene, House of Representatives
Dan Kaminsky, White Ops Security
Tony Sager, Center For Internet Security
Meet the White House's New Tech Team
The dust has settled on a leadership change in Washington. So how can we continue to move government in the right direction and create modern, innovative technology for our citizens? This panel will give you the chance to talk to top tech minds within the new administration, giving attendees the opportunity to build relationships that will lead to changing our government's approach to technology.
Proposed Panelists
Billy Mitchell, Scoop News Group
*Jennifer Pahlka, Code for America
*Tony Scott, White House
(* Clearly, the speakers are subject to change given the upcoming election. However, we plan to bring you the top tech minds from the White House for this panel, whomever they may be come January!)
Bureaucracy Hackers — Disrupting Digital Government
The federal government has no problem spending money on technology. It does so annually at a level of about $90 billion. Getting the expected value from those investments, however, isn't something that happens often.
Since the collapse of Healthcare.gov, a corps of digital experts has infiltrated the federal government in tech SWAT teams, like the U.S. Digital Service and 18F, to hack the culture around IT development and acquisition.
These bureaucracy hackers are looking for ways to cut government's red tape, which has made it so prone to large-scale tech failure. This panel will bring them together to discuss their successes, challenges and next steps under a new administration.
Proposed Panelists
Billy Mitchell, FedScoop
Aaron Snow, 18F/GSA
Mikey Dickerson, U.S. Digital Service
Todd Park, White House
Can You Speak Computer Science?
This debate will explore whether computer science should be counted as a foreign language in high schools. This was a controversial issue that arose in March after Florida's state legislature was poised to become the first in the country to allow computer science to count toward a foreign language requirement. Many cities are making programming classes mandatory in schools, and the federal government is pushing for states to include the course in their school curricula thanks to President Obama's Computer Science for All initiative. But there is still a long way to go for every child to learn the language of Java, Python or C++.
Proposed Panelists
Hal Speed, Founder, CS4TX
Edward Zarrow, Latin teacher, Westwood High School