State technology investments have made voting more convenient in the past decade, MIT study says
The Elections Performance Index ranks states on how efficiently they conduct elections, rewarding those that put voter information online and audit results.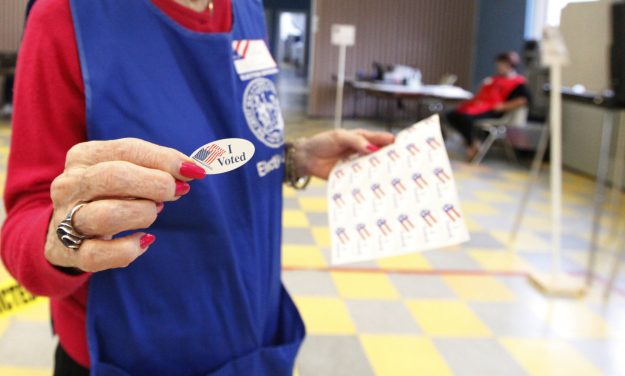 States' embrace of technology has made it easier for people to vote over the past decade, according a report published last week by researchers at the Massachusetts Institute of Technology.
Ten years ago, tools that seem obvious nowadays — like online voter registration and websites with polling-place information — were still rarities, but states' increasing adoption of those tools, as well as other tech-driven reforms, have made the voting experience more convenient.
More states are also adopting laws requiring post-election audits that help officials measure the performance of their voting equipment, according to the study, titled the Elections Performance Index , which has been published biennially in the wake of every federal election since 2008.
"A decade ago when Pew [Research Center] was looking at the issue" — where the index was originally compiled — "elections were still pretty much a pen-and-paper situation in a lot of states," said Charles Stewart, an MIT professor of political science who co-authored the report.
The index reviews states' performance across 17 indicators, ranging from how many absentee ballots are requested and accepted to turnout rates and wait times at polling places, and assigns each state and the District of Columbia an overall score. The new index, based on data collected after the 2016 presidential election, puts a greater emphasis on technological improvements to the voting process, Stewart told StateScoop.
The Elections Performance Index does not measure the demographic makeup of states' electorates or recent legal changes that have created barriers to voting. Since 2010, 23 states have adopted new laws or policies that make it more difficult to register to vote, reduce the number and operating hours of polling places and require voters to show photo identification before casting a ballot, according to the Brennan Center for Law and Justice at New York University.
The MIT study, by comparison, evaluates how convenient states make their voting processes and how efficiently they count results.
"The states that have [improved] the most, it's the ones that have adopted more of these convenience features online," Stewart said.
The first version of the Elections Performance Index, released after the 2008 presidential election, found that only two states — Arizona and Washington — offered online voter registration that year, while only 21 states and D.C. had websites that allowed people to look up their polling places, verify their registration status and find information on submitting and tracking absentee ballots. (Another 18 states had some of those components in place a decade ago, while failing to put other voter information online.)
Ten years later, nearly every state puts most, if not all, the information voters need online. The index looks for five types of information voters can find on the internet: voter registration status, polling place locations, absentee ballot status, provisional ballot status and candidate information. In 2016, 20 states plus D.C. put all five online, while another 15 states posted four of those items. Every state now puts at least one piece of voter information on its main election website, though some are stragglers like Wyoming, which only offers a rudimentary polling-place lookup .
Building websites with critical information is also as much a cost-saving measure to governments as it is a convenience to voters. Stewart said voters increasingly rely on internet searches as their first source for information about how and where to vote, referencing a 2013 Pew study that found 58 percent go online first, with only 15 percent saying they'd call their local elections board. But those calls can be expensive to state and local governments, Stewart said, citing statistics that found it can cost officials between $10 and $100 for each call.
Online voter registration has also expanded, and was available in 33 states plus D.C. as of 2016. Another five states did not take new registrations online, but allowed already registered voters to update their addresses and party affiliations online.
Policy 'poster child'
Overall, Vermont has made the greatest leaps. It ranked as the 38th-best state for voting in the index following the 2012 presidential election, when it had incomplete data about provisional ballots and did not offer voters any online services. But Vermont topped the new edition of the index, which Stewart credited to the state's investment in election-related technology.
"Vermont is almost like the poster child for the policy aspirations of the index," he said. "We want to reward states that make it more likely that voters, if they do everything they're supposed to do, have their votes count. Vermont had pretty high traditional measures on voter registration, but they hadn't really taken advantage of technology. In the last four years they've gone all-in."
Vermont Secretary of State Jim Condos celebrated his office's achievements in a press release Friday.
"What this ranking means is that across numerous measures we have increased accessibility, and decreased roadblocks, for Vermont voters, while ensuring that our elections process is functioning effectively as the bedrock of our democracy," he said in the release.
Along with putting voter tools online, Vermont was also rewarded for its rigorous post-election audits, a process Condos, who took office in 2011, has touted in congressional hearings and meetings with his fellow secretaries of state. After every election, Vermont officials randomly select 5 percent of all voting districts and conduct a recount of every line on every ballot from that sample.
Not the poster child
While there are multiple ways to conduct a post-election audit, Stewart pointed to the growing number of states requiring them as another sign of progress. "I know that people who are auditing experts will sometimes roll their eyes at some of the simple, statistical audits as not being very powerful," he said. "But the states that do have some type of a theoretical acknowledgment that things might go wrong and they might need to do a double-check."
The index docked points from the 16 states that don't require post-election audits, a condition Stewart attributed to the voting equipment those states, most of which are in the South or Midwest use. "It's unfortunate they don't have audits, whether it's a matter of history, inertia, leadership in those states," he said. "Many of those states, not all in the South, have the electronic voting machines."
But the Elections Performance Index doesn't have a red-state/blue-state or even geographic divide in its overall rankings. California, despite having online voter registration and an audit requirement, came in 49th place overall. (Only Oklahoma and Idaho performed worse.)
Stewart chalked up California's poor rating to how the state offers the option of voting by mail. California allows residents to get permanent vote-by-mail status, but Stewart said there's a high occurrence of voters who sign up, but later decide to vote in person. But if their county elections board already sent a ballot in the mail, voters who show up at a polling place are then required to fill out a provisional ballot. The cost of mailing those voters' ballots has been wasted, and it'll take longer to verify and count their provisional votes.
"You wasted money sending ballots out that don't need to be sent, and not all the provisional ballots are counted," Stewart said. "As elections get more complex and states look to add more features that give voters convenience, there are ways convenience can come at an added cost. The devil is in the details."