Public sector IT talent crunch 'only going to get worse,' experts predict
Workforce challenges in state and local government are continuing to trouble state and local governments, industry groups said at an event.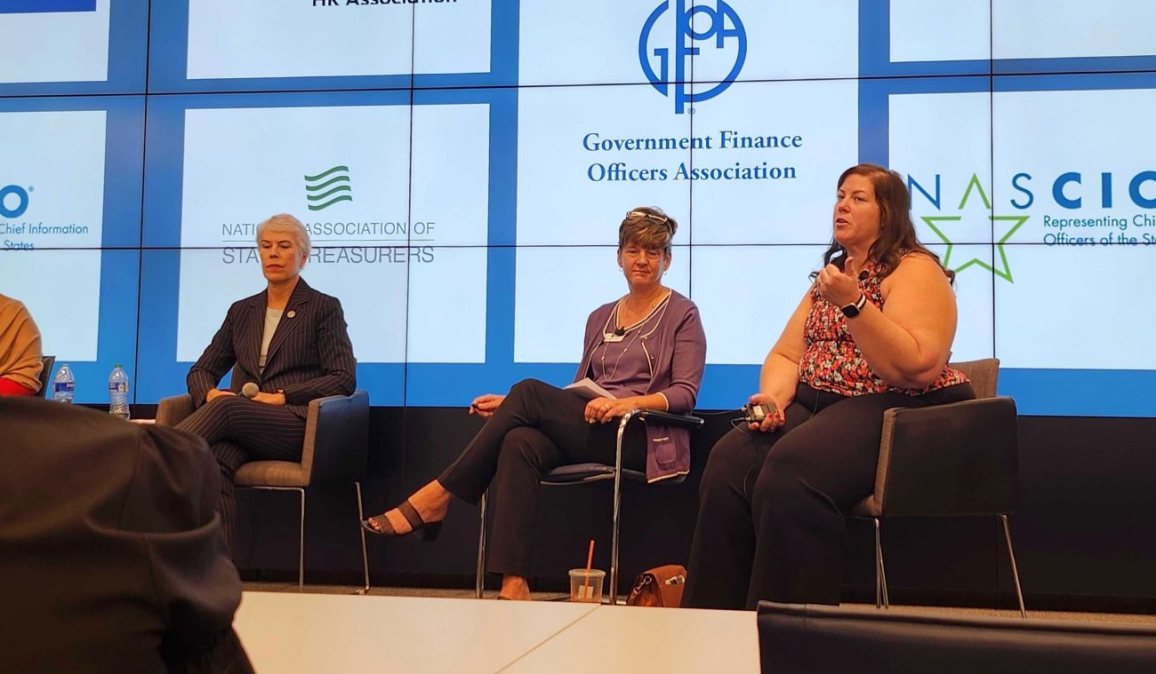 Finding and keeping IT talent is only going to get harder for state and local government, speakers said Tuesday at a Washington, D.C. event on public sector workforce challenges.
Representatives from professional groups, including the National Association of State Chief Information Officers, highlighted the difficulty many states and local governments are experiencing in hiring and retaining talent — particularly in IT and finance — following the "great resignation" that accompanied the COVID-19 pandemic.
Staff are often retiring faster than government agencies can hire replacements, a phenomenon that Laura Allen, president of the Government Finance Officers Association, called the "silver tsunami." She said that while some agencies are hiring back retired staff, government needs to find and train entry-level recruits.
Understanding the competition for talent and breaking down barriers to entry are key strategies that human resources professionals are considering, said Gerald Young, senior research analyst at the MissionSquare Research Institute, which regularly publishes surveys and reports on the challenges facing state and local government.
"We've got a significant recruitment challenge ahead of us," Young said during the meeting. "[But] the primary actions that organizations are taking right now are positive ones. They are hiring. They are also doing compensation studies because they know that compensation is a key driver of bringing people in the door."
'Different ways you can take care of your employees'
Young said agencies should raise their compensation and stress the value of public sector benefits, such as tuition-reimbursement programs, loan forgiveness and retirement funds.
Cara Woodson Welch, CEO of the Public Sector HR Association, said some public sector agencies are experimenting with bonuses to retain staff. She said public sector HR staff are awarding more bonuses, but aren't yet measuring the strategy's efficacy at improving retention rates. They are also interviewing staff – both for exit interviews and midyear, to understand where improvements can be made — and offering incentives such as financial wellness education, she said.
"We have people that are retiring, we have people that don't want to be in these positions any more" Woodson Welch said. "So we're talking about different ways you can take care of your employees."
For recruiting, HR officials are taking a multi-pronged approach, Woodson Welch said, removing barriers such as college-degree requirements and increasing flexibility in work hours and remote-work policies. Longitudinal studies conducted by the PSHRA show that it's getting more difficult to fill positions in public safety, health care, engineering and skilled trades, but some of the biggest public sector hiring gaps are in IT and finance, Woodson Welch said.
In the most recent PSHRA survey, 46% of HR officials reported that it is getting harder to fill finance roles and 64% said it is getting harder to fill IT roles.
'Feel like they belong'
Meredith Ward, NASCIO's deputy executive director, said flexibility is a key strategy for attracting and retaining IT talent.
"Job postings that have a flexible or remote work option have 300% more applicants," Ward said. "The name of the game here really is flexibility. It may not be working from home, it may be working from another city. I think of states like Texas — your capital, Austin, is a very expensive place to live, they are absolutely recruiting in other parts of the state."
Ward also highlighted the importance of stressing to recruits that they belong in the public sector.
"Unfortunately, diversity has become a politicized issue in state and local governments and that is absolutely a shame," she said. "We know that diverse teams are more productive teams, and in the private sector, diverse teams are more profitable."
Ward noted that many state and local CIOs are seeking to increase diversity and "make sure their employees feel like they belong when they get back to the office. That is extremely important."
In recruiting, Ward encouraged IT leaders to stress the value of "giving back" through public service and also to review job titles and classifications so that they better align with the private sector and are less confusing to candidates.
"A lot of times, people just don't know what they're applying for in the public sector," Ward said. "If California can take 36 or more job titles and classifications down to like, nine, I'm confident that other states can do that."