Cities taking risks on digital can be 'an adventure'
"We incorporated innovation into everything," the mayor of Montevideo, Uruguay, said to other city leaders at the Cities Summit of the Americas.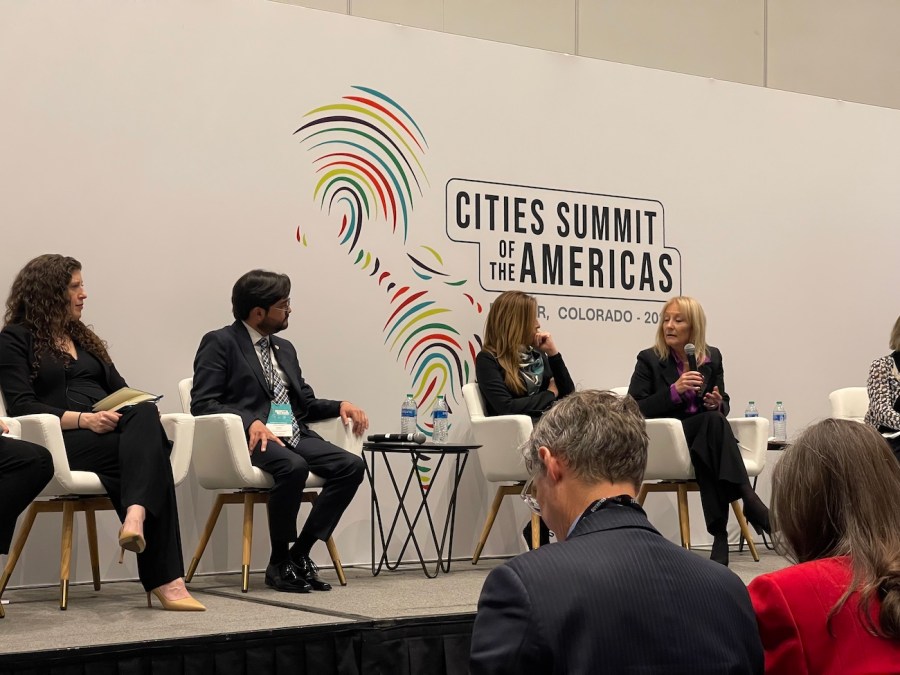 DENVER — For cities looking to digitize services or become more technology-forward, those decisions can often involve taking big swings at issues, speakers said Friday at the Cities Summit of the Americas.
In the cases presented by leaders from Seattle and several Latin American cities, new and ambitious projects have emerged from political fights and bureaucratic clashes.
"Seattle was pitched as the World's Fair in the 1960s," said Leah Tivoli, Seattle's director of innovation and performance.
As the city grew over the decades, fueled by a booming tech sector, steep issues emerged, like a homelessness crisis that Tivoli said was exacerbated by the COVID-19 pandemic. But, she said, the city has historically struggled to connect its most vulnerable residents with services designed to help them out.
"One of the simplest ways to alleviate poverty is to connect services they're eligible for," she said. "Only 40% of people eligible are actually enrolled."
In 2021 the city launched a website, Affordable Seattle, designed to point users toward a wide range of social benefit programs. But the site, Tivoli said Friday, was created after the demise of 2017 proposal by then-Mayor Jenny Durkan to raise funds for homeless services through a "head tax" — charging major employers like Amazon and Starbucks for every employee on their payrolls. While the tax initially passed, it was quickly repealed in 2018 under pressure from business and labor groups.
"We don't have an income tax," Tivoli said. "It fails, and [Durkan's] so angry."
In the fallout, Tivoli said, Durkan created an advisory council bringing in Seattle's major tech companies to offer their services to city departments with outstanding projects.
"We want these companies to give back in a give way," Tivoli said. "That's how we got the portal."
"When you take a risk and you open up participation, then taking a risk is an adventure," said Montevideo, Uruguay, Mayor Carolina Cosse.
Cosse, who was elected to lead the Uruguayan capital in 2020, said she has tried to "incorporate innovation into everything" since taking office.
"The organization must be focused on the problem we want to solve," she said. "Usually organizations work in a vertical fashion. Tensions arise."
Cosse said she has pushed for evidence-based governance, including making the city's data open and accessible to the public, particularly data related to mobility. Montevideo last year also kicked off a citywide streetlight replacement plan, installing 70,000 new lampposts equipped with LED bulbs and internet connectivity across an area of 200 square kilometers.
Eventually, Cosse said, interoperability between the new streetlight system and the mobility data could allow city officials to more easily solve traffic congestion and possibly manage busy intersections with artificial intelligence tools.
"We're not only opening up the information and making it more transparent. We're using the data from Montevideo to generate change," she said.
In Seattle, Tivoli said, about 10,000 residents have used the new affordability portal since it launched. The site, which was built in concert with Google.org, the search giant's philanthropic arm, has sharply decreased the amount of time it takes to fill out applications for programs, leading to about 20% of users applying for additional benefits. The site is also used by community organizations and case workers to broaden its reach.
"Because we have a dedicated portal for community workers, they can apply on behalf of people and it's reaching a whole other population we never could've reached before," she said.
Without that kind of innovation, she said, the risks created by Seattle's housing crisis would only spread.
"If we don't figure out how to make it easier to navigate services, we're outsourcing risk of poor design to the community," she said.