On cybersecurity, many local governments still lack strategic or disruption response plans
A new infographic from the Public Technology Institute shows that while local governments are increasingly adopting cybersecurity training for employees, they often lack cyber planning.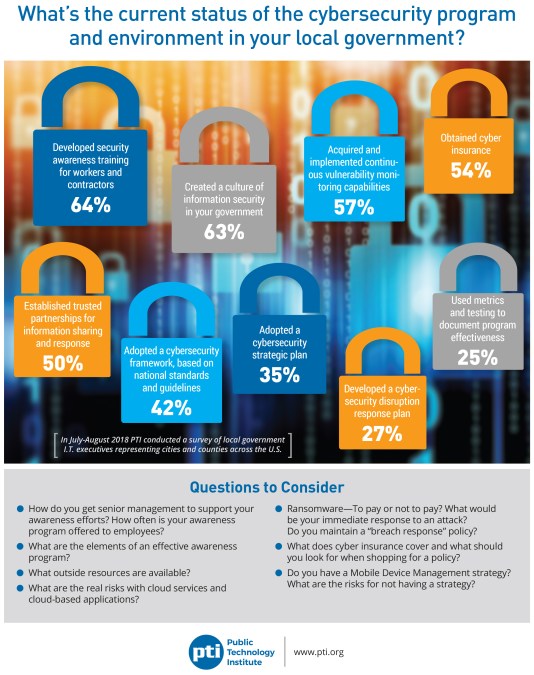 A majority of local government technology leaders have succeeded at developing training programs and culture around cybersecurity in their agencies, but still struggle to adopt plans around information security, according to recent data from the Public Technology Institute.
Survey results from PTI's July-August 2018 survey of local government information technology executives indicated that 64 percent of respondents had indeed "developed security awareness training for workers and contractors," but just 35 percent reported their agencies had "adopted a cybersecurity strategic plan."
Though not a formal agency wide cybersecurity plan, 42 percent of respondents had adopted a cybersecurity framework based on national standards and guidelines, and 50 percent had established trusted partnerships for information sharing and response.
In response to the results, PTI encouraged local government leaders to consider the following ideas:
How to encourage senior management to support cybersecurity awareness efforts
The elements of an effective awareness program
What outside resources are available for agencies in regards to cybersecurity
The risks associated with cloud and cloud-based applications
How to handle a ransomware attack, and whether or not to pay the ransom
Whether or not to consider cyber insurance
How mobile device management fits into cybersecurity
This infographic was provided to StateScoop for publication as a part of a media partnership with the Public Technology Institute. For more information on this poll and other PTI activities, check out www.pti.org .