Oakland fights fire with 4G routers
The city of Oakland is assisting its first responders by updating the 4G routers installed in every firetruck.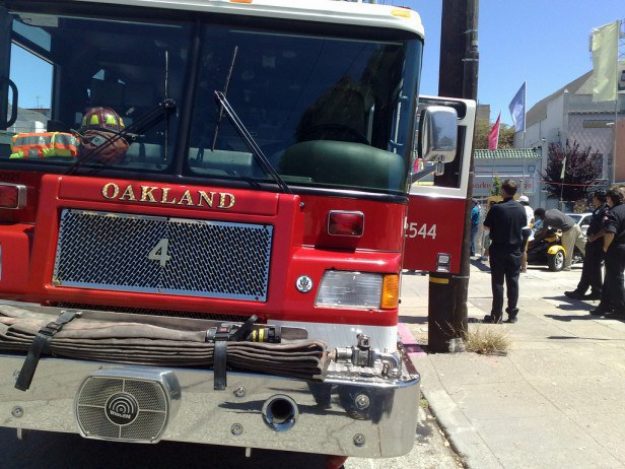 SACRAMENTO, Calif. — Oakland, California, is building out a mobile infrastructure that officials say will allow firefighters to more easily navigate the city and support emergency service efforts.
Last month, the Oakland fire department installed 4G routers in its fleet of firetrucks. Ahsan Baig, manager of Oakland's information systems, who has led legacy system upgrades in some of the city's other public safety agencies, told StateScoop that the project was an effort to make emergency response more efficient.
"We've been trying to get them to move forward with the technology and one of the things we've been looking for is getting more and more information into the hands of the first responders," Ahsan Baig, manager of Oakland's information systems said.
As recently as five years ago, each fire truck was equipped with a book of maps, complete with updates written on sticky notes and handwritten directions, to help firefighters navigate the city, Baig said. The new mobile infrastructure, based on Verizon's network, allows firefighters to either plug their devices into the router, or use it wirelessly to access or send information from a moving firetruck.
The routers also accommodate a number of users and devices on each truck — something that the department's first generation of routers struggled with.
Having real-time information will allow firefighters to estimate the resources they will need at each scene. This will reduce response time, especially in large, higher risk areas, such as the Port of Oakland or the Bay Area Rapid Transit system, officials said.
"It enables us to create and work on forms in the field," Daren White the deputy chief of Oakland Fire Department's Field Operations Bureau told StateScoop. "It also assists in providing us the opportunity to use those mobile data terminals to provide or obtain video feeds of certain situations that are emergent and could very well make a difference in what resources we need to order."
The 4G LTE routers, similar to household routers, are also primed for FirstNet, a federal effort to provide a dedicated national spectrum that supports digital communications between first responders. Oakland has worked with several other municipalities throughout the country to help secure a broadband spectrum for FirstNet.
Baig said the new terminals lay the groundwork for future digital upgrades, that could be conducted through the mobile technology.
"We are in the process of upgrading our computer-aided dispatch system, our mobile system, our automatic locater system of both police and fire. But before we do that, we made sure we had the mobile infrastructure in place," Baig said.