North Carolina opens next-generation 911 monitoring center
A new facility in Raleigh is meant to enable a smooth transition away from the aging analog systems used in dozens 911 call centers across the state today.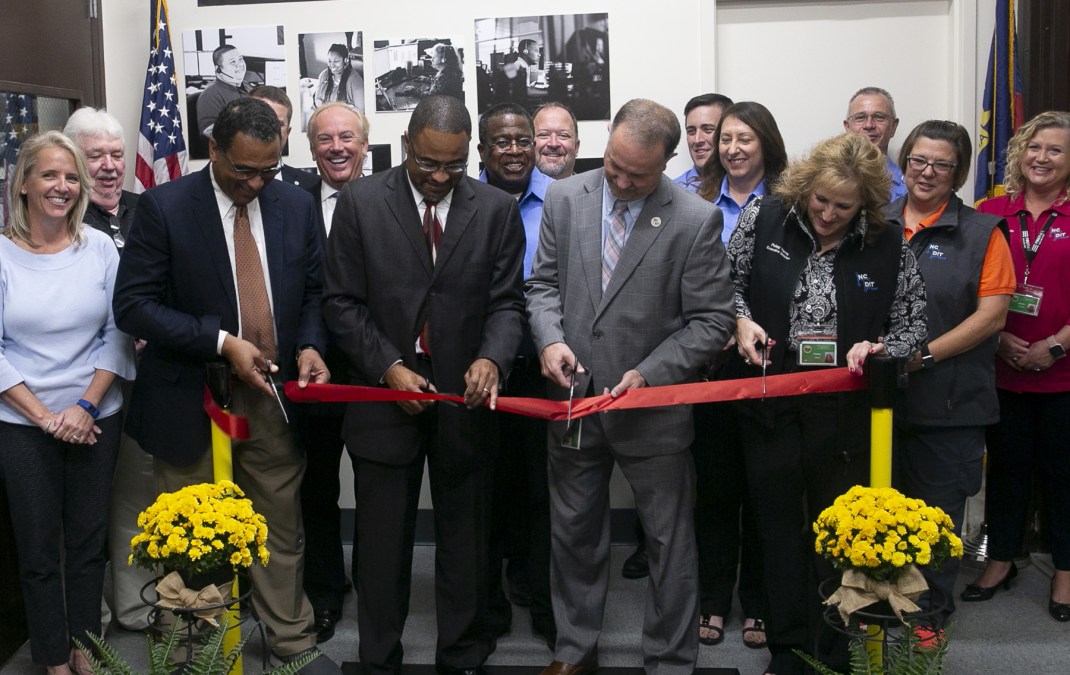 A new public safety-network monitoring center in North Carolina that officially opened Thursday will act as a resource for first responders and 911 dispatchers while the state completes its transition to a new digital 911 network, called ESInet.
The center, officially called the Network Monitoring and Assistance Center, or NMAC, is the first of its kind in the country, according to Pokey Harris, the executive director of the North Carolina 911 board. The idea is for the center to be a 24/7, one-stop shop for all of the network's growing pains, Harris told StateScoop. This includes troubleshooting network issues and assisting dispatchers that might be unfamiliar with the new digital system.
"As more and more 911 centers across the state upgrade their technology to support next-generation 911 services, the Network Monitoring and Assistance Center will play an important role in making sure services run smoothly across the state," North Carolina Chief Information Officer Eric Boyette said in a press release.
While the Raleigh-based center won't dispatch 911 calls itself, it will act a resource for the state's 127 call centers, also known as public safety answering points. That includes 16 PSAPs that have already switched over to ESInet, a North Carolina network designed to support next-generation 911 services, such as the ability to handle photos, videos and caller location.
The new center will collect information on network performance that the state hasn't had access to in the past, including the ability to compare data between individual PSAPs, according to Gerry Means, a senior network engineer for the state's 911 operations. The NMAC's service as a central repository of network data "is where we can have a lot of other smart people looking at this information and find new ways to use it," Means said.
Any networking or equipment-related issues that 911 dispatchers or managers have will be directed to the NMAC, Harris said. During emergencies, the NMAC will also be able to reroute calls to alternative dispatch centers if one region is experiencing a high volume of calls.
"We wanted our 911 managers and directors to have a comfort level as they move to this next generation technology, or the ESINet, that they would have one phone number to call for any issues," Harris said.
Next-generation 911 is a national standard of the longstanding emergency phone service that will eventually enable PSAPs to receive digital media and handle more sophisticated call routing, in addition to the texts and voice calls handled by call centers today. The standard requires a digital, IP-based network that also offers much more accurate location data than the analog systems that have been in place since the late 1960s.
The federal government recently offered $109 million funding to 34 states and tribal territories, including North Carolina, to implement next-generation 911, but adoption won't come all at once, as the National Telecommunications and Information Administration and National Highway Traffic Safety Administration predict a nationwide rollout would cost up to $12.7 billion.
North Carolina awarded AT&T a contract to build out ESInet after it began looking for vendors in 2017. While it's managed by the state, AT&T owns the network, which Means said saved the state both time and money that would have come with building their own. He said the state intends to put another 20 to 25 PSAPs onto the network by the end of 2019 and complete the rollout by July 2021.