NASCIO dives into the metaverse
As state agencies dabble in AR and VR experiences, a new NASCIO report urges its members to start thinking about metaverse technology.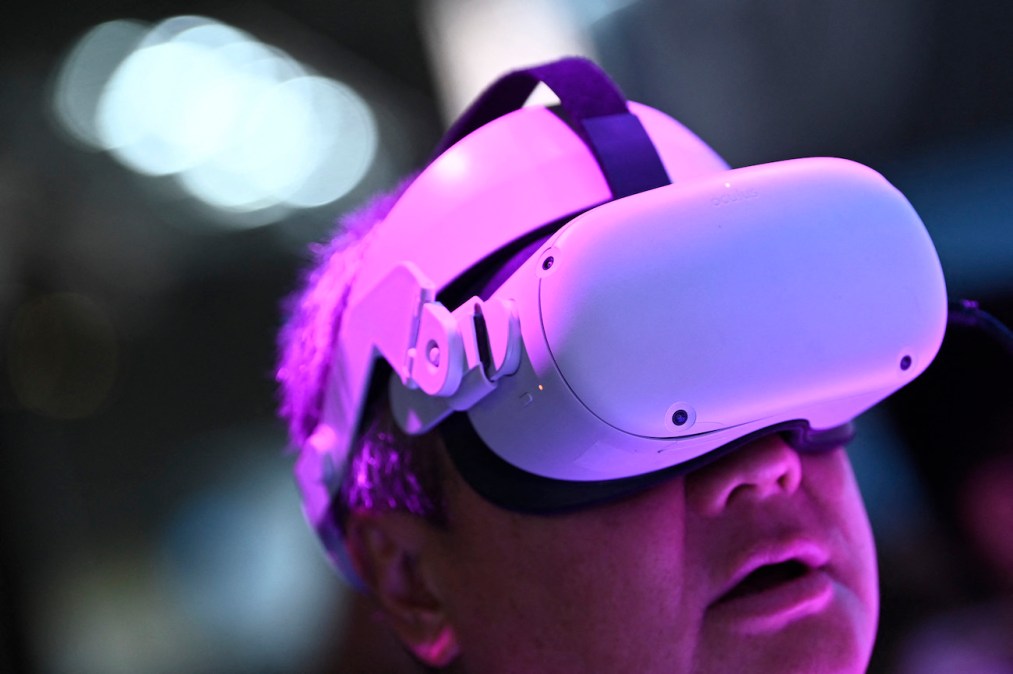 With augmented- and virtual-reality experiences creeping more and more into public-sector applications, the National Association of State Chief Information Officers on Wednesday took its first comprehensive look at the so-called metaverse — and how much of government IT's future lies in virtual worlds.
A new, 10-page report from NASCIO finds that government services are unlikely to start requiring people to don chunky goggles to have their needs met. But CIOs and their staffs may soon find that many of they agencies they support could follow the entertainment, commerce and gaming sectors into offering more immersive experiences.
"It's hard to believe that most people will have VR goggles at home to visit the virtual DMV," the paper reads. "However, reality checks aside, today major tech companies are investing a lot of money into the metaverse, and as citizens become more comfortable with virtual entertainment, commerce and socializing, governments will likely follow."
As a commercial enterprise, metaverse technology has stalled out recently, with companies like Disney laying off entire divisions devoted to VR content and even Mark Zuckerberg — who famously renamed his company Meta, amid dreams of conquering the virtual realm — pivoting toward artificial intelligence. But according to NASCIO, metaverse technology has started making small inroads in the public sector, as state and local governments dabble in it for purposes ranging from staff training to prison visits to natural-disaster preparations.
The Indiana Department of Child Services, for instance, has since 2019 been including a VR demonstration of case work as part of potential employees' applications. The agency once had a 50% annual turnover rate among case workers, finding that many quit after realizing the job did not live up to their expectations. Since the introduction of VR recreations of a child welfare visit, turnover has dropped by 18%, according to the NASCIO report.
Other VR use cases include the Mobile, Alabama, Police Department training officers in handling mental-health calls, and the Pennsylvania Department of Corrections using virtual reality to facilitate visitations between inmates and their kids.
But metaverse applications go well beyond VR simulations — particularly in government, the NASCIO paper claims. The metaverse umbrella, the paper reads, can cover wireless standards like 5G, blockchain, cryptocurrency and connected devices that make up the so-called internet of things.
As a functional difference, the report states, VR requires a headset, while the metaverse writ large can be accessed from a computer or smartphone.
"The metaverse is more than one thing," one tech vendor is quoted as telling NASCIO. "It's a continuum of things. Training in virtual reality is metaverse. Simulations are metaverse. Digital twins are metaverse. Like 'cloud' it's not just this one thing but an expanding continuum of things."
The explosion in digital services brought about by the COVID-19 pandemic made people more comfortable interacting with their governments online. Where NASCIO sees promise for metaverse technology, though, is in restoring "the positive side of the human interaction that we have lost" — while allowing users to engage those services from their homes or workplaces, rather than having to schlep down to a government office.
Still, NASCIO recommends caution before states fully commit.
"As with all emerging technology, states should cautiously determine if agencies have a business case for entering the metaverse before diving headfirst into it," the paper reads.
It goes on to recommend drafting governance documents and roadmaps, similar to how many states have approached AI. There's also a raft of new privacy and security concerns, particularly around identity management and the potential for fraud and abuse, which ran rampant during the pandemic.
At its best, metaverse technology could present states with new ways to offer services, the report states.
"One thing is certain: states should be thinking about providing services in a new way made possible by the metaverse and its technologies–not recreating the government as it is, in a virtual world," it reads. "Nobody wants to stand in line in real life or in a virtual world."