Maryland building a 'better digital backbone' with 5 new tech hires
With five new tech leads and a new digital experience office, Maryland's IT chief said she hopes to bring focus to the state's transformation efforts.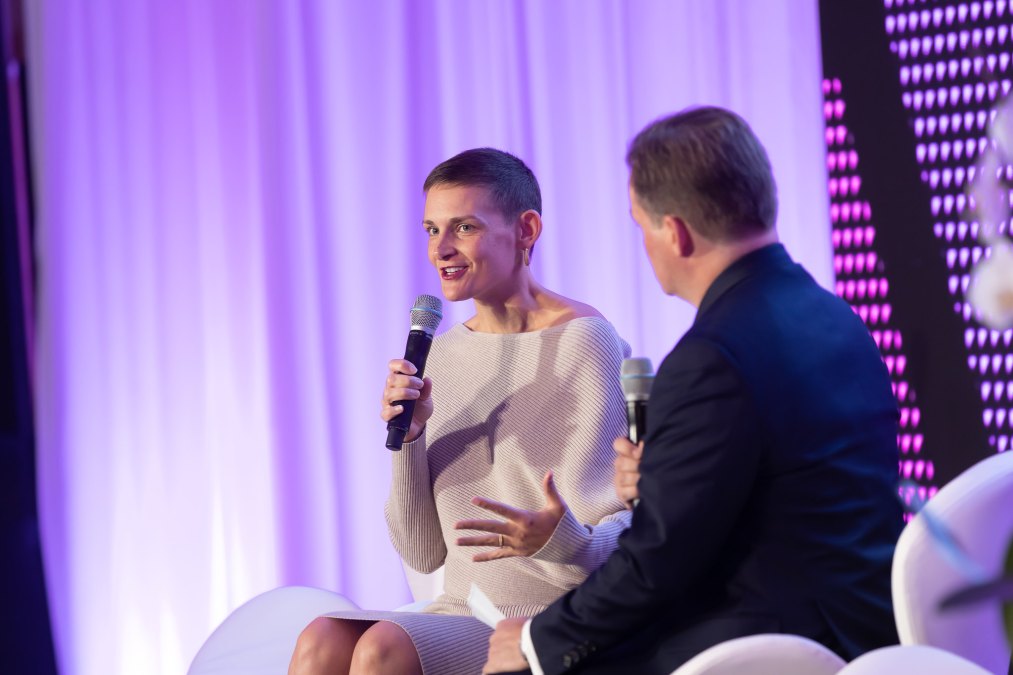 Maryland Gov. Wes Moore announced Wednesday the hire of five new tech leaders under Information Technology Secretary Katie Savage, who said they will become key components of her plan for building a "better digital backbone" for the state.
The five hires include a new chief information security officer and four newly created positions within the state's Department of Information Technology: chief technology officer, senior adviser for responsible artificial intelligence, director of accessibility and chief digital experience officer. The chief digital experience officer will oversee a new office Moore announced on Wednesday — the Office of Digital Experience — designed to hone the state's various technology disciplines.
Prior to her appointment to the Maryland tech office in January, Savage told StateScoop that some work in building out in rising tech areas such as artificial intelligence, digital services and accessibility was underway, but that the efforts lacked the focus that dedicated teams could provide.
"When I came in, some of this work was happening, but I don't think we formally recognized subject matter experts and we didn't formally recognize that they were distinct verticals," Savage said in an interview. "We wanted to formally recognize how much work we're doing, and bring in experts to be laser-focused on initiatives for each vertical."
'I don't want to lock ourselves in'
This expertise, Savage said, will be provided by the new additions to her team. To drive and lead enterprise operations throughout Maryland's executive branch, Moore named Michele Thomas as the state's first chief technology officer. Thomas most recently served as CISO of the U.S. Department of Homeland Security.
Greg Rogers, who most recently served as the CISO of Legal & General America Reinsurance, will step into Maryland CISO role, which last year was made permanent and given the authority to set statewide cybersecurity policies, including incident reporting requirements for agencies and local governments. Rogers will lead the Office of Security Management and implement the state's overall cybersecurity strategy. He replaces Chip Stewart, who left the role in April.
Nishant Shah, a former product leader for responsible artificial intelligence at Meta, will serve as Maryland's senior adviser for responsible artificial intelligence, tasked with building out the state's AI strategy by developing ethical guidelines, business pilots and coordinating with federal leadership. This position, Savage said, will help the state to gauge how best to use AI.
"It's not just about a set of guidelines, but understanding some of the practical applications," she said. "I don't want to lock ourselves in before we understand what we what tools are out there and how we might utilize them."
Thinking through the business problem
The Office of Digital Experience will be overseen by Marcy Jacobs, who was an associate partner at the consulting firm McKinsey & Company. As the state's first chief digital experience officer, Jacobs will work with the state's new director of accessibility, Andrew Drummond, a former senior program manager of web and content accessibility at the Maryland State Department of Education, to improve the accessibility of the state's digital platforms, Savage said. She said the pair will also work with the Maryland Department of Disabilities to ensure all new and existing state technology products meet the state's non-visual access compliance standards.
The continued effort to bridge the digital accessibility divide follows years of work at the state to get ahead of potential upcoming federal web accessibility requirements. Savage said she'll draw on her experience over the last two years leading the Pentagon's Defense Digital Service as deputy chief digital and artificial officer.
"I'm excited to create the Office of Digital Experience where we will have engineers and developers and designers at the table partnering agencies to really help them think through the business problem and solution match and early prototyping before we get into the contract dates," she said.
Savage said DoIT will be begin additional hiring under the new divisions, including product development, cybersecurity and enterprise IT.
"I really want to organize bringing the right leadership in, the right subject matter expertise for leading important verticals, but then it's going to take an army of people under all of them," she said. "It's a really exciting time to to work for Maryland."